A 1977 single from Ray Stevens entitled "Get Crazy With Me" featured a one of a kind arrangement. It wasn't exactly country and it wasn't pop, either...it had this different arrangement...several instruments I think were computer enhanced and were manipulated into sounding certain ways. The mid to late '70s period, known as the Warner Brothers era, featured Ray on the cutting edge of sound techniques and in-studio accomplishment. His publishing company, Ray Stevens Music, affiliated with BMI, was also reaping benefits from a couple of major hit singles recorded by other artists during this time period. The first, "Can't Stop Dancing", a song Ray co-wrote and later covered by pop duo The Captain and Tennille, became a Top-20 pop hit for the duo in 1977. Ray had recorded the song a year earlier in 1976 for his Warner Brothers debut album,
Just for the Record
. The other single Ray was associated with was "Way Down", a song recorded by Elvis. This song was on the charts at the time of Elvis' death. I touch upon this information off to the right side of the blog in the time-line.
Elvis and the Captain and Tennille weren't the only artist's to have songs published by Ray's company. Layng Martine, Jr at one time wrote for Ray. Ray produced/published the song, "Rub It In", which was recorded and released by Layng before Billy 'Crash' Craddock. Layng was the song's writer but Craddock's version became the major hit. Ray's publishing company was called Ahab Music at first. I believe in 1977 it switched names to Ray Stevens Music...at least I assume as much because the songs on his 1976 album shows Ahab Music as publisher while the songs from the 1977 album show Ray Stevens Music. Ray often publishes his own recordings...but every so often his company will publish outside material. In the early '90s Ray's company published two Sammy Kershaw hit singles: "Cadillac Style" and "I Can't Reach Her Anymore" because Mark Petersen was a songwriter for Ray Stevens Music.
As part of the publicity for "Get Crazy With Me", there was an issue of Country Song Round-Up available featuring Ray on the cover and the article "Get Crazy With Ray Stevens".
The song itself, as I touched upon, is very different from the standard Ray Stevens material...nothing before or since has sounded quite like this song. The music itself seems to suggest insanity...there are all kinds of techno sounds in the instrumentation. There is a video montage of the song available at You Tube. The sound quality is okay. The sound isn't superb, though, but you can hear for yourselves the techno/alternative instrumentation. Chances are you'll have to hear it for yourselves since I can't adequately describe it...it's originally from the 1977 album,
Feel The Music
, that I did a blog about several days ago.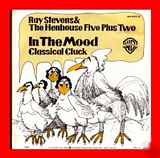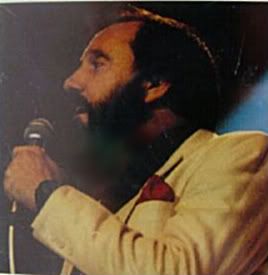 In the picture below, Ray's successful concert stops earned praise from a variety of venue owners and spokespeople. In the first review it's stated that Ray performed before 45,000 people at a Huntington, West Virginia Riverfest show. The promo also highlights how well Ray tackles the stage and the audience with his brand of music. Adjectives like "crowd pleaser", "entertainer", "extremely enjoyable", "superstar", and others highlight the promo piece.