Ray Stevens recently appeared on the Fox News program,
Huckabee
, where he spoke about taxes and politics briefly before launching into a performance of "If 10% Is Good Enough For Jesus (It Oughta Be Enough for Uncle Sam)". Ray explained the reason for the song's out-of-the-blue resurrection and why he decided to re-release the song. The song was originally recorded in 1993 and was "mildly popular" according to Ray. The picture of Ray that I use to kick-off this blog is from the early 1980's. In fact, it's an up-close picture of
Greatest Hits
, an RCA album from 1983.
By the way, that particular collection is where I heard "The Moonlight Special" for the first time
.
I recall that Ray introduced "If 10% Is Good Enough for Jesus" on the 1993 edition of the
Music City News Country Awards
and then a few months later it was the featured song on his album,
Classic Ray Stevens
, on the Curb label. That particular album at the time turned out to be Ray's final studio album for Curb...for Ray would concentrate more on music video projects during the mid 1990's but in 1997 he signed with MCA Records for two albums and then signed himself to his own label, Clyde Records, and then returned to Curb Records in 2001. Ray had performed "If 10% Is Good Enough For Jesus" a few times on television back in 1993 in addition to the awards program but then he moved away from the song afterwards...I've always felt that the song went over people's heads even though the message was loud and clear.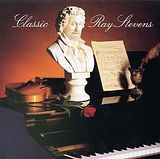 Classic Ray Stevens
in spite of it's title featured 10 all-new recordings. As I've pointed out in other blog entries, people on-line see the album's title and assume it's a collection of previously recorded songs or a collection of re-recorded songs when in fact all 10 songs were brand-new at the time...well, except for one...Ray does a cover of "The Bricklayer's Song" which is often recorded by Irish comedy groups and artist's. Noel Murphy is the one noted for having the popular recording. Ray's version was performed/recorded at his now-closed theater in Branson, Missouri. That song and "If 10% Is Good Enough For Jesus" were both recorded at his theater.
Fast-forward 16 years later and the song's gained some new life through on-line word-of-mouth and apparently word got to Ray and his people that the song was popular with certain segments of the on-line community. So, he re-recorded the song and issued it as a digital download single several weeks ago.
Ray's appearance on
Huckabee
was a re-scheduled affair. Originally Ray was suppose to appear on the show around the time he appeared on
Hannity
's Fox News program but things came up and the appearance was postponed. Re-scheduled for August 1st, Ray appeared at the keyboard and delivered a joke about congress, tying it in with a parrot and a grandfather, and then performed the song to a rousing applause. The appearance occurred during the show's final 15 minute segment and a video of Ray's appearance is on You Tube. Search "Ray Stevens + Huckabee" and the video will show up in the search results.
All in all I felt that the appearance was excellent and the performance was great as well.
It made me wish that Ray would appear on TV more often but unfortunately there's not many major TV outlet's for artist's in Ray's generation and so they have to use the internet, more or less, to try to reach an audience. Since the internet is free from age discrimination and any artist of any age, if they put the effort into it, can reach audiences a whole lot quicker and easier on the internet than on commercial TV or radio.