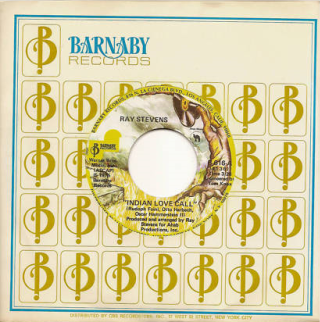 One of the fascinating recordings from Ray Stevens came along in 1975 when he tackled "
Indian Love Call
". I'd always liked the song...and when I discovered quite a few years ago that Ray Stevens had recorded the song I couldn't wait to hear it. I got my hands on the vinyl album,
Misty
, after purchasing it on-line...and I played the album and loved all the songs (obviously...since Ray's doing the singing!). "
Indian Love Call
" as performed by Ray Stevens is nothing like the previous recordings of the song by other artists and once you hear Ray's version it's safe to say that you'll end up preferring the way he performed the song. Around the middle of 2010 I purchased a DVD of
Pop! Goes the Country
mainly because Ray is a featured guest on one of the episodes. The episode, from 1975, featured Ray singing not only "
Indian Love Call
" but "
Misty
" and "
Twilight Time
". The show's host, Ralph Emery, along with the other guest, Sammi Smith, both agreed that Ray's take on "
Indian Love Call
" was like nothing you'd ever heard before. Ray very seldom performed the song on TV appearances and it's hard to tell how long it was part of his concerts...but for those who want to see his performance as well as see his relaxed, easy-going demeanor during the interview segment with Ralph look no further than
Classic Country DVD
. Ray's performance of "
Indian Love Call
" is found on Volume Four of
Pop! Goes the Country
. Ray is also featured on Volumes 9, 15, and 17.
I don't think Ray ever performed this song on TV...maybe in concert...I would've loved to see a performance of this song, though! Those who've never heard it will probably wonder who he's doing a vocal impression of...I've narrowed it down to a few people. One of my on-line friends suggested Fats Domino...maybe Fats Waller. It's got a classic R&B sound blended in with Spanish-Mexican instrumentation. "
Lady of Spain
" originates from the 1930's. The conventional way of performing it, at the time, was in the style of crooners which nowadays are referred to as either Big Band or Pop Standards. I first heard this song performed by Dennis Day on Jack Benny's radio program of the 1950's. Dennis sang the song in his customary operatic-tenor delivery. I read where Eddie Fisher recorded the song in 1952 and I looked it up on You Tube and it sounds almost identical to the way Dennis Day performed the song. Ray leaves out a lot of the middle lyrics and instead replaces them with a hard driving saxophone solo by Norman Ray. Much in the same manner as "
Indian Love Call
" causes you to forget all of the previous recordings of the song by other artists, this recording of "
Lady of Spain
" by virtue of it's uptempo sing-a-long nature will have you liking it more and more. The image of Ray on the single sleeve is the same one that appears on his 1975
Misty
album.
The winning formula on the
Misty
album seemed to be: arrange songs that were popularly known as ballads into uptempo sing-a-long's and then arrange songs that were popularly known as sing-a-long's into ballads...which is why "
Lady of Spain
" is transformed into an uptempo song and the usually midtempo "
Indian Love Call
" is transformed into a bluesy ballad. "
Young Love
" is performed at an extremely slow pace...as a response to the song's extremely uptempo delivery made famous by Sonny James. One of the few covers in which the original arrangement remains pretty much intact is his take on "
Cow Cow Boogie
". When I first saw the song list for Ray's 1975 album, years before I owned a copy, I assumed "
Cow Cow Boogie
" was a song that Ray either wrote or co-wrote simply because of it's funny title. I then heard the song one night while listening to an AM radio station which played pop standards. The version I heard was from a female artist whose name wasn't announced. It could have been Patti Page for all I knew but research shown that the hit versions were recorded as a duet by The Ink Spots and Ella Fitzgerald as well as a solo recording by Ella Mae Morse. It was Morse's version that I heard on the radio back in the late '90s. Ray's version, as I mentioned, doesn't stray too much from the original arrangement. The album contains 11 songs and as a change of pace I'm going to include the writer's names, too...
1. Misty (Erroll Garner and Johnny Burke)
2. Indian Love Call (Rudolph Friml, Otto Harbach, and Oscar Hammerstein II)
3. Over the Rainbow (Harold Arlen and E.Y. Harburg)
4. Oh, Lonesome Me (Don Gibson)
5. Sunshine (Ray Stevens)
6. Cow-Cow Boogie (Don Raye, Gene DePaul, and Benny Carter)
7. Young Love (Carole Joyner and Ric Cartey)
8. Deep Purple (Mitchell Parish and Peter DeRose)
9. Mockingbird Hill (Vaughn Horton)
10. Take Care of Business (Layng Martine, Jr.)
11. Lady of Spain (Robert Hargreaves, Tolchard Evans, Stanley Damerell, and Henry Tilsley)
Some of the writers have unique names that's for sure! As you can see, tracks 5 and 10 were original recordings. The rest of the material are his versions of Pre-1960 pop hits with the country classic, "
Oh, Lonesome Me
", added into the mix.
Meanwhile...fast-forwarding 36 years to 2011...
A look at the totals this hour show "
The Skies Just Ain't Friendly Anymore
" with 101,751 unique views on You Tube.