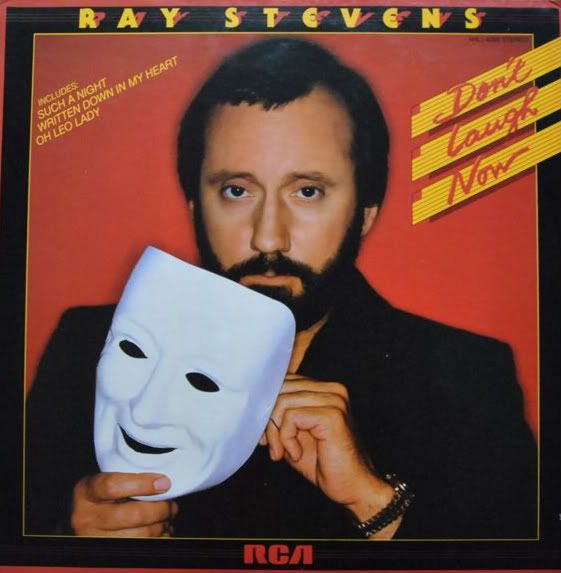 This is going to be fun...well, all of the blogs I write are fun for me but particularly this entry where we shine a spotlight on 1982 and the Ray Stevens album out that year,
Don't Laugh Now
. 30 years ago
Don't Laugh Now
hit the record stores loaded with all sorts of wonderful songs from Ray Stevens...one in particular being "
Where the Sun Don't Shine
". In fact, that song and "
Written Down In My Heart
" were the only two singles lifted from the album. Even though the album is titled
Don't Laugh Now
, "
Where the Sun Don't Shine
" brings a chuckle as well as a smile to anyone's face when they hear it. The song is arranged in an old-fashioned gospel production which masks the whimsical lyrics. It's a sing-a-long in the truest sense. I don't know the specifics of why the album was titled what it was but I assume it was given that title given Ray's reputation for comical songs. One of the bizarre scenarios in all of music is how a lot of people singled out a few comical recordings from Ray Stevens and immediately declared him a novelty artist. At least that was what happened throughout Ray's career up until 1984 when he decided to just go comedy all the time with his recordings. Prior to 1984 Ray had only released a handful of novelty songs and only 3 albums devoted entirely to comedy songs: 1969's
Gitarzan
, 1974's
Boogity-Boogity
, and 1980's
Shriner's Convention
. It's mind boggling once you realize that between the years of 1968 and 1981 Ray Stevens released just 3 albums of comedy songs...meaning that his non-comedy output was much more dominant...and yet his reputation as a novelty artist remained strong throughout decades of where he issued non-comedy recordings. Since 1984 he's released a variety of comedy albums and became highly visible on the late, great Nashville Network (1983-1998) with his country comedy offerings.
"
Written Down In My Heart
" was issued as a standard vinyl single in 1982...plus it was released in a special gold colored edition that you see here. This same feature was also given to "
Where The Sun Don't Shine
" when it was issued as a single, too. The single is a love ballad and it reached the Country Top-40 in 1982. This would also be his next to last Top-40 Country hit. (He would later reach the Country Top-40 for the final time in early 1985 with a comedy song). Although Ray's singles would not reach the Country Top-40 after 1985 it didn't mean that his singles weren't popular with record buyers. Country radio had seemingly developed an intolerance toward comedy/novelty offerings and
if
radio stations played a comedy song it would either be during the overnight hours or early in the mornings where a lot of listeners wouldn't hear it. Ray's albums during his switch to all-comedy sold hundreds of thousands of copies...an impressive achievement considering the lack of genuine support from radio. As far as television appearances go, Ray performed "
Written Down In My Heart
" on an episode of
Hee-Haw
in 1982. He performed "
Where the Sun Don't Shine
" on an episode of
That Nashville Music
. "
Country Boy, Country Club Girl
" was performed during the Music City News Top Hits of the Year telecast in 1983. The show spotlighted the hit songs of the previous year. Ray co-hosted the show and I believe one of the perks of being the co-host allowed him to choose a song from his 1982 album to perform. The other host, Tammy Wynette, sang a song, too. The two of them opened the show singing "
We've Got the Music in Music City
".
Don't Laugh Now
contains 10 songs. The album was dramatically different from the release in 1981 titled
One More Last Chance
. The 1981 album was heavy with slow-tempo ballads where as
Don't Laugh Now
has ballads, too, but they're mid-tempo. Side One (tracks 1 through 5) features just 1 slow-tempo ballad amongst the uptempo recordings while Side Two (tracks 6 through 10) features mid-tempo ballads and 1 slow song, "
This Old Piano
".
1. Such a Night
2. Written Down In My Heart
3. Take That Girl Away
4. Always There
5. Where The Sun Don't Shine***
6. Oh Leo Lady
7. Don't Laugh Now
8. This Old Piano
9. Country Boy, Country Club Girl***
10. Why Don't We Go Somewhere and Make Love***
***- These recordings were featured on the
Collector's Series
release. The original release arrived in 1985 whereas a re-issue happened in 1987. The 1987 re-issue received a CD counterpart in 1992.