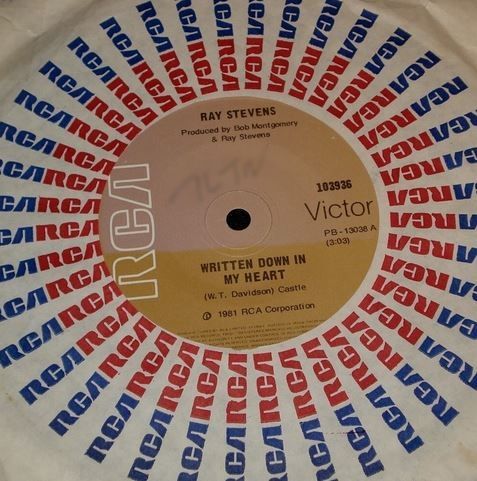 One never knows what you might find on-line as you search and or shop for Ray Stevens items. A rare Australian release of a great love ballad by Ray Stevens, "
Written Down in My Heart
", hit the country music Top-40 in America in 1982. This pressing indicates that the single became available commercially in Australia, first...1981 is listed as it's release year. The song appears on Ray's 1982 album,
Don't Laugh Now
, but it's interesting to find a single dated 1981 when I've always seen the various single releases of this song showing 1982. Of course, all the pressings I've seen on-line happened to be for the American market, so that easily explains the reason why 1982 (and not 1981) appears on the label. Not too long ago I embedded a video clip of Ray singing this song from an early '80s appearance on Barbara Mandrell's famed television program. I'll be including that video clip, once more, below. You can find this single, on vinyl, at various on-line auction sites. Some may bypass vinyl...but you're shortchanging yourself...as a lot of Ray's more vintage recordings are vinyl-only and haven't been issued on CD or Mp3. As I've mentioned several times over the last 4 to 5 years, don't hold your breath waiting for some label out there to unearth vinyl recordings by Ray Stevens and issue them on CD or Mp3 because chances are it isn't going to happen. His Barnaby albums, except for one, have gotten the CD/Mp3 reissue treatment...and it's great that they became available...but there's still so much more that hasn't been issued on modern day technology.
Although a lot of us love the recordings of Ray Stevens and typically pay attention to the happenings in his career, there are just as many out there that either haven't heard of him or perhaps only know of Ray for a couple of recordings (at that's it!). I blame a lot of that on the unwillingness on the part of Mercury, Monument, Warner Brothers, and RCA to reintroduce Ray's catalog of music to the market again. On-line stores/auction sites are flooded with vinyl albums and vinyl singles...so, yes, there's a marketplace to purchase vinyl if you're a serious student of Ray Stevens music...but a general audience isn't going to invest in a turntable and purchase vinyl recordings...it would be nice if they did but I don't ever see it happening and so a lot of Ray's older recordings continue to remain vinyl exclusives.
One of the things I've noticed as I scour around on-line stores is the number of cassettes popping up for sale. There have been several cassette copies of vinyl albums that have appeared regularly on eBay, for example. A cassette copy of Ray's 1973 album,
Losin' Streak
, is currently available for sale on eBay. I'd mentioned a cassette copy being available before...I bet some of his fans aren't aware that a cassette version existed. I had assumed a cassette copy existed but until recently (within the last year or so) I had never seen an image of it. There is also a cassette copy of Ray's 1983 album,
Me
! This, too, is a rare find...for not only is the vinyl album an obscure masterpiece and a rare find but coming across a cassette copy is extremely rare (even more rare is finding it at a reasonable price!). The eBay sale/listing ends tomorrow March 18th. I have it on vinyl and if the seller accepted money order's I'd have purchased this rare cassette copy days ago but the seller only uses PayPal. Here's a
LINK
to the
Me
cassette.
Note
: If you find this blog entry after March 18th chances are it'll take you to an error page indicating the item's either been sold or the listing has expired.
Also, the seller refers to the product as a 'novelty' but it isn't. All 10 tracks on the project are non-comical recordings. The only lighthearted song on the album is the sing-a-long "
Game Show Love
", but even that's performed seriously...not a funny sound effect or exaggerated vocalization heard...a tale of a couple that splits up as the man realizes that the woman treats love simply as a game and doesn't take it seriously. The use of game show titles and catchphrases in the lyrics may give it a novelty flavor but it's not really a 'comedy song' in the conventional sense.
You wouldn't think a cassette from the early or even mid '80s would be too difficult to find (considering the explosion of cassette tape popularity during the decade) but yet I've often found it annoyingly difficult coming across cassette copies of vinyl albums from that time period in Ray's career. I
DO
have a cassette copy of his 1980
Shriner's Convention
album on RCA...I consider that a rare find...but you can hardly find a cassette copy available of his 1981 and 1982 RCA albums!