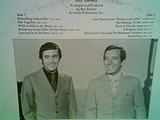 Barnaby Records came into existence in 1970 and the label was owned by pop singer/TV personality Andy Williams. Andy was a familiar face to millions of television viewers due to his long-running variety show than was on the air for 9 years, 1962-1971. Ray was a recurring guest on Andy's 1969-1971 programs and as many fans know and as most readers of this blog are aware, Ray was picked to host the summer TV show in 1970 that replaced Andy's weekly series. The official title of the summer show was "Andy Williams Presents Ray Stevens". It aired starting in late June 1970 and concluded it's run in August. Afterward, Andy returned after his summer break and Ray continued to make appearances off and on throughout the show's final year, 1970-1971.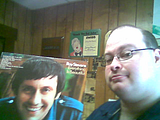 Each and every week on Ray's summer show the opening theme was a partial performance of "Everything Is Beautiful". Here you see me and the vinyl album containing the #1 single. The show itself had a lengthy cast of regulars, most notable among them were Steve Martin, the British singer Lulu, and Mama Cass from the pop group The Mama's and The Papa's.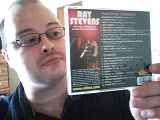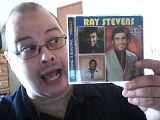 This is one of the double album CD's that Collectables Records released in 2005 on Ray. Combining "Everything Is Beautiful" and "Unreal", the two albums Ray had out in 1970 on Barnaby. In the collection below from last year Collectables grouped together the three double album CD's they had issued on Ray and packaged them into one collection and titled it
"Only The Best of Ray Stevens"
with a best-of collection added as a 4th CD which contained 10 songs, 5 of which already appear throughout the other 3 disc's in the package.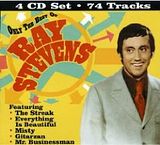 And so we move on to the hit songs Ray enjoyed on the Barnaby label between 1970 and 1976...for this list I factor in all of the major popularity singles charts: Pop, Country, Adult-Contemporary/Easy-Listening, and I include all the singles that reached the charts, period, not just the ones that reached the Top-40 or higher.
I won't specify the single's chart positions unless a single went #1. Instead, I'll write "Top-10", "Top-20", etc etc followed by the genre in which it charted...everyone ready??
Everything Is Beautiful; 1970 #1 pop, #1 adult-contemporary, top-10 United Kingdom, top-40 country
America, Communicate With Me; 1970 Top-50 pop, Top-20 adult-contemporary
Sunset Strip; 1970 Top-90 pop, Top-20 adult-contemporary
Bridget The Midget; 1971 Top-50 pop, Top-5 United Kingdom
A Mama and a Papa; 1971 Top-85 pop, Top-10 adult-contemporary
All My Trials; 1971 Top-70 pop, Top-10 adult-contemporary
Turn Your Radio On; 1972 Top-70 pop, Top-20 country, Top-30 adult-contemporary
Nashville; 1973 Top-50 adult-contemporary, top-40 country
The Streak; 1974 #1 pop, #1 United Kingdom, Top-5 country, top-20 adult-contemporary
The Moonlight Special; 1974 Top-80 pop
Everybody Needs a Rainbow; 1974 Top-20 adult-contemporary, Top-40 country
Misty; 1975 Top-10 country, Top-10 adult-contemporary, Top-20 pop, Top-5 United Kingdom
Indian Love Call; 1975 Top-40 country, Top-70 pop, Top-40 United Kingdom
Young Love; 1976 Top-50 adult-contemporary, Top-50 country, limped into the Hot 100
"Young Love" was issued as a single in January 1976 and it holds the distinction of being the final chart hit for Ray on the Barnaby label. Ray would leave the label not too long after this single was released and he would join the Warner Brothers label. Ray is noted as being the biggest selling act on Barnaby's roster as you can tell. This is just the single releases...not the album's that were issued on Barnaby.