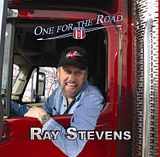 I don't have this particular CD yet. I had planned on purchasing it at Pilot, a trucker's chain of gas stations, but the Pilot travel centers in my area do not carry the CD. It'll become available to the public-at-large in September once the exclusive rights with Pilot are over with. I did manage to get a hold of the song list for the CD...someone fortunate enough to have the CD let us less fortunate know what the CD contains:
1. Concrete Sailor
2. Convoy
3. Right Reverend Roadhog McGraw
4. Cooter Brown
5. Jack Daniels, You Lied To Me Again
6. Hangin' Around
7. Hang Up And Drive
8. Bon Temps Roulette
9. Oh Lonesome Me
10. Never Too Late
11. Retired
12. Mary Lou Nights
Bonus Tracks
13. Mississippi Squirrel Revival
14. It's Me Again Margaret
15. The Streak
I'm patiently awaiting the arrival of the CD at Ray Stevens' web-site store. I believe that with the Pilot Travel centers having exclusive access to the music it creates a situation where Ray himself isn't even allowed to sell it on his own web-site until after Labor Day...the deal with Pilot is Memorial Day through Labor Day, which means all summer long a lot of us will have to wait for it to become available everywhere else. Until then, a lot of you Ray fans out there can wonder what the songs will be like with titles such as "Hangin' Around", "Never Too Late", and my personal favorite songtitle: "Right Reverend Road-Hog McGraw". If ever there was a good-time/good-ole-boy name for a song, that's it. There are several re-recordings on this CD. Longtime Ray fans will spot this right away. I can't wait to hear his version of "Convoy".
Update 6-17-09: The CD is now available for order at Ray's on-line web-store. Simply visit his web-page and click on "buy" and then click "official store" and then click "new products". He has the MP3 single, "Concrete Sailor" for sale featuring the same picture for ONE FOR THE ROAD...at the moment, ONE FOR THE ROAD is the first item on display in the "new products" page.
.