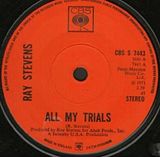 A song that has been recorded by so many artists through the years, "
All My Trials
", received the Ray Stevens treatment in 1971. This song isn't a stranger to the more dedicated Ray Stevens fans. Back in the mid 1990's when I began to really expand my Ray Stevens knowledge after joining his now shut-down fan club I learned that Ray sang all the harmony vocals on the recording. According to what I discovered at that time, Ray recorded his voice 16 or 17 separate times in various harmonies and used a sophisticated production board in his studio to blend all of those recordings together to create the choir effect in the background when you listen to the song. Ray's songs always had high production values and some, most often the critics, would decry this touch as the '70s wore on and marginalize his records as being "too slick". I suppose there was an unwritten rule saying that records had to sound clunky and unprofessional like they were recorded in a garage or basement somewhere. I'd love to have been at the recording studio to see him perform a lot of his songs.
The image I chose to use in this blog entry is the United Kingdom release. Ray was still on the Barnaby Records label but the distributor was CBS as you can see up at the top of the single. The only error is the songwriter credits. It shows Ray's name underneath the song but in reality he didn't write "
All My Trials
". Instead, he arranged his performance of the song and produced it as well. The running time for this particular single is 2:59, two minutes and fifty-nine seconds. This being a single for radio airplay it had to be edited from it's full length of four minutes and thirty-three seconds. The full-length version seldom appeared on compilations but it appears on the 1996 Curb Records album
Great Gospel Songs
.
As one who is familiar with both the shorter and longer versions of the song I can say that in the shorter version you don't get a lot of the glorious production work because there's an edit where it jumps to the end of the song. If you are more familiar with the longer version of the song as I was at one time the abrupt change of pace in the shorter version will jump out at you. I have the shorter version on CD and I was humming along to the song and then it abruptly cuts out the instrumental passages and a reprise of another verse in the song in favor of a repeat of the song's last few lines and then the song ends...at first I thought the CD had a glitch in it but then I learned there was a radio version and an extended play version. This song is part of "
An American Trilogy
", a song that was popularized in the mind's of many by Elvis. When you listen to "
All My Trials
" you may wonder where you've heard part of the song and the answer would be "
An American Trilogy
".
Now, going to the extreme we have 1987's "
Would Jesus Wear a Rolex?
". The main reason I'm writing about this particular song is to refresh some people's memories about how edgy and satirical Ray Stevens can be with his songs. I had come across a comment on-line today where it made mention of Ray being edgy and how it pretty much is out of character for him to be so blatant. I know that a lot of people don't pay much attention to the past or care to know about things that happened "before their time" but luckily that's why this blog is here. Anyone that wants to read fan commentary and opinion need to look no further than this place and it'll more than likely inform you on much more than you probably wanted to know. So, anyway, this 1987 hit satirized the televangelist scandal. I went rummaging through some vintage newspaper clippings on-line from 1987 and came across several reviews and advertisements for this song. I even came across a reader's comment section of a newspaper and someone was complaining that the song makes fun of religion and this and that and the other. "
Would Jesus Wear a Rolex?
" is a song about how televangelists were making a huge profit at the expense of their church and patrons who donated thousands and thousands of dollars collectively all "in the name of God". When the scandal broke and it was revealed that several in that profession were using donation money for their own needs, this song was like perfect timing. One of the song's writers, the legendary Chet Atkins, commented at the time that he had an idea for this kind of song months before the televangelist scandals hit. He didn't elaborate but it made me wonder if Chet had suspicion of televangelists long before anyone else did. Perhaps only by coincidence but one of the top-rated sit-coms during the late 1980's was the religious comedy,
Amen
. It's safe to say the mid to late '80s was a time for major religious damage control.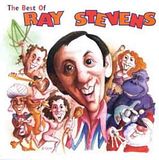 This collection of songs came along in 1997 when Ray was amidst his 40th anniversary in the music business. Rhino Records, along with Dr. Demento, helped put together this collection centering on Ray's biggest commercial hits. Rhino used the original recordings of all the songs, too. The track-list goes in chronological order until we get to the last two performances. "
Shriner's Convention
", from 1980, is listed before "
In the Mood
", his chicken clucking recording from early 1977. There are 20 selections on here and the liner notes from Dr Demento are featured as part of a mini-booklet. I often encourage people to purchase this CD because it properly sets out to shine the light on Ray Stevens when his recordings were hitting more on the pop and Easy-Listening charts than the country charts. These recordings define the career of Ray Stevens in the minds of many people raised on pop music of the '60s and '70s. You'd be surprised by how many people are or
were
unaware that Ray continued making records for country audiences in the 1980's...in some people's minds Ray vanished during the late '70s and wasn't to be heard from again until the 1990's when he began selling comedy music videos through television commercials. It just goes to show you that a lot of the pop music audience won't follow an artist's career. They're more interested in whatever song or artist is being hyped up currently and could care less if the artist has another hit song or puts out another album. Country music audiences aren't like that, though. They generally tend to stick with an artist for years and years...decades in some cases. There are several young pictures of Ray throughout the booklet and the liner notes are informative if you're a brand new fan of Ray Stevens. I like the illustrations on the front of the CD. All of the faces on the characters are Ray...except on "
Harry the Hairy Ape
". He's seen holding up "
Bridget the Midget
". Ray himself is decked out in a 1970's wide lapel outfit offering some green and purple pills. Here are the 20 songs that are on this CD...
1. Jeremiah Peabody; 1961
2. Ahab the Arab; 1962
3. Santa Claus Is Watching You; 1962
4. Harry the Hairy Ape; 1963
5. Unwind; 1968
6. Mr. Businessman; 1968
7. Gitarzan; 1969
8. Along Came Jones; 1969
9. Sunday Mornin' Comin' Down; 1969
10. Everything Is Beautiful; 1970
11. America, Communicate With Me; 1970
12. Sunset Strip; 1971
13. Bridget The Midget; 1971
14. Turn Your Radio On; 1972
15. The Streak; 1974
16. The Moonlight Special; 1974
17. Misty; 1975
18. I Need Your Help, Barry Manilow; 1979
19. Shriner's Convention; 1980
20. In the Mood; 1977 as The Henhouse Five Plus Too