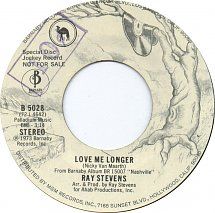 One can never truly get enough Ray Stevens. In my previous blog entry, which came across more like a brief history on single releases, I mentioned that promo singles often featured the same song on both sides of the single. This is the A-side of "
Love Me Longer
", a wonderful recording from Ray originally found on his
Losin' Streak
album of 1973. The record company placed the Stereo recording on the A-side while on the B-side contained the Mono recording of the song. Mono recordings, as compared to Stereo, well, there's really no comparison. Once you hear two songs, the same recordings back to back, but one was released in Mono and one in Stereo, you'll prefer Stereo. To my ears, Mono recordings sound as if the artist is singing through a cardboard box. Their voice sounds compressed and lethargic. "
Love Me Longer
" didn't reach the country or pop chart, which was a shame, but as I remarked in other blogs the
Losin' Streak
album came between a string of albums from Ray that featured quite a few Top-40 pop and country hits. In addition to
Losin' Streak
in 1973 there was another release that same year from Ray titled
Nashville
. The Top-40 title track certainly brought attention to the LP...a year earlier he had issued the highly successful
Turn Your Radio On
LP. That album featured not only the hit title track, which reached the Top-20 on the country charts, but it also featured two Top-10 Easy-Listening hits from the latter half of 1971, "
A Mama and a Papa
" and "
All My Trials
". Following the releases of
Nashville
and
Losin' Streak
in 1973 Ray emerged with "
The Streak
" in early 1974...it went on to sell more than 5,000,000 copies worldwide. The album issued later on in 1974, built around "
The Streak
", was titled
Boogity-Boogity
and it featured a future single release, "
The Moonlight Special
", a hilarious spoof of a late night television show from the '70s titled The Midnight Special.