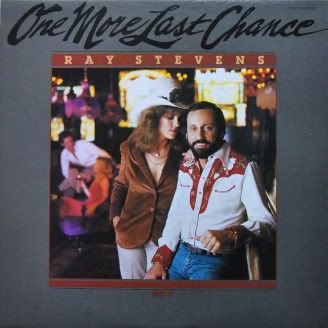 As we take a fourth walk through Nostalgia Valley we come across the Urban Cowboy era in country music. I've touched upon this late '70s/early '80s craze in other blog entries and recently commented on this 1981 album. For further reading go check out my blog archives for the entry titled
One More Last Chance and the Urban Cowboy
. It was during this time that Ray was still battling the public perception of his image and the undeniable commercial impact he enjoyed with comical songs compared to love ballads. In interviews during this time period Ray was often remarking on how much he wished his more serious works would obtain the same kind of commercial success that his comical works had obtained. A year earlier, in 1980, he enjoyed Top-10 success with a single and Top-5 success with an album named for the single,
Shriner's Convention
. It was an all-comedy album...his first all-comedy album since 1974's
Boogity-Boogity
. This 1981 album didn't make the country albums chart. I happen to believe that the album sold well but it lacked the media attention and hype that in theory causes consumers to buy an album in droves. It's a shame, too, because there are some very emotional love ballads on this collection of songs...the highlight of the album is the inclusion of a late 1980 hit entitled "
Night Games
" which reached the country Top-20.
The fact that Ray closed out 1980 with a much more serious release amidst the hype of his Top-5 comedy album indicated how quickly, at that time, he wanted to get back to being serious. In my fascination with Ray's career I'm always coming across magazines articles and interviews that have been uploaded onto the internet from years ago that really help explain some of the frustration that took place under the surface in Ray's career.
If you do a Google news search for Ray Stevens check out the "archives" option on the left hand side of the screen. After clicking archives type whatever year you want and chances are you're going to get a lot of vintage newspaper articles and interviews and write-up's in your search results. I do this once or twice a month just to see if any new
old
write-up's about Ray Stevens have been added to the search results. In a lot of these pre-1984 interviews you'll see Ray excited over his comical recordings but at the same time remind readers that there's much more to him than comedy. A lot of these interviews touch on the comedy versus the serious side of Ray Stevens. In 1984 when he signed to MCA Records as a country comedy act a lot of his interviews post-1984 had language in them that allowed a reader and the fan to clearly see that he had made the decision to market himself in the most commercially profitable way and that was with comedy songs. His demeanor on stage and in interviews had gone from being the piano playing crooner with a sense of humor to a silly, almost clown-like stage presence with props and other effects. Of course, those who were never fans of Ray Stevens in the first place never took him seriously with anything he recorded anyhow, so I'm excluding those people from my commentary. Ray's career rebounded big time in 1984/1985...all of the comedy albums that were to come throughout the rest of the decade forever labeled him a comedy act...and the sales success he was enjoying with those MCA albums far outsold the sales of his albums in the first half of the '80s while on RCA. The big reason why I highlight Ray's RCA material a lot and his Warner Brothers material is because a majority of those songs didn't get a lot of hype and publicity during their initial release and so I like to spotlight the material on occasion to introduce it to a new audience.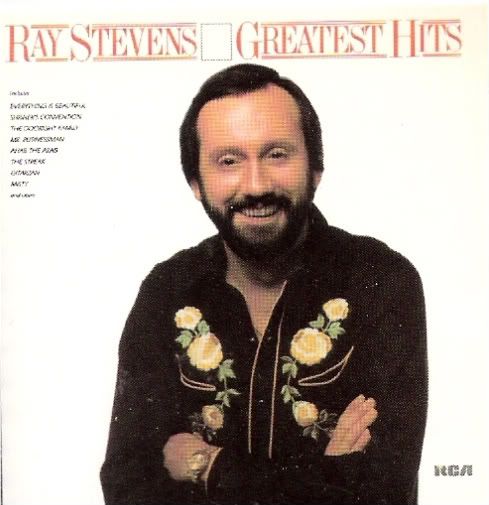 In fact, just two releases on RCA made the album charts for Ray. The first being the
Shriner's Convention
album which hit the Top-5. The album entered the charts early in February 1980...literally 30 years ago. His 1981 and 1982 albums didn't make the country album charts but an RCA compilation album simply called
Greatest Hits
hit the charts in the summer of 1983. That compilation contains just two songs from Ray's RCA period and the rest of the album contains material from the late '60s through the mid '70s. The image of Ray on this 1983 release became something of a publicity picture...and fans loved the picture. The album features 10 songs and was charted for five weeks...which is five more weeks than Ray's previous two albums on RCA had enjoyed.
In my continued quest to promote the Ray Stevens music video, "
We the People
", this is the latest hit count for the video: 2,569,708. This is the month that Ray is to deliver the much-anticipated political/patriotic CD also called
We The People
. According to the interviews that he has given all indications point to a mid or late February release. I wish it were released sooner because politics is fluid but I can see why a full-length CD is released later. In some theories it creates a demand to have a single appear months before an album. Those in the loop, such as myself, are anticipating the CD big-time and can't wait to hear more songs along the same lines as "
We The People
".