Can you smell it?? It's the smell of laughter! Something funny is in the air! I'm still on a Ray Stevens high after seeing him on
Pop! Goes the Country
over the weekend. The episode was from 1977. It airs for a third and final time Monday at 11:30am on RFD-TV. I hope to catch it one last time.
The music video, "
We The People
", has risen to 2,695,690 hits. Here's some more commentary about some funny stuff...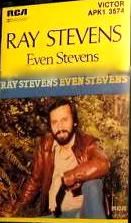 In Australia, RCA Records released the 1980
Shriner's Convention
album under a different name:
Even Stevens
! The irony in this is there was once a 1968 album titled
Even Stevens
that Ray recorded for Monument Records. I'm curious why the album was retitled in Australia and why they used a different image for it's release instead of the image that appears on the America and Canadian releases of the 1980 album. As you'll be able to see from the song titles, the Australian release called
Even Stevens
is actually
Shriner's Convention
. I'm not too sure why there was a need for an album title switch and a different photo of Ray and so it's a mystery to me. If anyone out there has any idea's let me know. The picture of Ray that's used on the Australian release is the same picture that appeared on an issue of
Country Song Roundup
in 1980.
The only difference in the song sequences in the Australian release and the American release is "
Shriner's Convention
" kicks off the American release while in the Australian release "
Shriner's Convention
" is track number four on side one. My guess is RCA simply wanted to alter the song sequence just a bit. To make matters more confusing, the vinyl album of
Shriner's Convention
features the song "
Coin Machine
" as the last track while the cassette version in America has the song as track two.
Inside this issue we get to read about the latest happenings in Ray's career at that point in time. His new home was RCA Records and the write-up about Ray concentrated on the success of "
Shriner's Convention
" and how there's more to Ray than comedy. A lot of write-up's about Ray seemed to follow that same pattern throughout the '70s and most of the '80s before he decided to become a full-time comedian on records. Several write-up's would show us an artist grappling with enormous success with comedy songs but longing to have that same kind of success with non-comedy material. As I touched upon in previous blog entries, much of Ray's biggest years had a touch of bittersweet sprinkled throughout. Luckily for all of us, Ray decided to market himself strictly as a comic when he joined MCA Records in 1984. From that point forward Ray stuck with the image that the public in general had come to recognize and appreciate the most.