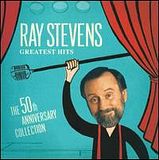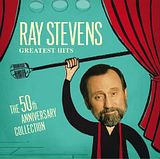 Each of these
Greatest Hits
CD's have the same songs on them but each of them feature a different cut-out picture of Ray. Curb Records issued this collection in May of 2008. The ten songs on this collection were lifted from the
Box Set
collection, a project that was issued in the middle of last decade. It's my understanding that the CD on the left was issued second while the CD on the right was issued first. I really don't know, other than from a collector's point of view, why Curb issued the CD with different pictures. My guess is future collectors may want to have a copy of each CD since the cut-out of Ray appears different on each release.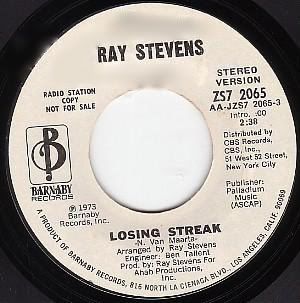 "
Losin' Streak
" is the name of a song and an album that Ray issued in 1973. The song is about a guy who can't give up his gambling addiction. It isn't a slow ballad...on the contrary, it's an electric guitar heavy up-tempo number. The
Losin' Streak
album is the one Ray once remarked that he put a lot of money into and recorded it in a brand new state of the art recording studio, by 1973 standards, but none of the songs became hits. The album has yet to be re-issued on CD. The rest of Ray's material on the Barnaby Records label, 1970-1975, is readily available on CD and Mp3 except the
Losin' Streak
album. The album featured a first...a big picture of Ray Stevens with a beard.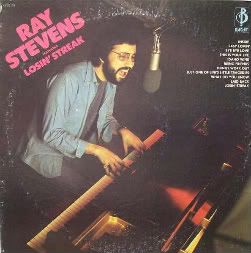 When I obtained my copy of the album several years ago it was like finding gold...well, I should say it was like finding gold when I came across it on-line for sale. When I played the album it was wonderful to hear and I won't hide how I felt...it was exciting hearing a lot of songs of Ray Stevens that up until that point in time I had never heard. The album ran the gamut of emotions, too. To this day I have no idea why it's never been re-issued on CD for exposure to a current audience. I feel that the lack of hit songs doesn't diminish the album one bit. There are 11 songs on the album. A few of the songs do find their way onto compilation projects from time to time but as far as an official re-issue of this album on CD there's been no such luck...as if the album is literally on a losin' streak.
1. Losin' Streak
2. Just One Of Life's Little Tragedies
3. Inside
4. Things Work Out
5. Bye Bye Love
6. Being Friends
7. Idaho Wine
8. This Is Your Life
9. Laid Back
10. Easy Lovin'
11. What Do You Know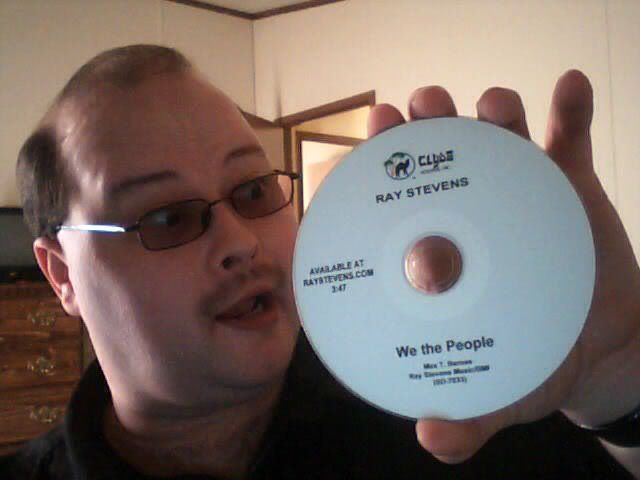 The physical copy of the Ray Stevens single, "
We The People
", arrived in my mailbox a few days ago. The single as you can see is issued by Clyde Records. I do not know if Curb Records will at some point issue the upcoming CD to retail stores or not. Curb often releases Ray Stevens CD's to retail stores several months after the original release on Ray's own label. The music video hit count at You Tube is 2,668,402 as of this writing. As we get closer to late February I'm hoping that we hear an official release date for the upcoming album. As of now I'm still holding late February as the time frame for the release. I am also hoping more music videos will be forthcoming, too! In the back of my mind I have an idea of what the follow-up song will be and if I'm correct I'd love to see a music video made of it.