It's already April 24th here in this part of the country...I am hoping it will be a
purr
fect day for all Ray Stevens fans. Why that kind of spelling? Well, as you can tell from the blog entry's title, Ray Stevens is being saluted as a
Nashville Cat
later today at the
Country Music Hall of Fame and Museum
. The program
will be streamed live at the Hall of Fame's web-site
. The show begins at
1:30pm Central time
,
2:30pm Eastern time
. For those who perhaps stumble across this blog out west that's
11:30am Pacific time
,
April 24th
. I do not know how long the show will last but from the description at the
Hall of Fame
's web-site it looks to be like a
This Is Your Life
-style program with heavy emphasis on Ray's behind-the-scenes session work.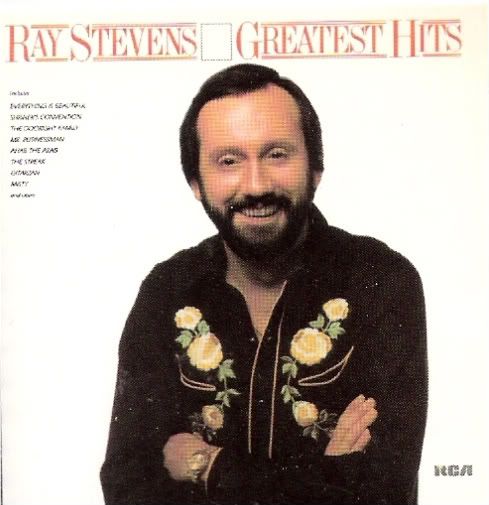 Ray had a secondary career throughout the '60s and half of the '70s as a session player and sometimes music arranger for other artists. He also produced recording sessions for quite a few acts and a lot of up and coming artists on the Mercury and Monument label recorded songs that Ray either wrote or co-wrote. Interestingly, though, none of the songs that he wrote for others to record have ever been recorded by the man himself...his producing, arranging, and songwriting careers will be the bulk of the conversation on the
Hall of Fame
special program. Ray in his career worked with the likes of Dolly Parton, Brook Benton, Patti Page, Brenda Lee, Dusty Springfield, Joe Dowell, Joe South, Jerry Reed, Billy Joe Royal, and Tommy Roe. A lot of the acts were heavily involved in the Atlanta, Georgia music scene during the 1960's as to why Ray, himself a native of Georgia, was capable of having connections to all of those artists. Chet Atkins was an instrumental figure in helping Ray around the studio in the "early days" as they say.
And so...be sure to catch the program on your computer later today. Check the
Hall of Fame
web-site for specific details.
Ray is not a member of the
Country Music Hall of Fame
but he is a member of the Nashville Songwriter's Hall of Fame, the Georgia Music Hall of Fame, and the Christian Music Hall of Fame. I believe changing policies at the
Country Music Hall of Fame
has perhaps made it impossible for artists primarily known as country comedians to have a shot at Hall of Fame induction but you never know...never say never.
Now here's a look at contemporary Ray Stevens...and the latest random check of You Tube video hit totals...
We The People
: 2,979,723 hits
Thank You
: 108,257 hits
Caribou Barbie
: 71,783 hits
Throw the Bums Out!
: 89,448 hits
In addition to the serious music on Ray's latest CD,
We The People
, there are some very hilarious political songs featured. "
We Are the Government
" is one of the songs I hope is a single. It's a very catchy song! Illegal immigration is a hot topic...and "
Come to the USA
" offers some hilarity about the problem. Oh, another song, "
Obama Nation
", falls into the catchy category as well.
What-
Nashville Cats: Celebration of Music City Musicians
When-
April 24th
Where-
Country Music Hall of Fame web-site
Time-
11:30am Pacific
;
1:30pm Central
;
2:30pm Eastern