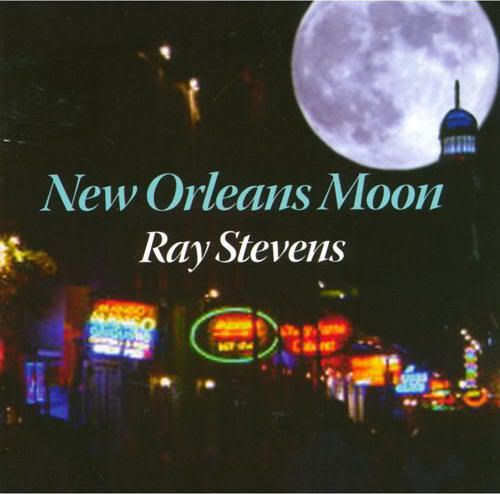 One of the CD's from the Entertaining Ray Stevens is
New Orleans Moon
, a collection released in 2007 which features marvelous recordings from Ray centering on all things Louisiana...specifically New Orleans and it's music/culture. I've written about this big easy CD several times so I won't spend a lot going over what I've already covered. I'll supply a link to Ray's web-store for those who want to purchase a copy of the CD. On
Sunday Night Football
the New Orleans Saints clobbered the Indianapolis Colts by a score of 62-7! In reflection of that I decided to highlight Ray's New Orleans CD from a few years ago once again. I remember quite well when this CD was released...and I remember the confusion I felt when very little hype/publicity came for the CD outside of the New Orleans area. I don't know if Ray did any concerts in the Southern states or not that year...but the CD deserves to be known by more people than just the dedicated fans. The collection features the one new song, the title track "
New Orleans Moon
", and the rest are his versions of songs associated with Louisiana. The song was written by Ray and Chuck Redden. Those who pay attention to songwriter credits will recognize Chuck's name on several other songs that Ray's recorded within the last several years. Chuck wrote "
Midnight in Baghdad
", a song found on Ray's
We The People
CD from last year. On
Spirit of '76
, Ray's CD from early this year, Chuck co-wrote "
November Storm
" with Ray and Buddy Kalb. On the
Hurricane
CD that Ray released in 2008 Chuck wrote "
Down Home Beach
" and co-wrote "
Bubba, The Wine Connoisseur
" with Ray and Buddy Kalb. Ray and Buddy rewrote a lot of the lyrics of Chuck Redden's "
The Real Battle of New Orleans
" in 2005. Ray released it as a CD single under the alternate title "
The New Battle of New Orleans
".
Here's the link to
Ray's web-store
where you can see a track list for the
New Orleans Moon
CD.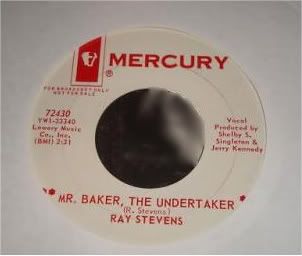 From the sounds of New Orleans we travel back to the sounds of screams...1965's spooky novelty single from Ray Stevens titled "
Mr. Baker, the Undertaker
". It's Halloween week all across the country...climaxing on Halloween night: October 31st. A lot of towns celebrate Halloween on the actual holiday...but a lot of other towns do the annual Halloween thing on the Thursday preceding the holiday. On October 27th it will be what's called Beggar's Night around here...where people dress up in costumes and go door to door getting candy. As mentioned, other places do this Beggar's Night on the actual Halloween night. I have no idea why Beggar's Night has always been on Thursdays in my area but that's the way it's been for decades upon decades. "
Mr. Baker, the Undertaker
" tells the story of a mortician's love for his work. It's filled with a lot of mortician jokes and funeral home references as one could imagine. The song features a repetitious background choir of voices singing the title of the song after almost every line. You'll be able to tell that the choir of voices is Ray who often over-dubbed his own voice to create a harmony effect. He doesn't do this a lot these days but once upon a time he did.
In addition to "
Mr. Baker, the Undertaker
" Ray's also recorded other Halloween-style songs. "
Laughing Over My Grave
" is currently available as an Mp3 on Amazon. It became available in August and I mentioned it a few blogs ago. The song isn't comical in the same way Mr. Baker is but it has it's funny moments. It's more or less a love song about a woman who's had enough of a man's lying and cheating and she's out for justice. The comical aspect comes from how Ray delivers some of the lines when he's playing the part of the fearful husband and what his wife may be capable of doing to him. You can purchase the Mp3 for only 99 cents at
Amazon's Mp3 store
.
It was around this same era when Ray recorded the "
Rockin' Teenage Mummies
" as well. That particular novelty song dealt with a group of mummies that make it big as rock singers...eventually leading to an appearance on Ed Sullivan's show. It wouldn't be until 1988 that a Halloween theme found it's way into a Ray Stevens song and it was accomplished with "
The Booger Man
", a bluesy comical song describing the legend of many people's nightmares. The song is on his 1988 album,
I Never Made a Record I Didn't Like
, which is out of print. The CD version was released in 1990...which has long been out of print. There has never been an Mp3 reissue and so a lot of people's best bet is to track down the album on eBay and invest in a record player as I did several years ago. In 1990 Ray recorded "
Sittin' Up With the Dead
" and to date that's been the last song he's recorded that could fit in with the overall Halloween concept of scary stories, ghosts, graveyards, etc. etc. He made a music video of the song in 1990 and given that it's been kept in print you can easily find an Mp3 of the song on Amazon. The video that Ray shot in 1990 and uploaded onto You Tube in 2009 is located below. Those familiar with 1992's
Comedy Video Classics
will know right away where this video was lifted from.