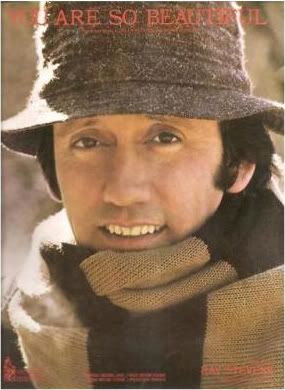 Originating in 1976 is the Ray Stevens version of "
You Are So Beautiful
". The single is known among pop audiences as a hit for Joe Cocker but Ray turned it into a bluegrass sing-a-long in the tradition of "
Misty
". Ray's version of "
You Are So Beautiful
" reached the country Top-20 and it was his debut single for Warner Brothers, the label he joined upon the conclusion of his lengthy, successful stay on Barnaby Records (which had begun in 1970). It was with Warner Brothers where his singles started to become more and more marketed toward country music stations and it's where the appearances on country music television programs became even more frequent than they'd been in the past. Ray had what I'd call a peculiar track record when it came to single releases. He was almost exclusively a pop music commodity from his earliest recordings in the late '50s and on into the early '70s. It was where his singles and albums were having their biggest impact. Within the pop music umbrella he was experiencing some success on the R&B charts (early '60s) and the Easy-Listening format (early to mid '70s). Then, almost like a natural progression, Ray's singles and albums started to have their greatest impact with country music audiences (mid '70s onward). I've studied and researched his career and there's nothing that comes up from the early '70s to explain how his singles were getting country music acceptance while at the same time he was maintaining a pop music reputation/image. Several of his singles in the early '70s charted exclusively country even though he wasn't actually being marketed as a country singer at the time. It's one of the truly unique things you'll see. It's also one of the genuine forms of pop-country crossover success as well. In today's music climate singers and record labels deliberately release a "pop version" and "country version" of a song...but it used to be a pop or country song, as recorded, would crossover if lucky enough...and without any re-mixing for either format.
The image of Ray comes from his 1976 album,
Just For The Record
. From time to time I like to spotlight his Warner Brothers era simply because I love the songs, first and foremost, and I love to hype material that I feel is under-rated. As I mentioned before in earlier blogs that's why I rarely write much about the signature songs of Ray Stevens. I feel that people already
know
all there is to know about those songs and so I try and spotlight obscure hits and album tracks that the public at large is unaware of.
Ray recorded four studio albums for Warner Brothers in addition to 3 additional tracks released independent of an album. Here's the breakdown:
Just For The Record
; 1976
Feel The Music
; 1977
There Is Something On Your Mind
; 1978
Be Your Own Best Friend
; 1978
Late in 1976 Ray released the single-only "
In The Mood
" backed with "
Classical Cluck
". Each recording consisted of chicken clucks, cow sounds, and goats. The recordings were released as the Henhouse Five Plus Too. In 1979 Ray released the single "
I Need Your Help, Barry Manilow
". Originally available as a single-only, the success paved the way for a compilation release which featured the hit single as the only new song on the collection. The rest of the album consisted of songs Ray recorded between the years of 1976 and 1978. The album was titled
The Feeling's Not Right Again
. The album cover is a parody of a release from Barry Manilow in 1975 titled
Trying To Get The Feeling
. I've posted the images of each album a couple of times in my archives. Ray was with Warner Brothers through mid 1979 and many compilation releases that came along from 1980 onward singled out his Henhouse Five Plus Too recording of "
In the Mood
" and the 1979 Manilow spoof but overlook his other recordings for the label. This was the norm until 1995...
In 1995, nearly 20 years after Ray joined Warner Brothers in 1976, the label released three separate collections on Ray:
Cornball
,
Do You Wanna Dance?
, and
The Serious Side of Ray Stevens
. The collections were long overdue in my opinion and it introduced a lot of fans, myself included, to a bulk of recordings Ray did for the label that had been out of print for nearly 20 years. I heard a lot of his Warner Brothers recordings for the first time in 1995. I was still several years away from starting my vinyl album collection and so those 3 1995 releases were a goldmine for me. Imagine the excitement I felt hearing how he performed "
You Are So Beautiful
", for example! Not only that but he also recorded "
Money Honey
", "
Talk To Me
", "
One Mint Julep
", "
Your Cash Ain't Nothin' But Trash
", among others. More great songs include "
Save Me From Myself
", "
Set The Children Free
", "
L'amour
", "
Cornball
", "
Two Wrong's Don't Make a Right
", "
Once In Awhile
"....I could name them all but you get the point. Since I've got his vinyl albums from this period I've been able to hear the songs that didn't make it on the 1995 collections. The only songs from Ray's late '70s albums not to appear in the 1995 releases were: 1976's "
OM
" and "
Gimme a Smile
"; 1977's "
Junkie For You
", "
Get Crazy With Me
", and "
Road Widow
"; and 1978's "
With a Smile
", "
You're Magic
", "
Comeback
", "
There Is Something On Your Mind
", and the "
Banned in Boston Trilogy
". The first three songs from 1978 are from his
Be Your Own Best Friend
album. The latter two are from
There Is Something On Your Mind
. It's anyone's guess why those nine recordings were omitted. There were 29 recordings issued in total on those 1995 collections. As you can tell, one release featured 9 songs while the other two featured 10. Unfortunately, the only way people will be able to hear those omitted songs is by tracking down the vinyl albums on eBay or other on-line shops. In hindsight those 9 omitted recordings could've been featured. One collection could've had 13 songs, another with 13 songs, and the third with 12 songs...but that wasn't the way it happened. Maybe Warner Brothers will re-issue those collections and tack on those omitted songs the second time around!? I wouldn't hold my breath, though!
I also wouldn't hold my breath when it comes to the President getting his priorities in order...
Ray Stevens sings all about it in 2011's "
Mr. President - Mr. President
"...