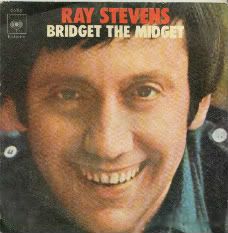 One of the various picture sleeves for the international smash hit from Ray Stevens in 1971 titled "
Bridget the Midget
". The single reached the Top-5 in the United Kingdom, the Top-5 in Belgium, the Top-5 in Holland, and the Top-50 on America's pop chart. As far as release months go it was issued in America first in December 1970. In January 1971 it hit in Holland and the following month it hit in Belgium. In March 1971 it hit in the United Kingdom. Political correctness pretty much keeps this song from getting much attention nowadays but it appeared on quite a few compilation albums released on Ray Stevens during the '70s, some of the '80s compilations, a few from the '90s, and just several in the next decade. As you can see, as the years went by, the less frequent the song remained in print and commercially available. It appears on the 1990
His All-Time Greatest Comic Hits
release on Curb Records. It was on that collection where I first heard the song as it didn't appear on any of the compilations on Ray Stevens that I owned at the time. It later appeared on the Rhino Records collection,
The Best of Ray Stevens
, in 1997. In 2001 it was included on the Varese Sarabande CD titled
All-Time Greatest Hits
. He re-recorded the song several years later for a limited animation music video found on 2004's
Cartoon Video Collection
. The audio recording of that performance appears on the
Box Set
release from 2005.
"
Can He Love You Half as Much as I?
" is a Ray Stevens song from 1986 that he performed on several television program throughout 1986 and much of 1987. It was released as a commercial single in 1987 as the third release from
Surely You Joust
...following "
The People's Court
" and "
Southern Air
". The album's first two singles featured some heavy duty production work...more so on "
Southern Air
" but "
The People's Court
" has it's share, too. Jerry Clower and Minnie Pearl make guest appearances on "
Southern Air
"...as the Captain and the man-crazy Stewardess...Ray plays the part of the nervous passenger. The song opens up with Ray's vocal impression of a beat-up airplane trying to start and take off, which it eventually does.
"
The People's Court
" is a send-up of the television program of the same name (the original 1981-1993 version with Judge Wapner and company). In the recording Ray demonstrates his vocal mimicry of the nagging wife. The husband is the Plaintiff, the wife is the Defendant, and each one gets a chance to tell their side of the story to the Judge. Also on hand is the court reporter whose nameless in the recording. Interestingly the voice Ray uses as the reporter is more similar to the hushed delivery of Jim Peck from
Divorce Court
than the louder enunciations of Doug Llewelyn of
The People's Court
.
You can view his 1986 performance of "
Can He Love You Half as Much as I?
" by clicking this link:
Can He Love You Half as Much as I?
. The video uploader doesn't provide embed links and so I'm unable to post the actual video here. As a result you'll have to click the link and be taken to the video host's site, You Tube, and view it there. While there search for the performance Ray did of the song "
Fat
". It was uploaded by the same person. On
Surely You Joust
it's track 5.
As mentioned, the performance comes from 1986, right around the point in time when he began winning the
Music City News Comedian of the Year
trophy every year. As mentioned in earlier blog entries, Ray won this fan-voted award during 1986, 1987, 1988, 1989, 1990, 1991, 1992, 1993, and 1994. He was nominated for the award prior to 1986 and after 1994 but lost out to other performers. For the award program's last several years in existence the Comedian trophy went to traditional stand-up comics who had gained some attention/hype in the country music press for their blue collar/redneck material. The lone exception was Gary Chapman, a gospel-oriented performer whose comical monologues on the television program he hosted on The Nashville Network during the mid-late '90s,
Primetime Country
, created the opportunity for a nomination in the Comedian category.
As many long-time fans are aware, Ray Stevens became pretty much exclusive to comedy recordings in 1984 with the release of
He Thinks He's Ray Stevens
. The album would reach the Top-5 on the Country Album chart in 1985 and eventually sell more than a million copies. The 1985 follow-up,
I Have Returned
, would hit #1 and sell half a million copies. Ray didn't put a non-comical recording on any of his next series of albums, which included the years of 1986, 1987, and 1988. It wouldn't be until 1989, with the release of
Beside Myself
, that new non-comical songs emerged on a Ray Stevens album. After this release he returned to country comedy full-time and eventually added home video superstar to his list of accomplishments. The period of 1992 through 1997 saw Ray Stevens sell millions of VHS home videos. During this same era, 1991-1993, Ray owned and performed at his self-named Branson, Missouri theater. Ray would return to Branson
many
times in the years following the closing of his theater. He's scheduled to appear in Branson later this year at Andy Williams' theater. His own theater, which was closed from 1993 through 2004, reopened for another stretch of concert performances from Ray before he sold it to RFD-TV.
Nowadays, for those who aren't aware, Ray is involved in political humor from a conservative point of view. Conservative humorists are a rare thing...most political humor, both past and present, has almost exclusively centered around poking fun at a conservative philosophy or trashing a prominent figure in Republican politics. It's still very seldom that liberal philosophies get the satirical treatment...even less frequent is the spoofing of left-wing progressive viewpoints...and even more less frequent is any
positive
publicity from the mainstream media for what few conservative humorists still exist. Ray Stevens, since December 2009, has become affiliated with conservative humor...some of the songs he's released since then are light-hearted and whimsical while others are straight to the point and serious. His songs have become hits on-line through music video exposure on You Tube...and it's that exposure on You Tube and numerous high-profile appearances on a variety of programs on the Fox News Channel that introduced Ray to a new audience and re-introduced him to a mainstream pop audience again.
In my opinion the conservative humor in the music videos caught a lot of people by surprise and for a lot of people who never heard of Ray Stevens before, based upon their comments, they didn't really know what to make of the humor. The reason being is a lot of the people who frequent You Tube are much more familiar with videos that make fun of conservatives on a routine basis. I imagine a lot of people who watched "
We The People
" and never knew of Ray beforehand perhaps asked themselves: "
Who is this Ray Stevens guy??? And why is he putting down Obama??
". Since then he's released several political music videos and from time to time appears on the Fox News Channel and the Fox Business Channel. He's released two albums of political comedy.
We The People
hit in 2010 and
Spirit of '76
hit in 2011. As most of the readers of this blog know Ray will be releasing a 9-CD collection later this month called
The Encyclopedia of Recorded Comedy Music
. The project will not be politically themed as his previous two collections were and with so much material I suspect that Ray will promote and market this collection throughout much of 2012 and beyond. It's anyone's guess if he'll put out a new political music video by the time the 2012 Election rolls around in November. His channel on You Tube is called raystevensmusic in all lower case. It was created early in 2009.
Here's a re-cap of Ray's You Tube political and patriotic music video totals:
1. We The People; 2009 on-line views as of 2/5/2012: 4,652,576
2. Caribou Barbie; 2010 on-line views as of 2/5/2012: 481,298
3. Throw the Bums Out; 2010 on-line views as of 2/5/2012: 856,381
4. Come to the U.S.A.; 2010 on-line views as of 2/5/2012: 5,799,176
5. The Global Warming Song; 2010 on-line views as of 2/5/2010: 198,855
6. God Save Arizona; 2010 on-line views as of 2/5/2012: 841,723
7. The Skies Just Ain't Friendly Anymore; 2011 on-line views as of 2/5/2012: 277,289
8. Obama Budget Plan; 2011 on-line views as of 2/5/2012: 1,099,143
9. Mr. President - Mr. President; 2011 on-line views as of 2/5/2012: 474,304
Note: Two other music videos of a patriotic nature filmed
before
2009 were uploaded onto You Tube by Ray. "
Osama Yo' Mama
" dates back to late 2001. The music video, uploaded onto You Tube in 2009, has 1,247,345 on-line views. "
Thank You
", the song and music video dating back to 2004, features additional video footage in the 2009 upload. As of 2/5/2012 the video has 420,795 views. Keep in mind that the 9 music videos listed above are only the ones that have a political/patriotic overtone. A few of his non-political music videos have obtained a million views: "
The Streak
" has 1,635,336 views and "
The Mississippi Squirrel Revival
" has 1,815,717 views. Those two music videos, uploaded in 2009, were filmed in 1992...well before You Tube came along.