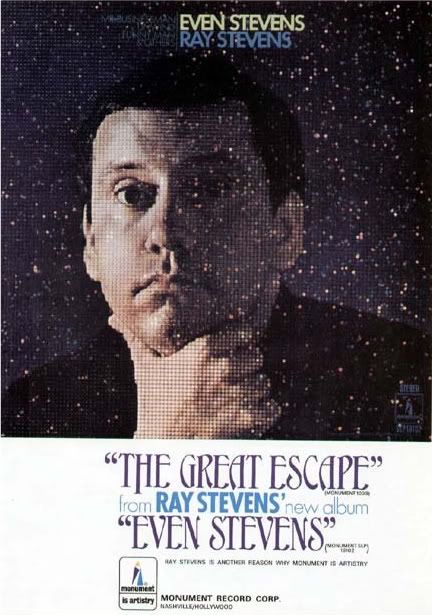 One of the obscure releases from Ray Stevens is this 1968 single entitled "
The Great Escape
". It didn't reach America's Hot 100 pop chart but it did surface on the Australian music chart in December 1968. The song has nothing to do with the movie of the same name which saw it's release back in 1963. However, Ray's song has a very small parallel with the sentiments from the 1963 movie. The movie dealt with POW's whereas Ray's 1968 single uses a prison analogy to describe life in the city. In the song Ray can't wait to make the escape to the quieter country surroundings of his home life. The song itself has a pounding, urgent arrangement along with a vocal delivery that brings home the excitement that the worker has when he's fleeing the crowded city. You can almost see him speeding down the interstate...that's
how
intense/uptempo the vocalization is. It's a shame that it wasn't really pushed as a single in America...then again it's always been baffling to me why a lot of singles from Ray Stevens were never really pushed in the kind of way that a record company is capable of doing.
"
The Great Escape
" was part of Ray's 1968 Monument album,
Even Stevens
. The album was issued on CD in the mid '90s by Varese Sarabande Records. The CD featured several bonus tracks and a 1971 re-recording of "
Mr. Businessman
" in addition to the original 1968 recording. Yes, the CD featured two recordings of the same song. The album cover for
Even Stevens
is what appears on the promo picture for "
The Great Escape
" above. "
Isn't It Lonely Together?
" appears on the 1968 album and it became a single for O.C. Smith several years later. Ray wrote the song...in fact Ray wrote the bulk of the songs on
Even Stevens
.