Welcome to the Golden LP series...as you can see I'm at part seven. For those who may read this blog entry and have no prior knowledge of this particular series then a brief explanation is in order. I began this series to spotlight every studio album released on Ray Stevens, in chronological order, and also spotlight a few compilation releases. Since this is part seven in the series we'll be looking at his seventh studio album,
Unreal!!!
. The addition of the three explanation points is featured on the official album title and so I thought I'd include them, too. I usually don't get
too
specific when it comes to how an album or song title is officially written but in this case I decided to.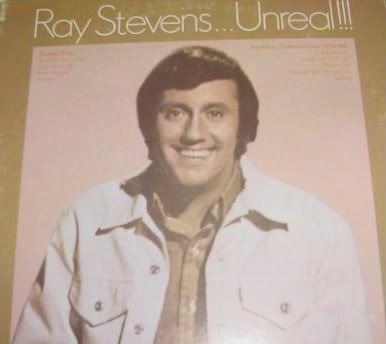 One of the dramatic differences between the
second
Ray Stevens album from 1970 and the first is obviously the subject matter of the songs. Also, with this second album, it reverts back to a key ingredient from his earlier studio albums: self-written songs. This album contains, for the most part, songs written by Ray. There are only two songs on the album that credit other writers. I'm not going to say that singers
have
to write their own songs, but, if any artist becomes known for recording their own songs then what happens over the course of time is an unavoidable and unfair criticism comparison between the self-written material performed by the artist and what's referred to as the interpretive material performed by the artist. It's never really mattered to me who wrote what...if a singer doesn't write lyrics or music so be it...if a singer happens to be a writer then that's fine, too. I've never gotten caught up in the whole
singer-songwriter verses crooner
debate that's gone on back and fourth for decades amongst music critics and music purists. A great singer is a great singer, period...whether he or she writes their own songs is irrelevant. In music circles a lot of people like to use the phrases
double threat
,
triple threat
, etc. etc. when it comes to an artist's talent level. As I've mentioned before, Ray Stevens is more than even a
quintuple-threat
as he not only is a singer, but he's also a songwriter, musician, producer, arranger, and song publisher. You can also add music video mogul to that list as well. Does all of this sound unreal to any readers? Ray, for many decades, has often been viewed as a "singer of comedy songs" and yes, comedy is where a lot of his longevity stems from, but if you examine and look at his overall career and the various facets of the music industry that he's been a part of there's more than enough evidence to show that he's more than just "a singer of comedy songs". If this assertion sounds unreal to anybody then let's take a look at the seventh studio album from Ray Stevens...titled
Unreal!!!
The album features 11 songs and the material ranges from topical commentary to traditional love ballads to inspirational songs. Overall the
Unreal!!!
album is heavily topical...with references made to protests, the war, social issues, and politics in general. The album's main single, in hindsight, is obviously "
America, Communicate With Me
". Although you probably will not find mention of this song in any History of Pop Music publication or any editorial chronicling protest-era pop music of the late '60s and early '70s, I happen to feel that this particular song spoke to a much wider audience and reflected the common sense logic of the average citizen not caught up in any extreme political or social agenda from either political party. The song opens up with Ray asking a single question with two very different points of view as responses. I have no idea who the two people giving their responses happen to be or whether or not the distant sound of a car horn is a studio effect or if Ray literally went out in the street and asked two people, at random, his topical question. Whatever the case, the crux of the song is established at that point forward as Ray offers a middle of the road solution to the nation's social issues of the day. The single came ever so close to hitting the Top-40 on the Hot 100 but it
did
manage to reach the Easy-Listening Top-20. If you have never heard the song before I urge you to take a listen to it. I say that at any chance I get because it's a great song, obviously, but also because it stymies the narrative that several left-leaning bloggers have spread in recent years that Ray's "never gotten political with his music" but this song and the entire
Unreal!!!
album shows otherwise.
The other single from the album is a song called "
Sunset Strip
". It is in this song that the album's title is heard prominently throughout the chorus by the choir of background vocals...which are his own vocals recorded in different harmonies and over-dubbed onto the recording. The song isn't necessarily political or topical but it carries a social message, of sorts, as it salutes the culture of the West Coast. The song features a marvelous production recalling the sounds of the Beach Boys and other groups who specialized in surfer-style, fun, uptempo escapist music. The image off to the right is the sheet music that was sold in stores during that time period. I believe the photo was taken during a performance from an Andy Williams program or from a performance on Ray's own show in 1970. The single became another strong hit with older adult audiences...reaching the Easy-Listening Top-20. It reached the Top-90 on the Hot 100, though, indicating quite clearly that it was less of a hit amongst the audience it was aiming for and more of a hit with an older audience that perhaps felt nostalgia for beach music and West Coast pop music in general. It's a great song, nonetheless, and another vocal gem in my opinion. In hindsight, I feel the main reason that "
Sunset Strip
" was less of a hit in the youth oriented Hot 100 can be tied to a certain single release by Ray Stevens literally a few weeks after "
Sunset Strip
" hit the charts. Ray had the dubious distinction of competing with himself in the final months of 1970 and into early 1971. I will have more information on this scenario in my next blog entry.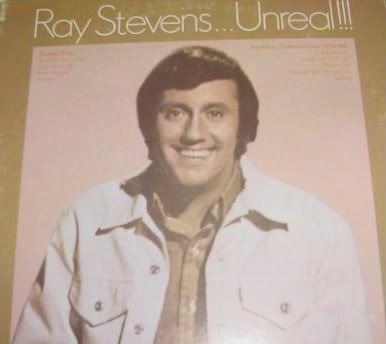 The remainder of the 1970
Unreal!!!
album, as mentioned, stays with a topical theme. "
Talking
" is credited to Ray's brother, John. The song captured the sentiments of the frustrated and the annoyed. The song deals with the frustration of having very little information coming in about the war and how it appeared like the decision makers in Washington, D.C. were more interested in talking about problems rather than coming up with solutions. It's one of the more pointed songs on the album and the shortest, clocking in at a little over 2 minutes. "
Loving You On Paper
" tackles the subject of war love letters and the heartache and anxieties that soldiers in the battlefield feel...never knowing if today will be their last. "
Can We Get To That
" is another topical offering where Ray compares and contrasts the priorities placed on a myriad of issues...pointing out how the most trivial of concerns almost always takes much more priority over the more serious issues facing society. In the love song category we have "
Islands
" and "
Dream Girl
". In the latter we hear of a broken relationship where the woman escapes into a world of fantasy. It's a clever song and not what you might expect by judging from the song title alone. "
Islands
" is the more traditional love song in that it paints a picture of a couple who've drifted apart. A few social commentary offerings complete the 11 song album. "
Come Around
", one of the two songs not written by Ray Stevens, is an inspirational flavored song about tolerance and finding common ground. "
Monkey See, Monkey Do
" comments on the competitive nature of the human lifestyle and how people tend to want to mimic their friends and neighbors or compete with them on an extravagant level while losing sight of true necessities of life. "
Night People
" comments on the single life as it tells the story of a man who spends most of his time hopping from one bar to the next after the collapse of a previous relationship. His efforts to find someone else fail night after night. Lastly, "
Imitation of Life
" comments on public persona and the charade of acting out a positive, happy relationship in public in order to mask the truth.
The
Unreal!!!
album is one in a long list of compelling Ray Stevens albums. Those who've become used to the hilarious, comical image of Ray the last couple of decades need to take a listen to his more serious recordings if you hadn't done so before. However, in spite of the compelling songs on the 1970 album and his serious recordings gaining some momentum with music buyers it would be another comical release from him that dominated the coverage in the trade publications and music charts world wide. We'll discuss that comical single in my next chapter of this series!