Welcome to the latest Golden LP Series installment as we take a look at each studio album released by Ray Stevens over the last 50 years. 2012 marks the Golden Anniversary of his LP debut on Mercury Records. We're up to studio album ten,
Nashville
, an album filled with glorious love songs and a couple of songs uniquely suited for Ray's style. This album came along in the winter of 1973 and performed relatively well on the country music charts. Ray was making the rounds of various country oriented television programs as well as pop music programs throughout 1972 and 1973. The title track, according to various interviews Ray has given, was inspired by his homesick feelings while on tour overseas. "
Nashville
" is one of the best, if not the absolute best, salute to Music City, U.S.A. from the pen of one of it's most creative personalities. The single is obviously dated now...Ray uses a lot of topical references in the lyrics...a history lesson today as it references the people and places in and around Nashville, Tennessee in the early '70s. The single returned him to the weekly music charts for the first time since the latter half of 1972 when he was coming off his successful gospel album project. It reached the country and Easy-Listening charts in the summer of 1973...making the Top-40 in both formats. The album wouldn't be released until several months later. Away from the music in 1973 saw Ray taking part in a local Cerebral Palsy telethon. At the start of the year Ray was among the featured performers during quite an extensive Inauguration gala thrown by Richard Nixon in January 1973. The festivities lasted nearly a week...Ray took part on Day 3.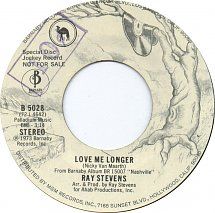 "
Love Me Longer
" was the second single release from
Nashville
. This particular song deals with adultery...certainly not anything new to country or pop songs. In the case of this song, though, it's written from a different perspective. In the song Ray encounters a woman whose married and instead of taking advantage of the scenario as some lonely men would he becomes rather inquisitive about her willingness and her seeming acceptability of the situation at hand and how she'll handle an affair. Apparently she runs off to think things over before giving a final answer and later confronts Ray again. He tells her how painful it is being lonesome. It's a wonderful song and it was written by a writer named Nick van Maarth, the same writer who penned "
Losin' Streak
". Now, as luck would have it, "
Love Me Longer
" didn't make the charts. It became commercially available late in 1973, around the same time the
Nashville
album hit the Country Album survey. The album hit through the strength of publicity/promotion of the "
Nashville
" single's lingering impact and the various programs Ray appeared on, performing it for the masses. He performed the song on such non-country programs as the
Dean Martin Show
...becoming a featured guest on Dean's replacement series titled
Dean Martin Presents Music: Country
. He recorded an audio special for the military in their
Here's To Vets
series. Ray gave his thoughts and opinions about the military and various charitable organizations dealing with Veterans. Several of his songs were interwoven into the special, including "
Nashville
".
Now, elsewhere on the
Nashville
album, we have the breath taking "
Golden Age
". When I first heard this song I instantly loved it...the arrangement pulls you in first and foremost...the song deals with growing older and how age plays a role in everything. The song on this album that I hinted at in the previous blog entry having heavy production values and multiple overdubbing is Ray's cover of "
Never Ending Song of Love
". It is almost impossible once you hear Ray's version to ever prefer how the song is often performed by other artists. It's always been a catchy uptempo song...often performed in duet fashion and sometimes solo...but nothing like how Ray covered it. What Ray did was create an urgent vocal delivery complete with wild, uncontrolled accompaniment in the background and an arrangement that complimented the wild accompaniment. I assume Ray covered the song for the specific purpose of recording it the way he did.
Ray talks directly to the listener at the start of "
Fish, Eat, Sleep
" telling how he obtained the song and his reasons for recording it. It's one of the few recordings where Ray starts out a recording talking directly to the listener. As his previous album did,
Nashville
also features an instrumental. This instrumental, titled "
Float
", is a bit more uptempo than it's predecessor and you'll find yourself humming along to it. In my previous blog entry I mentioned that this album contained more story songs than it's predecessor. I already mentioned "
Golden Age
", "
Fish, Eat, Sleep
", and "
Love Me Longer
"...another example of this can be heard on "
You've Got the Music Inside
" and "
Undivided Attention
". Irony fills the lyrics in "
Nobody's Fool
" in which a woman describes herself as a 'nobody' but the man doesn't buy it. One of the more typical love songs is "
Piece by Piece
"...which happens to be one of the numerous love ballads found on the album...and Ray sounds like he had fun recording it.
"
Destroyed
" is one of the unique songs on here...a cleverly written song detailing a broken relationship. It comes from the pen of Merle Kilgore. In fact, seven of the eleven songs on this album were written by other writers. The songs that Ray Stevens wrote are: "
Nashville
", "
Golden Age
", "
Float
", and "
You've Got the Music Inside
". Layng Martine supplied "
Piece by Piece
" and "
Undivided Attention
"; Delaney Bramlett was the writer of "
Never Ending Song of Love
"; John Pritchard, Jr. wrote "
Fish, Eat, Sleep
"; and Tupper Saussy wrote "
Nobody's Fool
". Ray rode the success of this 1973 album and it's country music flavor throughout the latter half of 1973 into 1974...straddling the fence between pop and country with the best of them.
Nashville
provided some strong country music exposure for Ray Stevens that had been lacking in the past. He crossed-over with some of his pop singles in 1969, 1970, and 1972...but you couldn't exactly call it a serious push for country music acceptance.
Now, just when it appeared that country music was going to be Ray's exclusive outlet with his music, from out of nowhere in the spring of 1974 he hit upon a massive streak of success and before you could say 'boogity-boogity', Ray Stevens found himself having what's turned out to be the biggest selling hit single of his career...
Be on the lookout for Part Eleven of the Golden LP Series as I discuss the bare essentials of this Ray Stevens classic, the impact it had with pop culture both pro and con, and it's undeniable success internationally.