Well, now, we're up to studio album sixteen in the Golden LP Series...it's the second album of 1978 from Ray Stevens titled
Be Your Own Best Friend
. The album was a much more conventional release...although this particular LP features 9 selections rather than 10 or 11. There was only one single released, the title track, and it reached the Country Top-40 in America.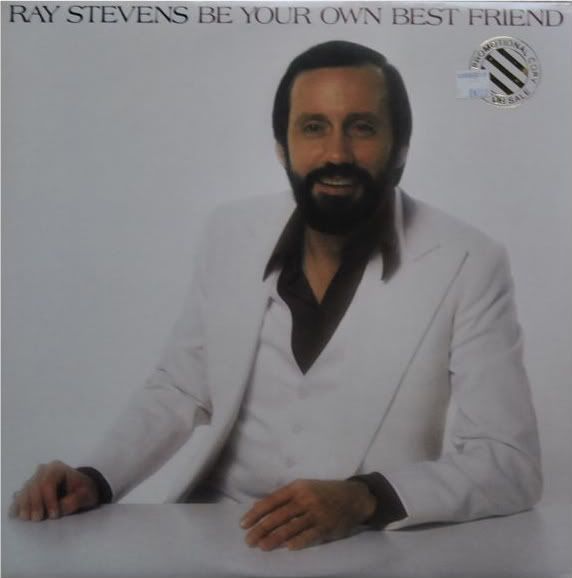 "
Be Your Own Best Friend
" is an inspirational song and it deals with self-motivation. It's not as confrontational as 1977's "
Feel the Music
" happened to be but it conveys a similar can-do message of if you feel everyone in the world is against you, don't let it ruin your day, continue living your life as you see fit and have self worth. As mentioned, "
Be Your Own Best Friend
" reached the Country Top-40 in America. It hit the Top-20 on Canada's country music chart. You can find the LP on eBay and other on-line music stores. I purchased mine at a flea market...I inspected it prior to purchasing and the vinyl looked to be in good shape and I'm glad I bought it because it sounds just as good as the vinyl appeared. The album goes from smooth crooner country flavored ballads to mid-tempo pop music of the era. As is the case with all of Ray's albums, this one also features flawless, impeccable production and meticulous music arrangements. In the country flavored side of things we have "
Hidin' Place
", a song that details the excitement and happiness of feeling secluded from the world...and in the song the man feels the most at home and in his own hiding place when he's with the woman in his life. The b-side of "
Be Your Own Best Friend
" is a breathy slice of easy-listening called "
With a Smile
" where Ray describes the various headaches and hang-up's in life but if one faces problems by smiling, usually whatever's dragging a person down will go away. I mentioned the song was breathy due to how soft and understated the performance is...it has whispered tones. Ray offers a re-recorded take with "
You've Got the Music Inside
"...a song he originally recorded in 1973. In this performance from 1978 there's more music accompaniment and the arrangement is on the soft side. The original featured throaty nuances and a free wheeling vocalization...Ray's enunciation in the 1978 re-recording is a lot more mellow and subdued.
One of the highlights, among the many, is "
You're Magic
". It, too, is an easy-listening pleasant sounding catchy song. The song, armed with a bright and sunny arrangement and breezy vocalization, became an immediate favorite when I heard it for the first time. The song, basically, is about the enthusiasm and uncontrollable desires of a man who definitely has quite a passion for the woman he's singing about. On the other side of the emotional roller coaster is "
Comeback
"...this particular song rises the volume quite considerably compared to the soft and slow ballads that fill most of the album. In this song we hear a lover's plea in the most urgent kind of way...the hook of the song is the repetitive use not only of the title but also the demonstrative usage of it. When you finish hearing the song you'll have no doubt how much he wants the woman to comeback!
A more pop-flavored offering is heard on "
The Feeling's Not Right Again
". In this performance, Ray sings about a man who always comes
so
close to finding true love but without fail it always turns out not so good. "
Two Wrongs Don't Make a Right
" is a catchy mid-tempo love ballad about a man who falls victim to adultery and he initially wants to get revenge on the woman but ultimately he has a change of heart which leads to the song's title.
"
L'amour
" is a breathtaking song all about love. It's a song that has a unique origin in that it was written by French artist, Gilbert Becaud, who had a massive hit single with it in his native language. Ray reworked the lyrics and it has a catchy arrangement, too. The feel of the song is French...long before I knew much about the song's origins I suspected that it had some sort of international connection because the song's melody sounds foreign compared to American music. I originally assumed the song had connections with the United Kingdom or even Canada...but then I researched the song and found out it's origins.
One of the interesting trivia notes concerning Ray's stay at Warner Brothers is the lack of strong publicity that his albums and singles had generated. I wish I had a time machine and could go back to the late '70s and see just what was happening. One of the main reasons why I like to Google news archives on Ray is so I can get a feel of the media coverage, or lack of coverage, during certain points in his career. Whenever I search for news articles on Ray from the late '70s, 1977-1978 specifically, what I end up with are news articles mentioning any number of his TV appearances or maybe a write-up promoting an upcoming concert or one that already took place. I rarely find news articles that publicize his albums or singles from that time period...which leads me to believe the publicity machine wasn't cranked up all that high for Ray during that point in time. It's a shame, too, because the music he put out during this late '70s period is just as good as anything else you'll hear.
In the meantime, since there wasn't another single being pushed from
Be Your Own Best Friend
in the latter half of 1978, fans had to wait several months before the next project hit the market...and it hit in the spring of 1979. It was a novelty single...his first novelty release since the chicken-clucked "
In the Mood
" in late 1976. The novelty was rooted in parody...and chances were a listener had to at least have some sort of knowledge or familiarity with the subject being spoofed in order to really
get
the humor. Join me in the next installment as I discuss this 1979 novelty single from Ray Stevens...one that was such a hit that Warner Brothers compiled an album of previously recorded songs from Ray in an effort to have an LP to tie in with the surprise hit single.