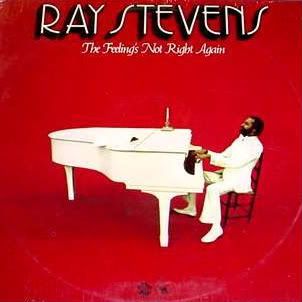 One of the aspects of Ray Stevens career and one that sets him apart from most other acts who are collectively grouped into the "country comedy" category is that Ray rarely did parodies and still doesn't for the most part. This album cover is a mock-up...an imitation...in both color and letter design of a 1975 album from Barry Manilow titled
Tryin' To Get The Feeling
. I do not know who came up with the idea, maybe Ray, to humorously spoof Manilow's album cover but it's one of the most eye-catching album covers of this era of Ray's career. The album itself is built around the success of a certain single that was issued in 1979. The success of the single no doubt lead to the making of this album and they used a song found on a previous album as this album's title, which lent itself perfectly to the mocking album cover. Ray's album is called
The Feeling's Not Right Again
...a song that made it's debut a year earlier in 1978 on his
Be Your Own Best Friend
release. As you can see, Ray's 1978 song lent itself perfectly as the title track of this 1979 collection.
The single in question is "
I Need Your Help, Barry Manilow
". The song was written by Dale Gonyea and Ray recorded it...and along the way had an unexpected hit with it. I say this because Warner Brothers put this album out to support the single...the picture sleeve on the 45 single was also a parody of Manilow's album design on his second album,
Barry Manilow II
.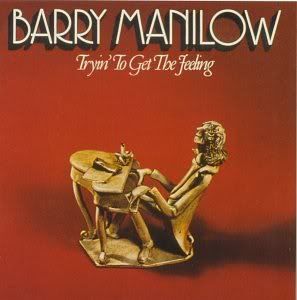 As a single, "
I Need Your Help, Barry Manilow
" hit the pop, country, and Adult-Contemporary charts in 1979. Predictably, the single wasn't a big hit on country radio because the subject matter wasn't appealing to country listeners. It peaked in the Top-85 on the country chart back when that chart was 100 positions. It did much better on pop radio, hitting the Top-50...but what is considered the most ironic is the single did even better on Adult-Contemporary radio, reaching the Top-20. The irony coming from the fact that Barry Manilow at that time was the undisputed king of the Adult-Contemporary radio format. Warner Brothers issued Ray's album, which consists of previously recorded material dating back to 1976, with only the Barry Manilow song as the only new recording. The back of Ray's album shown him sitting beside a dog. Ray has on a shirt that reads "I Love Bagles". This is, of course, a mock-up of Barry because on the back of his 1975 album it shown him sitting beside a dog and Barry's wearing a shirt that reads "I Love Beagles". That's how detailed the spoof/parody was carried out.
"
I Need Your Help, Barry Manilow
" was the story of a man down and out on his luck and he turns to Barry asking for help. Within the lyrics there was the use of song-titles and catch-phrases from various Manilow recordings...much of that coming during a recitation near the end of the song. It's a very funny song using Barry Manilow's reputation for easy-listening love songs and for incorporating overly dramatic music into the recordings, to heighten a mood.
The single became Ray's last entry on the pop and adult-contemporary charts in 1979. This was also his final album for Warner Brothers, a label he joined in 1976. For those curious this is what the back of those two albums look like...