Howdy and welcome to 2011!! A brand new year is under-way...as I begin this blog it's 5:07am January 1, 2011. Since I write a lot on the computer I generally don't run into the problem of putting the wrong year on papers I sign...sometimes out of habit I might...but I rarely hand-write at all anymore unless it's writing out a check to some bill collector, signing my name on a bank slip, or it's my signature on a sales receipt upon using my debit/credit card. Other than that I rarely use pens or pencils anymore. We're five hours into 2011 and I missed the New Year's Eve ball-drop in Times Square. I couldn't keep my eyes open last night from being awake since December 30th...I found that I had so much to do on December 31st that when I got home from work that morning I stayed up all day and into the evening...finally getting so tired that I decided to go to sleep around 8:30pm. I woke up around 3:40am this morning. I watched a clip of the Times Square ball-drop on You Tube but it's not the same as seeing it live. The bottom line is a night-owl such as myself has the oddest of hours!! As this is the first day of 2011 I've decided to highlight some releases that celebrate rounded anniversaries this year...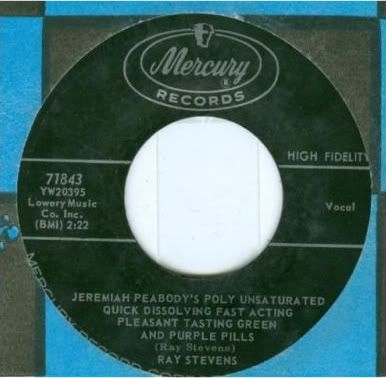 The first celebration represents a Golden Anniversary. It was 50 years ago, 1961, when Ray Stevens debuted with "
Jeremiah Peabody's Green and Purple Pills
". The song's title is much longer, as many Ray fans are well aware, and if you click the picture you'll be able to see a bigger image. The single became the very first for Ray to enter the radio-hit portion of the Hot 100, the often mentioned
Top-40
. Someone once upon a time came up with the concept of focusing exclusively on the first 40 slots of Billboard's Hot 100 music chart...putting heavy emphasis on singles that ranked at #40 and higher. In theory these would be the singles that were the most commercially popular...not to say the bottom 60 singles weren't popular...but ever since emphasis was placed on what's been referred to as the
Top-40
, through the course of time, media attention/publicity rarely greets the music that doesn't obtain Top-40 status. In more recent times publicity is almost non-existent unless a single reaches the Top-20 or higher...but back in 1961 chart methods and compiling wasn't as complicated/complex/intricate as it is now...even though, in 1961, it was probably considered just as complicated then but in hindsight it's much more complex now. The official time of the year that this single reaches Golden Anniversary status is August 2011. The single hit the Hot 100 in August of 1961 and remained on the charts for a little over a month. It's a novelty single and it initially paved the way for much bigger hit singles to come. Ray, by the way, had been a recording artist since 1957 but it wasn't until this 1961 single that he finally reached the national music charts for the first time.
Decades later, in 2007, he made a limited-animation music video of the song which was issued as part of the
Gourmet Restaurant
animation music video DVD. This 2007 music video can be seen on You Tube by clicking this
link
. It was uploaded onto You Tube by Ray's people (raystevensmusic) in 2009 and so far it's gotten 162,505 hits with hardly no publicity whatsoever. The original 2007 DVD which contains this music video has long been out of print. Currently, aside from You Tube, it's available on the
Cartoon Carnival, Volume Two
DVD which Ray issued as a 2-volume collection of all of his limited animation music videos that had been produced through 2009. The Cartoon Carnival collections, 10 videos on each, are great for those who may just be discovering the limited animation videos that Ray released in the middle of last decade.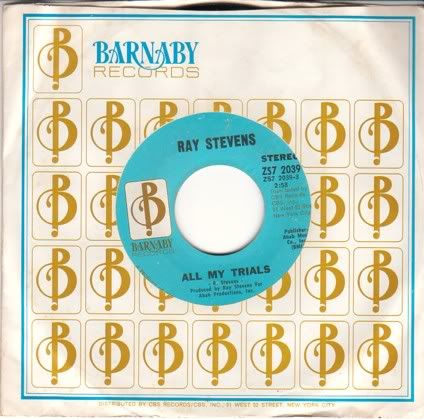 40 years ago Ray was on a gospel streak...the streak began in the summer of 1971 with the release of the inspirational "
A Mama and a Papa
". This single charted on the Hot 100 but it did exceptionally well on the Easy-Listening format, better known today as Adult-Contemporary. The single reached the Top-5 on the Easy-Listening chart during the summer of 1971. It's b-side was the much more alluring and traditional pop song, "
Melt
", which gives new meaning to the phrase "sensual ballad". Unfortunately this song was never promoted and it continues to remain an obscure B-side. "
A Mama and a Papa
", in the meantime, was followed by his version of "
All My Trials
" in the fall. There are two 'versions' of this song that were available in 1971. There is the longer version and then there's the radio edit which cuts out a lot of what I call the enchanting music section. Those familiar with the longer version will notice the radio edit right away as it cuts to the end of the song rather abruptly whereas in the longer version there's that lengthy instrumental prior to it's ending. Those who want to hear the longer version it's available on a Curb Records collection from 1996 titled
Great Gospel Songs
. "
All My Trials
" is presented in all it's 4 minute, 33 second glory. The single version, by comparison, clocks in at just under 3 minutes: 2 minutes, 58 seconds. In this particular recording Ray is noted to have over-dubbed his own voice in different harmonies more than 20 times. There was a publicity ad at the time that promoted the over-dub process by stating something along the lines of: "
Ray Stevens believes in his new single so strongly he performed it 26 times!!
". I have that ad on my computer somewhere...it's among my Ray Stevens items.
"
All My Trials
" was just as big on the Easy-Listening chart as "
A Mama and a Papa
" was. "
All My Trials
" peaked in the Easy-Listening Top-10. The single's b-side was his 1969 single, "
Have a Little Talk With Myself
". Ray closed out 1971 with the release of "
Turn Your Radio On
", which reached the Easy-Listening charts in November of 1971 and the other format charts in December. This became the more widely known single as it served as the title track of an upcoming album. "
Turn Your Radio On
" would reach the Easy-Listening Top-30 but by early 1972 it would reach the Country Top-20. It's Top-20 performance on the country charts is basically why it's the most widely-known of all the gospel songs he's recorded. It's also the song that appears on a lot of the compilation albums, too, whereas his two Top-10 Easy-Listening gospel hits seldom got much publicity, if any, since their 1971 debut. The b-side of late 1971's "
Turn Your Radio On
" is his 1970 war-themed ballad, "
Loving You On Paper
".
30 years ago Ray was low-key by comparison to previous years...there wasn't too many releases from Ray Stevens in 1981. Privately he was going through personal issues that I've written about in other blog entries. He issued the
One More Last Chance
album in 1981 but it's biggest single was "
Night Games
", a Top-20 country hit for Ray late in 1980. When that 1980 single was released in September I don't believe Ray, nor RCA, were planning it to be the lead-off single for an upcoming album. If that were the case you'd think the single would've been issued later in 1980, like say November or December, or early in 1981. Anyhow, quite a few months passed before a new single was issued...and this was in the form of the title track, "
One More Last Chance
", in early February of 1981. The title track's lead instrument is the electric guitar but there's a fabulous steel guitar solo at various moments throughout the song. In country music the fad/trend was the Urban Cowboy movement...and that trend was adopted for Ray's clothing which is on display on this album's picture sleeve. As you can see, Ray is seated in a bar room in western attire with a honky-tonk angel looking at him rather alluringly. The back of the album shows an ecstatic Ray, wearing the cowboy hat, possibly a visual reference indicating that the woman did in fact give Ray another chance after a night of steamy passion. (Yikes! Did I say that???) Well, remember, the first single from this album turned out to be "
Night Games
" after all...a song that examines the routines of couples who meet in singles bars. Unfortunately, though, following the 10 week chart run of "
One More Last Chance
" in the spring of 1981, which it reached the Country Top-40, this album wasn't given much publicity throughout the rest of the year. In fact, it would be nearly a year later that a new single from Ray was available: "
Written Down in My Heart
" entered the charts in early February 1982...nearly a year after the debut of "
One More Last Chance
".
Fortunately, though, I own this 1981 album and have heard the songs that weren't released as singles but should have been. "
Let's Do It Right This Time
", "
Just About Love
", "
Melissa
", and "
I Believe You Love Me
" all could have been promoted as A-side singles but weren't. This album also features his Mexican-Spanish music arrangement on the Nat King Cole pop hit, "
Pretend
". This album is ballad heavy to be sure...with "
Pretend
" being the only true up-tempo song on the whole album. "
Night Games
", which closes the album, is mid-tempo, as is "
I Believe You Love Me
". The rest of the selections are slow love ballads. This 1981 album has never been issued in CD or Mp3 format. It's only available on vinyl, which I have, and cassette. Aside from this album and the songs from it the only other major happening in 1981 for Ray Stevens was his guest-starring role in the daytime soap opera,
Texas
. Ray appeared as himself as he stopped by a local venue owned by a character in the soap opera. For the purpose of the storyline one of the female characters was written to be a big fan of Ray Stevens...and having him appear at the local night-club was played out like a surprise gift. In the show he performed "
One More Last Chance
".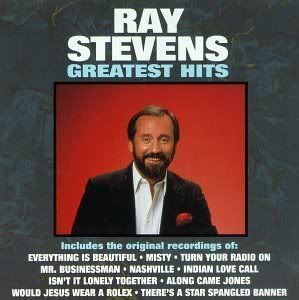 Curb Records issued this compilation 20 years ago in 1991. It was one of the first compilation releases purposely focusing on a majority of non-comedy singles from Ray Stevens...previous compilations almost always emphasized the comical recordings first and foremost with a few non-comical songs thrown in. This collection is also noteworthy for it's alternate recording of "
There's a Star Spangled Banner
". A previous version had been recorded in 1989 for Ray's
Beside Myself
album. The version featured on this 1991 release features different lyrics but retains the same arrangement, chorus, and feeling of the 1989 version. Out of the 10 songs on this compilation just 2 were in the comical vein: 1969's "
Along Came Jones
" and 1987's "
Would Jesus Wear a Rolex?
". This 1991 release was not widely distributed but the picture sleeve's been seen by millions of people thanks to the internet but also thanks to Ray himself...this CD was highlighted in 1992 on his
Comedy Video Classics
mega-hit home video. It was promoted as the CD containing the song "
Everything Is Beautiful
" which you can clearly see is track number one on the 1991 CD.
Elsewhere in 1991 came the studio album,
#1 With a Bullet
. This all-comedy album was written almost entirely by Ray's songwriter friend, Buddy Kalb. The only song not written by Buddy is the album closer, "
Workin' for the Japanese
", which was written by Ron DeLacy. 20 years ago that song was released as a single...it hit in July 1991. Ironically, though, Ray didn't perform the song in concert too many times after it's summer/fall success. A second single from the album wasn't issued until early the following year. This CD features "
You Gotta Have a Hat
", which Ray performed several times on TV appearances and it also features "
The Sheik of R&B
" which re-visits the Arabian atmosphere made famous in "
Ahab the Arab
".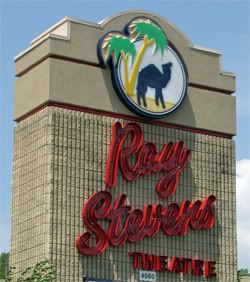 The big news in 1991, though, centered around Ray's grand opening of his theater in Branson, Missouri. Ray had his theater open for business starting in 1991 and he closed it down after the 1993 season...only to re-open it more than a decade later for another series of concerts...afterward he sold it to RFD-TV in 2006. Ray's theater played to sold-out shows in 1991, 1992, 1993, 2004 and 2005. Two home video releases in 1993 were filmed at his theater and those releases are the only commercially available products spotlighting his stage show at the theater. Those two releases are
Ray Stevens Live!
and
More Ray Stevens Live!
. I never got the chance to see Ray perform at his theater in person...in the early '90s I was still in high school so it was out of the question to even fathom making a trip of that length! Even now it's still unthinkable to travel
that
far and that's why I didn't see the 2004 or 2005 concerts. The few times I've seen Ray in concert is when he's appeared locally...which is what I consider anywhere between a 1 and 3 hour drive.
10 years ago, back in 2001, it was a rather quiet year for Ray Stevens...at first! A year earlier he had issued the home video,
Funniest Video Characters
, which featured the much-anticipated music video of "
The Blue Cyclone
". The 'year' didn't really start taking off until, ironically, the final months of 2001. It was in the last months of 2001, in the aftermath of the September 11th terror attacks, that Ray emerged with a single-only promo release: "
Osama Yo' Mama
" backed with "
United We Stand
". "
Osama Yo' Mama
" became an unexpected mainstream hit in December 2001...unexpected meaning that it had been 9 years since a Ray Stevens single had appeared on any music chart, no matter how popular Ray continued to be during that entire time period. This particular single debuted on the Country chart the last week of December in it's peak position...meaning that the single didn't chart higher than where it debuted. A music video emerged within the next year...and the commercial single had by that time became a highly successful retail hit as it remained on the Country Single Sales list for nearly half a year. Curb Records was in charge of distribution.
An
Osama Yo' Mama
CD was released in the spring of 2002 and it became a Top-30 Country hit. The music video was uploaded onto You Tube in 2009 and it's gotten 817,882 hits as of this writing...
This brings us up to the current year, 2011. I predict this year to be quiet compared to 2010 simply because it isn't an election year...for those who've been living under a rock and not paying attention to Ray's music lately he's been on a political run since November 2009 and practically all of his songs have been politically oriented in some form or another. This much we know: Ray, at some point, is to release more political comedy songs/videos and a box set covering novelty songs of the last 50+ years. There's not been a time-line/release date for those projects but it's highly likely that 2011 will consist of more Ray Stevens material building on the success he's been enjoying with the political/topical songs via the video hosting site, You Tube. When I refer to 2011 potentially being a
quiet year
I'm simply referring to mainstream exposure only...the sort of exposure on Fox News, for example, publicizing his music to a much more wider audience. Time will tell, though! I can't wait to see what Ray has in store for 2011!!