January 24th on this particular blog is a very important date in history. This is the day that Ray Stevens was born in Clarkdale, Georgia in 1939.
So Happy Birthday Ray Stevens!!
Ray's birth-name is Harold Ray Ragsdale and he adopted the name 'Ray Stevens' later on in life when it was suggested to him that he use a stage name. Several stories have been told as to why there was a stage name needed...on a 5 minute radio series in 1991, hosted by Ralph Emery, Ray remarked that the last name, Ragsdale, often reminded him of what you might call a puppy, "Rags", for example. The name, Ray Stevens, came from using his middle name and the maiden name of his mother. Harold Ray Ragsdale became professionally known as Ray Stevens at some point in 1957. A time-line runs along the right side of this blog page depicting the various stage's of Ray's career from his professional debut on Prep Records in 1957 through his most recent release in 2010. The time-line's purpose is to simply showcase the various LP covers, singles, or any magazine he's graced the cover of. It's a chronological time-line but I purposely pin-pointed a lot of the more obscure recordings in addition to the widely known recordings.
Pin-pointing the obscure recordings of Ray Stevens is one of the key ingredients in why I started this fan-created blog page in late 2008. There wasn't any blogs that I felt really delved into the career of Ray Stevens...and I thought it was high time an under-rated talent with enormous talent got the full-scale treatment that I felt was lacking while surfing the internet. On this Ray Stevens birthday let's journey back and forth between classic and contemporary...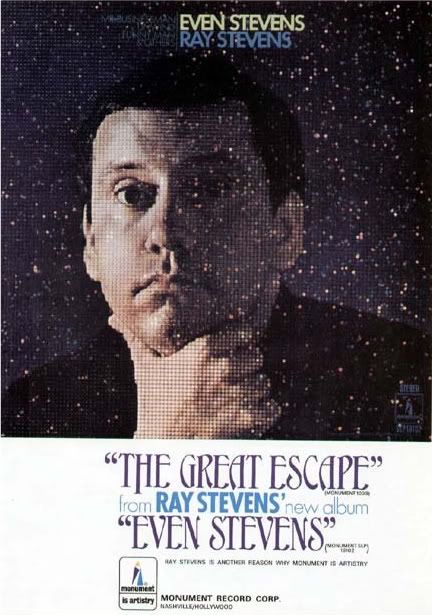 From 1968 is "
The Great Escape
", a very catchy song about the trials and tribulations of the everyday grind. In the song, which has stinging horn punctuations, Ray sings about how much of a bad day's he's been having and how he longs for the great escape to his home life and away from the job and constant chaos. In a lot of ways it carries a similar message that "
Unwind
" carries...and "
Unwind
" eventually reached the middle of the Hot 100 in 1968. Each of those songs comes from
Even Stevens
, the first long-playing album released on Ray by Monument Records. As you can see in the image display, the album is featured in the promo with the name of the single listed directly below. The period of 1968-1975, in the minds of pop music historians/critics, is the era in which they say that Ray Stevens was at his commercial peak. If you're judging this "commercial peak" in terms of pop radio and Top-40 airplay then they'd be correct...from 1976 onward he became more and more affiliated with country music.
As a result, a lot of people who listened to pop radio and followed pop music happenings and watched pop/rock oriented TV programs, well, Ray Stevens to those people had slipped under the radar and they ultimately stopped paying attention to his career. The effects of this kind of thing shown up in 2009 when people, who had apparently lost interest in Ray in the late '70s after he'd "gone country", all of the sudden they re-discovered Ray Stevens decades later via his You Tube music videos. A lot of those people had no inkling of anything Ray had done since the days of "
The Streak
" in 1974...that's how out of the loop they were in 2009 when his "
We The People
" music video became an internet smash hit. Fortunately though a lot of those who re-discovered Ray in 2009 went back and discovered a lot of the comical recordings they'd missed during that 35 year
(!!)
lapse in time.
An issue of TV Guide from 1970 contains a write-up on Ray Stevens as at the time he was the host of the summer show for Andy Williams. Ray and his cast taped a total of 8 programs that aired on NBC-TV spread out over a couple of months. The name of the TV show, by the way, was titled
Andy Williams Presents...Ray Stevens???
. The purpose of the question marks is explained within the article and it also goes into detail at how low-key and relatively unknown Ray happened to be in spite of having sold several millions of comedy singles and racking up several major hits throughout much of the '60s...with 1962's "
Ahab the Arab
" and 1969's "
Gitarzan
" achieving million seller status. The article implies that for the general public the last they heard of Ray was when "
Ahab the Arab
" was a single. This was obviously at a time when there was a major distinction between a radio star and a TV star...those who listened to radio a lot were no doubt aware of Ray Stevens; but, for those watching TV and only having radio on in the background, and for those who rarely paid much attention to music at all, more than likely had no idea who Ray Stevens was...but yet all of the sudden he was the star of a variety show on TV. The show ran from June 20 through August 8, 1970. It ran an hour and featured Ray performing songs and participating in comedy sketches plus it featured a regular cast of singers and comedians. The show has never been re-aired since it's final August 8th airing. It's anyone's guess if the episodes still exist or if they've been erased or "lost". In this day and age of DVD it's mind-boggling why Ray's 1970 summer show has never been released.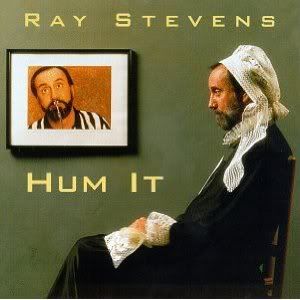 There's nothing mind-boggling about this 1997 CD, though. This particular collection of comedy songs features 10 tracks...a couple of the songs were made into music videos and have become part of his long list of comedy music videos. Ray's connection to music videos began in 1992 and for much of the 1990's his career had shifted from audio to video as sales of his music video releases had reached such enormous heights that it was only logical to emphasize music video releases first and foremost and place the recording career secondary. Ray, during the early '90s, was also a big star in Branson, Missouri headlining his own music theater. He did this for three consecutive seasons: 1991, 1992, and 1993. In 1997, after a 4 year absence of anything new in audio form, Ray returned with
Hum It
. This CD was issued by MCA and it depicts Ray as Whistler's Mother on the cover. Ray had been on the Curb Records label since 1990...issuing his home videos on his own label, Clyde Records, but in 1996 he joined up with MCA once again. MCA is the label he recorded for in the mid to late '80s when he became marketed exclusively as a country comedy act. Several of the albums he recorded for MCA and a couple of the compilation albums they released on him in the 1980's went on to become Gold and Platinum successes.
Late in 2001 and going strongly into mid 2002 Ray was enjoying the highly successful single and album,
Osama Yo' Mama
. Ray was back with Curb Records once more after a short-lived stint with MCA, 1996-1998. The single would achieve Gold status and remain on the Country Single Sales chart for nearly half a year. It would become the 5th most popular country single of the year in terms of sales in 2002. The album would reach the Top-30 on the Country Album chart and he appeared on a couple of high-profile programs on the Fox News Channel in 2002 as a result of "
Osama Yo' Mama
". The song was made into a music video in 2002...which eventually was uploaded by Ray onto You Tube in 2009. The song's sequel, "
Hello Mama
", was also made into a music video but was released as a single-only and as a consequence was not available on the
Osama Yo' Mama
CD.
To conclude this Ray Stevens Birthday blog I'll end with a small sampling of the awards that he's won and gotten through the years...
1. Gold Single: "
Ahab the Arab
"; 1962
2. Gold Single: "
Gitarzan
"; 1969
3. Gold Single: "
Everything Is Beautiful
"; 1970
4. Grammy- "
Everything Is Beautiful
"; 1971
5. Gold Single: "
The Streak
"; 1974
6. Grammy- "
Misty
"; 1976
7. Nashville Songwriters Hall of Fame: 1980 Induction
8. Georgia Music Hall of Fame: 1980 Induction
9. Platinum Album:
He Thinks He's Ray Stevens
; 1984
10. Gold Album:
I Have Returned
; 1985
11. Platinum Album:
Greatest Hits
; 1987
12. Gold Album:
Greatest Hits, Volume Two
; 1987
13. Gold Album:
His All-Time Greatest Comic
Hits
; 1990
14. Multi-Platinum Home Video:
Comedy Video Classics
; 1992
15. Multi-Platinum Home Video:
Ray Stevens Live!
; 1993
16. Multi-Platinum Home Video:
Get Serious!
; 1995
17. Gold Single: "
Osama Yo' Mama
"; 2002
18. Christian Music Hall of Fame: 2009 Induction
In the fan-voted
Music City News Awards
Ray was named
Comedian of the Year
for nine consecutive years: 1986 through 1994. The readers of Country Weekly named Ray their Favorite Comedian in 1995 during their Golden Pick awards gala.
As far as intellectual property is concerned Ray's publishing company, Ray Stevens Music, not only publishes the bulk of his own material but he's also the publisher of material that his writers have written for other artists. Ray's company is affiliated with BMI and throughout much of the '70s, '80s, and '90s he received quite a few BMI publisher certificates. In 1992 and 1994 his publishing company reaped the rewards of two Sammy Kershaw hits, "
Cadillac Style
" and "
I Can't Reach Her Anymore
". In 1977 he was the publisher of "
Way Down
", one of Elvis Presley's last hit singles during his lifetime.
A lot of the songs written by Layng Martine, Jr. were published by Ray as Layng was a writer for Ray for a period of years in the early to mid '70s.
Between 2003 and 2008 Ray continued to perform, record, and release music video collections. A return to his theater in Branson, Missouri in 2004 picked up where he had left off in 1993. Ray shut down his theater for good and it was bought by the RFD-TV network. After a few more CD releases in 2008 and 2009, including his first and only non-comical Christmas CD, Ray began to play around with the video hosting site, You Tube. At first Ray uploaded a lot of the music videos that he had put together in the 1990's and the early 2000's but then he began to use the site as a place to upload new music in video form for an entire world wide web to see. "
We The People
" came along in late November 2009 as an Mp3 single...several days later it was made into a music video and was posted on You Tube in early December. The song, skewering ObamaCare, became an internet sensation and obtained over a million plays on You Tube within a matter of weeks. Since then Ray's become quite popular amongst the You Tube audience with a string of topical/politically-themed music video releases that have all achieved massive numbers. There's only been a few of the video uploads that have not obtained more than 100,000 hits and those are "
The Global Warming Song
" with 84,879 hits and the seasonal "
Nightmare Before Christmas
" with 90,213 hits.
And with that this concludes the Ray Stevens Birthday blog! Given how much You Tube and music videos have become so synonymous with Ray in recent years let's enjoy what else Ray has in store for all the fans in 2011 by way of You Tube and by way of CD and DVD!!