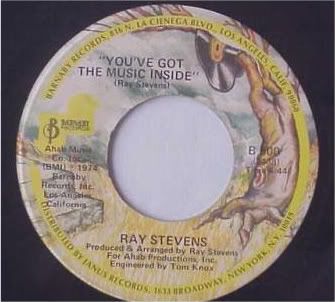 A non-comical recording from Ray Stevens dated 1974 is "
You've Got the Music Inside
". This is the B-side of "
The Streak
" but "
You've Got the Music Inside
" is taken from his 1973
Nashville
album. The B-side is not your typical love song...in this song Ray uses the word 'music' as a romantic metaphor when attempting to convey a message to a woman that it isn't right to feel uptight and keep things bottled up about a past relationship when she should be concentrating on the new relationship ahead. Part of the song's chorus suggests that the woman should let go of all of her hang-up's and start all over. This love ballad is well over 4 minutes in length. 4 minutes, 44 seconds to be exact. It's a slow tempo ballad...there's no mid-tempo fast paced rhythm to it except toward the end of the song when the music picks up and Ray gets into the spirit of the situation and vocally lets loose. Ray would later re-record this song in 1978 and place it on his
Be Your Own Best Friend
album. The 1978 re-recording is not
as
slow paced as the 1973 recording but the 1978 re-recording features an updated musical arrangement with a deliberate smooth-sounding Adult-Contemporary feel and it retains the slow tempo feel...but it's mid-tempo compared to the 1973 original. Ironically, though, Ray would perform this song on a 1981 episode of
Pop! Goes the Country
and sing it as an up-tempo party song throughout much of the performance...slowing things down at certain parts of the song...but the party atmosphere remained dominant in that particular television performance. This particular episode was taped after Tom T. Hall took over hosting duties from Ralph Emery and it can be found on DVD at the
Classic Country DVD
link. It's on the
Pop! Goes the Country, Volume 17
edition. Ray and Tom, by the way, sing a duet toward the end of the show...their take on "
It's Hard To Be Humble
".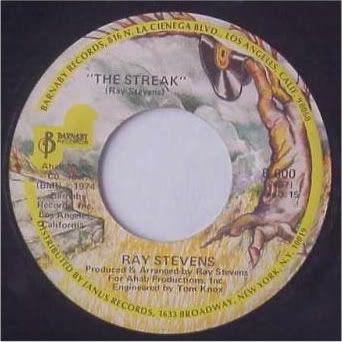 "
The Streak
", the A-side of "
You've Got the Music Inside
", cemented Ray's reputation as a comical singer...some had always viewed Ray as a comical artist, first and foremost, even before this song was released...
but
, this particular single forever shaped that belief in the minds of music buyers and radio DJ's. In spite of issuing an abundance of non-comical songs during the latter half of 1974 through 1979 it was the comical recordings that had popped up infrequently during that same time period that became more widely known. Wonderful non-comical songs such as his versions of "
Indian Love Call
", "
Mockingbird Hill
", and "
You Are So Beautiful
" in addition to original material like "
Honky Tonk Walt
z", "
Dixie Hummingbird
", "
Feel the Music
", and "
Be Your Own Best Friend
" were all greeted with lukewarm reception by DJ's and as a consequence the material wasn't widely played on the radio and as a consequence the lack of widespread airplay didn't enable the music to find a potentially appreciative audience...and without an audience to buy the music it causes an artist to look commercially unpopular. What I just described explains perfectly why airplay and sales pretty much back then went hand in hand...you couldn't have one without the other. Today, though, Ray uses TV advertising, TV appearances, and more frequently, the video hosting web-site, You Tube, to promote his music...and speaking of modern-day Ray Stevens...
Ray Stevens will appear at the CPAC gathering on February 10, 2011. He is scheduled to be a performer...I'm sure he'll speak during his spot on the show but because he's not considered one of the speakers at the event his name doesn't appear among the guests listed on the CPAC web-page. Instead, you'll need to click this
link
. It's an Adobe Reader/PDF file and once it opens it lists an event by event breakdown of what all will take place. For those who may have trouble opening up that link, Ray's confirmed to appear during the
Presidential Banquet
portion of CPAC held in the Marriott Ballroom beginning at 7:30pm February 10th. Ray mentioned this upcoming appearance via Twitter, the social network site. The CPAC gathering will be in Washington, D.C. and this marks another occasion where Ray lends his talents to a political event. On April 15, 2010 Ray appeared at a Freedom Works event billed as a
Tea Party Tax Day Rally
. Ray appeared at other Tea Party events throughout 2010, both on a large and small scale...including an event in Branson, Missouri on the same day that his concert series at
The Welk Theater
was coming to a close. Ray's most recent You Tube upload is the seasonal "
Nightmare Before Christmas
" but his most recent political/topical music video was the August 4, 2010 release of "
God Save Arizona
". This particular music video has gotten 614,245 hits as of 1/21/2011.