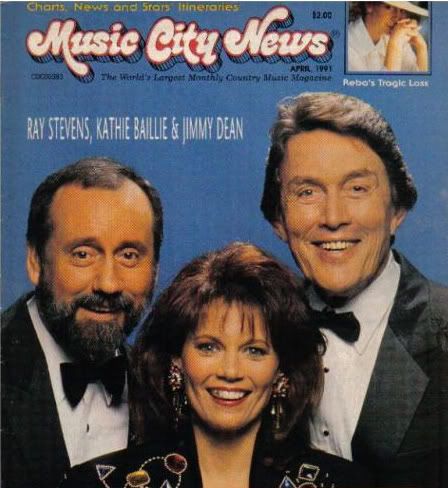 Ray Stevens, along with Jimmy Dean and Kathie Baillie were co-hosts of the Music City News Songwriter Awards 20 years ago in 1991, an experimental program that sought to spotlight and
award
the songwriting side of Nashville. 1991 was the debut year for this program and as you can see from the cover of Music City News, Ray was one of the co-hosts. This secondary program never obtained the same level of popularity that the artist awards from Music City News readers had gotten mainly because songwriters, usually, aren't in the spotlight. Unless a singer happens to be a songwiter, too, most songwriters aren't well-known outside of the songwriting community. There are a few exceptions, though, when a songwriter becomes prolific and is responsible for a large list of recordings by numerous recording artists. This sort of songwriter becomes just as popular as a singer...but 90% of the time songwriters don't obtain that kind of widespread acclaim.
The Music City News Songwriter Awards can be described as an updated version of an earlier program, The Music City News Top Hits of the Year, which often aired early in a calendar year. In that program, which had aired annually since 1981, the top country music hits of the previous year were performed on-stage and the songwriters were given publicity, too. For example...a 1982 telecast would celebrate hit songs from 1981.
I have a DVD of the 1983 edition of the Top Hits of the Year, actually it's a Best-of compilation from that 1983 special. All of the songs nominated and honored were hits in 1982. Ray Stevens was the co-host...along side Tammy Wynette. In the DVD release, which is cut down considerably from it's original running time, Ray and Tammy are shown introducing guests and bantering back and fourth which is customary on many programs. The two open up the DVD performing "
We Got the Music In Music City
" while later in the DVD we get to see Ray perform "
Country Boy, Country Club Girl
" which was a song featured on his 1982 album on RCA,
Don't Laugh Now
.
Here's a little bit of trivia concerning the 1983 awards program: The day the show was taped happened to be January 24, 1983...on Ray's birthday!
By the way...speaking of 1991 it was during the Gulf War that Ray's song, "
Ahab the Arab
", was routinely proclaimed politically incorrect by those who advocate political correctness. The highly entertaining song had it's share of critics prior to 1991 and those criticisms were few and far between. The criticisms tended to be about potential stereotypes of Arabs by modern-day listeners of the song. So, it's safe to assume there were politically correct hacks floating around in the '70's and '80s. By and large from 1991 onward the liberal-progressive movement took a firm grip in the so-called mainstream media and the progressive activists branded the song 'politically incorrect'. Very few media outlets from 1991 onward have had any positive references toward the song. If the song gets mentioned in modern-times it's almost always referred to as being politically incorrect or "harshly offensive".
Political correctness is nothing more than language-based McCarthyism
where liberal-progressives recklessly proclaim anything they take offense to as being politically incorrect. Once they smugly proclaim something to be politically incorrect in some way or another then the demagoguery begins.
In current interviews Ray Stevens takes up for "
Ahab the Arab
" and goes to great length explaining his inspiration for the song. Demagogues who hear his explanations have no use for the truth and therefore they continue to brand the song politically incorrect in spite of testimony from the song's writer. These politically correct hacks don't care what people or organizations say in their own defense...instead, the hacks want to dictate and control what others do and say no matter what. That's the bottom line. Political correctness has nothing to do with being inoffensive or being nice and kind to each other...it's all about controlling how a person communicates. The hacks want to control how people think toward certain organizations, singers, entertainers, books, TV shows, etc. etc. The literary field is littered with books that have been put on a so-called banned list because politically correct hacks object to their content. The same holds true for cartoons made largely before the mid 1980's.
There's also a double-standard at play, too. While the politically correct hacks are largely liberal-progressives who want to control how people communicate and dictate what entertainment we should enjoy...they get fighting mad whenever there's potential threats from Congress of non-funding of NPR (National Public Radio), PBS, or other left-leaning public funded organizations. These same people who demand that we adopt political correctness in our daily lives and accept their mandates on how to treat other people turn right around and get angry, insulting, and hostile if something they enjoy [like NPR; Unions] is threatened in some way. The hypocrisy is enormous.
Meanwhile, it was fun finding a VHS tape in my private collection and coming across an episode of The George Jones Show with Ray Stevens as a guest. I knew I had taped the show but among my VHS tapes it had gotten misplaced and for the first time in several years I watched the episode. The episode originally aired on TNN back in 1998 and I watched the episode multiple times throughout 1998 and beyond but when I purchased a DVD player and started watching DVD's with much more frequency I put away the VHS tapes into storage containers where they've remained since.
On the episode Ray sings his latest, "
Too Drunk To Fish
". The song was originally found on his 1997 CD,
Hum It
. The episode also features Ray and the other guests, Alison Moorer and T. Graham Brown, sitting in a living room set discussing with George the music industry and their careers. George plays a small clip of Ray singing "
Ahab the Arab
" from the mid '60s. Ray performs part of "
Everything Is Beautiful
" during the living room segment and moments later he and George perform "
She Thinks I Still Care
" as a duet blending the pop-version Ray recalled singing in an unreleased recording while George performs it the way he's known for.