Given that Ray Stevens has long since had a reputation as a comedian/novelty song artist it makes sense to open up this Father's Day edition of the blog with commentary about a song Ray recorded in 1990 called "
This Is Your Daddy's Oldsmobile
". The song originates from his comedy album that year,
Lend Me Your Ears
, on the Curb/Capitol label. In the song Ray plays the part of a father who has a son that's just learning how to drive. The father comically taunts the son with constant reminders that the car's off limits...but toward the end of the song the father gives an ultimatum that if the son changes his ways he may reconsider and let his son drive the car. The song was written by Buddy Kalb and Russell Piburn. A few years earlier, in 1986, Ray played the part of a father that took his family on a "
Camping Trip
". As you can imagine the excursion was one misadventure after the other. The song originally appeared on Ray's 1986 comedy album,
Surely You Joust
. A limited animation music video was made of this song 20 years later in 2006 and it can be found on the 2009 DVD collection
Cartoon Carnival, Volume Two
. Ray co-wrote the song with Buddy Kalb.
A further song on
Surely You Joust
is the haunting and some may say creepy "
Camp Werthehakahwee
", written by Bobby Russell. In this song Ray plays a father who enrolls his son in summer camp. Ray spends much of the song explaining to his son what all to expect out in the wilderness in addition to going over the brochure that the camp mailed out. On the last day of camp the father heads off to the camp grounds to pick up his son...and you won't believe what happens next! In 1993 on the
Classic Ray Stevens
comedy album Ray plays a father who takes his family on an "
All-American Two Week Summer Family Vacation
". Surprisingly this comical tale hasn't been made into an animated music video although it clearly comes across as a song tailor made for one.
There are quite a few other comedy songs from Ray where he plays the part of the everyday man and father...including 1988's story of a father who gives in to family demand and gets satellite television installed. The song's title is based upon common descriptions found on many cable movies: "
Language, Nudity, Violence, and Sex
". I remember reading cable guides in the late '80s which would give brief movie descriptions and they'd all conclude with a variation of "this movie contains strong language, violence...". We're all familiar with that kind of thing. The song can be found on his 1988 comedy album,
I Never Made a Record I Didn't Like
.
On that same 1988 album Ray tackled the subject of single fathers in the darkly humorous "
Mama's in the Sky With Elvis
". In the song Ray plays the part of a father who loses his wife in a very peculiar accident. Suddenly single he has to raise his children amidst the many souvenirs and merchandise from his wife's Elvis collection. Along the way there are several names of Elvis songs and movies sprinkled throughout the story. If you've not heard this wickedly funny song then you owe it to yourself to get a record player and look for the 1988 vinyl album on eBay! I've searched Amazon's Mp3 store and it's not available as a digital download. Interestingly, the song was originally released on 1987's
Greatest Hits, Volume Two
but was also added to the 1988 album.
As you can see there are plenty of comical songs recorded by Ray Stevens about fathers but as far as non-comical, serious recordings go there is only one song recorded by Ray Stevens about fathers which is very under-rated but highly entertaining...
Without question one of the more emotionally charged recordings about fathers from Ray Stevens is "
My Dad
". Ray recorded "
My Dad
" in 1983 and included it on his Mercury album,
Me
. As you can see from the promo sticker it was one of the songs highlighted by the record company. The song was written by Dale Gonyea...the same man who provided Ray with "
I Need Your Help, Barry Manilow
" in 1979. "
My Dad
" is certainly appropriate for Father's Day and it has a surreal climax...one that will certainly take a listener by surprise. When I first heard the song in 1996 it gave me chills. A melody, coupled with the lyrical content, will do that kind of thing to a person every once in awhile. I've never seen Ray perform this song in concert or on TV...it was released as a single by Mercury in 1984 and I have reason to believe that there's televised footage of him singing the song because of his various appearances on
Nashville Now
in the early years of
The Nashville Network
. As I said I've never seen Ray perform the song but I assume he performed it on TV during that 1983/1984 time period and if he did I wish we could see it again.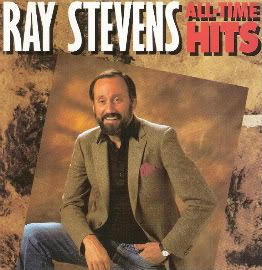 "
My Dad
" wasn't a Top-40 country hit for Ray but it did make the country charts for several weeks. It hit in early February 1984 and remained charted through early April. The song never appeared on any of the various compilation releases that came along in the 1980's but it did show up in a 1996 compilation titled
All-Time Hits
. This compilation was issued by a subsidiary of Mercury Records called Polygram. The unique thing about the 1996 compilation was that it incorporated a couple of Ray's hit singles for RCA Records: 1980's "
Shriner's Convention
" and 1981's "
One More Last Chance
". The latter was one of the three bonus tracks not found on the cassette version. The cassette version features 8 recordings while the CD version features 3 additional recordings. Also, because this compilation was released by a subsidiary of Mercury Records all of the early '60s recordings are the originals. Ray would re-record a lot of his Mercury recordings after he joined Monument Records and a lot of times his 1969 re-recordings of early '60s hits on Mercury would often show up on compilation releases. This is one of the few compilation releases to feature the original recordings of his Mercury material.
1. Ahab the Arab; 1962
2.
Butch Babarian
; 1963 (CD bonus)
3. Funny Man; 1963
4. Harry the Hairy Ape; 1963
5. Jeremiah Peabody's Green and Purple Pills; 1961
6. My Dad; 1983
7.
Santa Claus Is Watching You
; 1962 (CD bonus)
8. Speed Ball; 1963
9.
One More Last Chance
; 1981 (CD bonus)
10. Furthermore; 1962
11. Shriner's Convention; 1980