A recent interview done with Ray Stevens made it's way on-line a couple of days ago. The interview is broken into 3 parts and it was conducted by Jeremy Roberts. Google the
National Pop Culture Examiner
and once you enter their site look up the author's name. Afterward, open his profile and you'll find the interviews. If attempting this is a bit too much you can simply Google "Ray Stevens + Examiner" and the interviews will show up in the search results. The first part of the interview was published on June 18, the second part came along on June 24, and the third part was published on June 25.
The "
Obama Budget Plan
" is sitting at 316,756 views...the music video was uploaded by Ray Stevens on April 25...yesterday marked the 2 month anniversary of it's You Tube arrival. The video continues to rack up anywhere between 6,000 to 10,000 views weekly. The song comes from his current CD,
Spirit of '76
. Elsewhere on that CD is a song poking fun at cap and trade...with a song cleverly titled "
Cap'n Trade the Pirate
". Cap and Trade is not a subject that's on a lot of people's minds even though it may become a subject on a lot of people's minds at some point.
I won't get into all the complexities and technicalities of Cap and Trade but for those who want to know about it you can easily find information on-line. It's more or less an environmentalist issue...critics charge that Cap and Trade is simply a back door way of shutting down refineries across the country and after looking at the basics of Cap and Trade you can see where critics come to that conclusion. The environment is one of those touchy subjects because it's a double-edged sword...on the one hand you don't deliberately want to pollute the atmosphere but on the other hand you have to be cautious and alert if a Government becomes too powerful and too expansive. The last thing a person wants is to have a State or Federal Government controlling a person's
every
move. That's not what America's all about.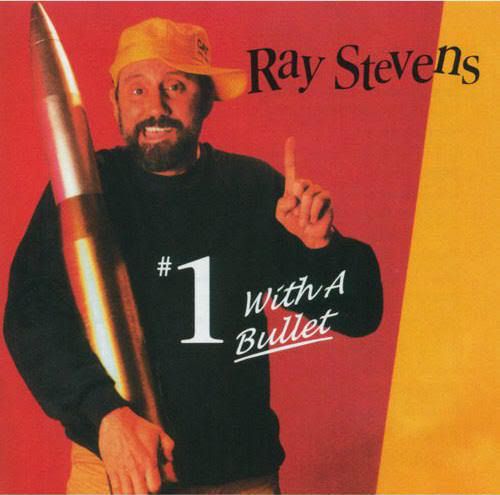 However, America has seemingly always had economical competition with Japan...and on this 1991 CD we hear the very satirical, economical, and infectious "
Working for the Japanese
". The song closes out
#1 With a Bullet
. The single reached the country charts but by this point in time country radio had passed over the comedy song...pop radio had long since stopped playing comedy songs...but Curb Records nevertheless released a promo single to radio stations. Ray performed the song on
Nashville Now
...on the same episode Ray performed "
The Sheik of R&B
" (
track 6 on the 1991 CD
). In addition to those two songs I've also seen Ray perform on television a couple of other songs from that 1991 CD: "
Power Tools
" and "
You Gotta Have a Hat
".
That particular song, a spoof of the hat acts in country music, can also be seen on the 1993 home video,
Ray Stevens Live!
. The home video was a million seller but it has never been released on DVD. The home video consistently comes up for sale on eBay. Curb Records released an audio CD soundtrack of the home video in 1995...but nothing beats seeing Ray on stage so all that the audio CD will do is cause you to thirst for the home video counterpart.
Songs performed on the home video are as follows:
1. Shriner's Convention (second verse omitted)
2. Can He Love You Half as Much as I?
3. I Saw Elvis In a U.F.O.
4. Ahab the Arab (partial performance)
5. Information Man (alternate title of "
Secret Agent Man
")
6. Gitarzan
7. Sex Symbols
8. You Gotta Have a Hat
9. Amazing Grace (abbreviated performance)
10. Misty
11. The Streak
12. Everything Is Beautiful
Ray is brought out on stage by way of introduction from his brother, John. Ray enters the stage riding the famed 'Coy' motorcycle and wearing a Fez and Hawaiian shirt. This, of course, is a visual enhancement during his performance of "
Shriner's Convention
". Although the show takes place at his own theater he still has the concert timed out and so the second verse is omitted. An elaborate production is put forth during the performance of "
I Saw Elvis In a U.F.O.
". The song opens with video footage of Ray playing the part of the evening newscaster in addition to field reporter Renaldo Riviera and U.F.O witness Mr. Frisbee. After the witness gets through explaining what he saw out in the woods the action returns to the stage and Ray appears dressed in full Elvis costume and is later joined by pink space aliens while a huge U.F.O. hovers overhead...the song climaxes in a bit of high theatrics as we see Ray being beamed up into the U.F.O. as the audience goes into fits of laughter.
Not surprisingly this performance was written up in several columns by Branson, Missouri writers of the time period...I recall one review stating that Ray's performance of "
I Saw Elvis in a U.F.O.
" was the hottest thing in town and that it became something of a must-see performance by those who were on vacation down there. The song originates from Ray's 1989 album,
Beside Myself
.
Later, he comes riding out on stage in a camel costume after having sang the opening lines of "
Ahab the Arab
". He doesn't continue with the song, however. He instead launches into a mini-standup comedy routine by telling jokes. This is followed by a black and white video presentation of Ray as a James Bond-style character...upon it's conclusion Ray comes back out on stage decked out in a white tuxedo and carrying a gun.
He tells a few more jokes before launching into a brief song called "
Information Man
", clearly patterned after "
Secret Agent Man
". On the back of the home video it gives songwriter credits to those who wrote "
Secret Agent Man
". Obviously I don't want to write an entire review of the home video and so I'll stop here.
The follow-up,
More Ray Stevens Live!
, was not widely released but people could purchase it through Ray's fan club and at the gift shop at his Branson, Missouri theater. The follow-up home video inserted comic bits, songs, and performances from his road band that were not shown in the first home video. In actuality it was one concert performance at his theater, filmed in 1992, and broken into two separate home video releases in 1993. The concert was 1 hour and 40 minutes in length. The first home video ran a total of 56 minutes and the second
Live!
home video ran 44 minutes. Also, "
More Ray Stevens Live!
" featured solo performances by Janice Copeland and performances by Ray's stage band. The band was called
The French Fried Far Out Legion
...and in the opening number Ray's brother introduces all members of the band who go on to perform a brief instrumental. This is followed by Janice Copeland's portion of the show. Ray makes an appearance and performs "
Cletus McHicks
" before another jam session gets underway with "
Orange Blossom Special
". Ray performs "
Turn Your Radio On
" and then the entire band lip-synches "
In the Mood
" as Ray's chicken-clucking performance is played over the P.A. system. Some of the band members get into the clucking and cackling which is greeted with laughter by the audience. Janice Copeland returns in character as Beulah the Bag Lady...Ray's brother plays the straight-man to her rural jokes. Eventually she performs "
R-E-S-P-E-C-T
". Ray closes out the home video performing "
The Haircut Song
", "
Mississippi Squirrel Revival
", and "
It's Me Again, Margaret
".
Songs from the second home video are as follows:
1. The French Fried Far Out Legion
2. Bridge Over Troubled Water
3. Love Can Build a Bridge
4. Cletus McHicks and His Band from the Sticks
5. Orange Blossom Special
6. Turn Your Radio On
7. In The Mood
8. R-E-S-P-E-C-T
9. The Haircut Song
10. Mississippi Squirrel Revival
11. It's Me Again, Margaret