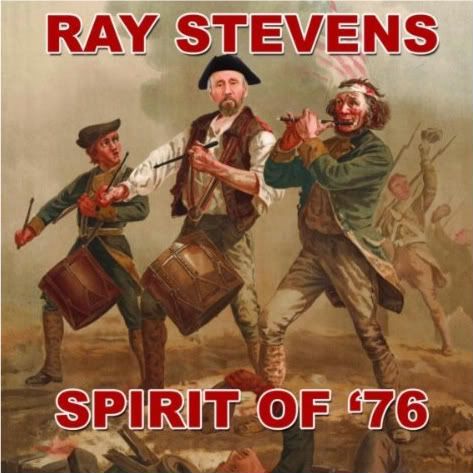 Good late Sunday night...Father's Day is winding down...and it's now time to concentrate on the latest activity of Ray Stevens. On June 9th in a message on Twitter, Ray Stevens remarked that he hoped to have his 100+ song collection of the greatest novelty songs of all-time completed by July. Six days later, on June 15th, Ray remarked that he was putting the finishing touches on the collection and that he's getting ready to release it. The way he worded the June 15th message sounded like it would be released sooner rather than later. In a previous blog entry I made a remark that the collection may be released in August or September. I gave that assumption based upon the fact that many of his projects, when finished, are put on hold for a month or two prior to release but apparently the novelty song collection he's been working on will be released in a couple of weeks?!? He's been referring to the collection as the
Encyclopedia of Recorded Comedy Music
and that's what I've been calling it. In a radio interview a couple of months ago he gave some specifics about what will be on the collection and he made it clear that the collection won't have any stand-up routines on it. The fans, as well as the radio personalities who've interviewed him during the first part of 2011, were more or less wondering if Ray would also cover stand-up comedy routines made famous by the likes of Bob Newhart, Jonathan Winters, Jerry Clower, and Bill Cosby just to name a few. For the most part, aside from a few song titles that he's mentioned in radio interviews, Ray's been tight-lipped about what will be on this collection. I can't wait to hear his versions of other artist's novelty songs!
For years there have been people who credit Ray with singing novelty songs that he actually never recorded...just today there was a tweet on Twitter by someone giving erroneous credit to Ray Stevens for singing "
Wildwood Weed
". Those who know of this song should be well aware that the artist is Jim Stafford...NOT Ray Stevens! I've touched upon this annoyance before but without fail someone on Twitter or You Tube attaches Ray's name to practically every novelty song that's ever been recorded. Obviously when Ray's greatest novelty songs of all-time collection is released we will finally get to hear Ray's take on a lot of the novelty songs that have long been erroneously credited to him. I have no idea if Ray covers any Jim Stafford hit songs but you'd think he would...Jerry Reed is another artist who I assume Ray will cover. We're all anticipating this
Encyclopedia of Recorded Comedy Music
and with it containing at least 100 songs from Ray Stevens it's sure to become an instant classic in his career!!!
Speaking of You Tube...Ray's latest music video spoofing the "
Obama Budget Plan
" crossed the 300,000 plateau early Sunday morning...it's gotten 301,044 unique views since it's debut on April 25th. This means that in six more days the video will turn 2 months old. Obama money...and debt...and domineering Government regulations have been the key factors in the slow death of America's economy. Major changes need to take place in November 2012...and we all know what that means!!
Ray's previous music video about the TSA, "
The Skies Just Ain't Friendly Anymore
", was uploaded onto You Tube on February 17, 2011 and it's gotten 175,964 views so far. Each song is on the
Spirit of '76
collection and it can be purchased
here
at Ray's music store.