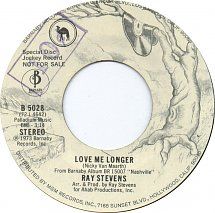 Welcome to 2013 to all the fans of Ray Stevens!! Sometimes I like to start off the new year by spotlighting some Ray Stevens albums or songs that reach special milestones and this year is no exception. Turning 40 this year is a certain LP from Ray Stevens released in 1973 titled
Losin' Streak
. I wrote about all of Ray's studio albums in my Golden LP Series but that didn't mean that I wouldn't ever write about those albums again.
Losin' Streak
quickly became one of my favorite albums from Ray and a lot of it had to do with it's sound, the dazzling cover photo of Ray where he appears to be belting out "
This Is Your Life
", one of the great songs on the great
Losin' Streak
LP. The back of the LP cover shows a completely reserved Ray Stevens quietly at the piano as if he's playing the instrumental piece. In the meantime, "
Love Me Longer
" from the
Nashville
LP became a commercial single from Ray in 1973. Strangely enough it didn't reach the charts of either the pop or country formats. The soon to be released
Losin' Streak
LP never entered any album chart. It's just one of those things where the unexplainable happens because a year earlier he was all over the country and adult-contemporary charts with his gospel album and the singles that had been released from it, another 1973 LP titled
Nashville
was a success with it's title track reaching the Country Top-40 in the summer while the LP hit the Country charts in November and throughout much of 1974 he was all over the country and pop charts with several other singles...so it's always been a mystery why this
Losin' Streak
LP, issued before
Nashville
, slipped through without hardly any fanfare. "
Losin' Streak
" was issued as a commercial single, backed with a song titled "
Inside
". The catalog number for the single is
ZS7 2065
and it was issued on a single distributed by CBS Records and had the standard blue paper attachment showing the credits and single title. This is one of the ways you can tell that the
Losin' Streak
LP and it's single was released before the other 1973 album,
Nashville
. When
Nashville
was released later in 1973, Barnaby's distribution had switched from CBS to MGM (briefly) and then to Janus. CBS had been the distributor of Barnaby singles for awhile. The latter MGM and Janus distributed singles featured the paper label showing a melted vinyl single resting on top of a tree branch which I assume is very familiar to a lot of fans of Ray Stevens or readers of this blog because I've posted copies of the Janus distributed singles a whole lot of times and you can see an image of this on the promo single for "
Love Me Longer
" at the start of this blog entry.
In my various blog entries I've always given the
Losin' Streak
LP a lot more attention than it got when it was originally released. The LP has never been available on CD or Mp3 and so it's truly an obscure studio album. Some of the songs on the LP are "
Losin' Streak
", "
Idaho Wine
", "
This Is Your Life
", the bluesy take on "
Bye Bye Love
", a re-recording of "
Just One of Life's Little Tragedies
", and "
Being Friends
among several others. Since it's been 40 years since the release of
Losin' Streak
and since there's never been a re-issue in CD or in Mp3 format I don't look for this unheralded gem of an LP to see the light of re-issue glory anytime soon. Your best bet is to search eBay which is exactly where I purchased my copy of the LP several years ago. Any fan of Ray Stevens should seek out this LP or at least be aware of it's existence.