One of the other studio albums released by Ray Stevens in 1973 is a project titled
Nashville
. This particular LP turns 40 this year, too, and unlike
Losin' Streak
,
Nashville
had a CD release a few years ago. The
Nashville
LP featured a collection of songs that were not necessarily country but were more along the lines of easy-listening and it fit the sound that was dominant on country radio during this time period. The main single release was the title track, "
Nashville
", which when listened to now reveals an entertaining history lesson as Ray mentions names of artists and other topical references of an early '70s Nashville, Tennessee. "
Nashville
", the single, hit in July of 1973 on it's way to a Top-40 country finish. The single debuted in the Top-90 on the country chart (the country singles chart had 100 positions for the longest time to mirror the amount of singles released to country radio as well as perhaps be an equal companion to the Hot 100, pop music's weekly chart). The single climbed into the Top-40 several weeks after it's debut. The single was released in several countries and a few of those releases had varying b-sides different from it's United States release. I've never really understood why record companies decided to use different songs as b-sides instead of sticking to the same b-side per single release but I've usually assumed it's for economic reasons...mostly for collector's who are usually more willing to buy multiple copies of the same song if it features a different b-side on each release. Also, sometimes a single will feature a song on the b-side that doesn't make it to an LP and therefore the single release will be the only place a listener or a fan will hear the recording.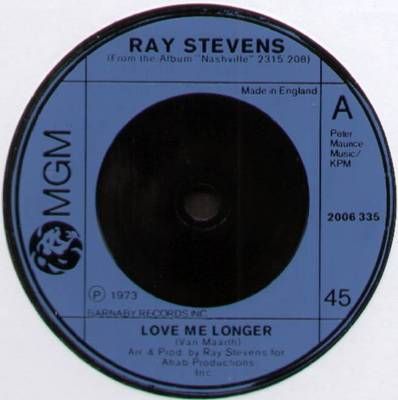 "
Love Me Longer
", a single I highlighted in the previous blog entry, was issued later in 1973. This image is the single release in the United Kingdom showing MGM as the distributor. The song is about a one night stand between a musician and a married woman. It's a wonderful song and one that was written by someone other than Ray! The writer of this song, Nick Van Maarth, was also the writer of "
Losin' Streak
". "Love Me Longer" was apparently well liked by the record company and Ray, too, considering that there were several single releases of this song and one of those releases featured a picture sleeve of the
Nashville
album. The unfortunate fact surrounding the gem of a song is that it didn't become a hit...not even a chart hit...but it wasn't due to a lack of publicity. Research shows that the record company pushed the single as much as any of his other releases and it was distributed internationally as well. Airplay, or lack thereof, played the most vital role in the short life of this single. Those familiar with Ray's
Nashville
album are probably fans of "
Love Me Longer
" too. Ray performed this song quite a few years after it was a single on a 1980 episode of
Hee Haw
. I have no idea if Ray randomly picked out the song to perform or if it was an intentional decision to perform it. When Ray performed the song in 1980 he was wearing a cowboy hat which had become part of his wardrobe for a few years in the Urban Cowboy era of country music (1979-1982).
Elsewhere on the LP we have more love ballads...Ray's original recording of "
You've Got the Music Inside
" is included on this album. He would later re-record it with a much more smoother melody and vocalization. "
Idaho Wine
" continues to be one of the more clever songs as it tells the story of two distinctly different people in a relationship heading for it's end. "
Golden Age
" is a sing-a-long about bracing yourself for your advanced years. The most musically innovative and vocally memorable cover of "
Never Ending Song of Love
" of all-time is featured on the Nashville album. Once you hear the way Ray performs the song and the next time you hear the traditional way it's performed you'll probably prefer Ray's performance!! A nice instrumental, "
Float
", is featured as is a song with the quirky title of "
Fish Eat Sleep
". Ray speaks to the listener prior to singing "
Fish Eat Sleep
" and explains the song and how he come to include it on the LP. Further love ballads include "
Undivided Attention
", "
Piece By Piece
", and "
Nobody's Fool
". The album features a song called "
Destroyed
" from the pen of Merle Kilgore and it became a favorite when I first heard it.
As mentioned,
Nashville
was issued in CD format a few years ago. It was released as part of a 2 album on 1 CD collection. It was paired with Ray's 1974 album,
Boogity-Boogity
. You can find the
Nashville
LP on eBay and other places and you can find the CD issue of
Nashville/Boogity-Boogity
on-line, too.
There once was a time when Ray's catalog of music was out of print and unavailable in any format. How I remember those times very well!! I used to complain and gripe to anyone that would listen that it was such a travesty that the brilliant recordings of Ray Stevens have not seen the light of day on CD.
Since the advent of the internet but largely due to independent record labels and foreign based record companies bringing a lot of older recordings to the marketplace again it's created a scenario where a lot of Ray's older recordings from the '60s and '70s, which had long been commercially unavailable, have since become available in Mp3 format. There are still a few studio LP's from Ray that have not been issued in CD or Mp3 format yet but for the most part much of his recordings are available at Amazon's Mp3 site if one takes the time to browse around. 1973's
Losin' Streak
and the studio albums he recorded between 1976 and 1983 have not been released in CD or Mp3 digital download format but the rest of his studio albums have.