Oh yes, once more I take a look back into the fascinating musical career of Ray Stevens. This time around I want to give some more spotlight to a vocal gem that Ray recorded in 1975 titled "
Indian Love Call
". The song was part of an album of pop music standards that Ray issued in 1975. The album was titled for it's first single release,
Misty
. That particular album was issued on CD several years ago, paired with his 1972 gospel album,
Turn Your Radio On
. "
Indian Love Call
" had been recorded by dozens of pop artists since it's creation with the biggest recording from Slim Whitman in 1952. Created for a musical in 1924, it came into pop music prominence in 1936 when it was recorded as a duet between Nelson Eddy and Jeanette MacDonald.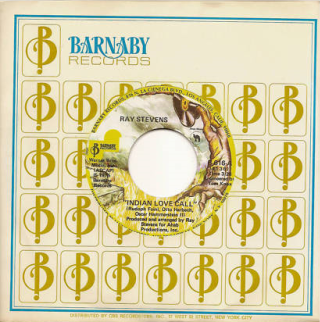 "
Indian Love Call
" became a Top-40 country hit for Ray Stevens in 1975 and it charted Top-70 pop as well. It's b-side, "
Piece of Paradise
", remained as a single-only until 1998 when it was unearthed on the Varese Sarabande release,
The Country Hits Collection
. Unless you have the "
Indian Love Call
" single, the 1998 CD compilation continues to be the only project to feature "
Piece of Paradise
". The b-side shouldn't to be confused with a similarly titled song from Ray eight years later in 1983 called "
Piece of Paradise Called Tennessee
". The two songs are completely different. Ray arranged "
Indian Love Call
" and changed it's more familiar uptempo performance into a slow, bluesy, doo-wop performance. There is very little video documentation of Ray performing this song which is such a shame. However, I've pointed out in a few blogs a couple of years back there are DVD's of the television series
Pop! Goes the Country
and several episodes star Ray Stevens. In one episode from 1975 he performs "
Misty
" and "
Indian Love Call
" as well as "
Twilight Time
". The very first time I heard the Ray Stevens version of "
Indian Love Call
" was on a 1991 compilation release from Curb Records titled simply,
Greatest Hits
. That 1991 compilation is noteworthy among several fans of Ray Stevens for it's inclusion of an alternate recording, with different verse lyrics, of "
There's a Star Spangled Banner
" (the song kept the same lyrics in the chorus).
As far as I know this remains the only video footage of Ray Stevens performing "
Indian Love Call
". It's on the
Volume Four DVD
of
Pop! Goes the Country
. The DVD cases, some of them, have been refreshed and modified from the plain light blue color that appeared originally. I own the DVD with the light blue color background but as you'll see when you click the link the DVD case is updated to an orange color. Ray appears on several other volumes. Search his name in the search box. I own a few of the Volumes featuring a Ray Stevens episode. There are a couple that I still don't own...including a 1978 episode and one from 1977.