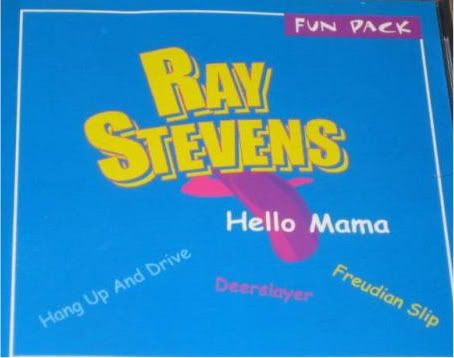 A little-known comedy song, "
Hello Mama
", should be more well known. It's a sequel to "
Osama Yo' Mama
", a song Ray had a hit with late in 2001 and into mid 2002. In "
Hello Mama
", the story of bin Laden on the run, we hear the various phone conversations between a soft-spoken bin Laden and the screechy-voiced mother. The mother's voice was also a big part of "
Osama Yo' Mama
". Ray plays both roles of course. In addition to Osama and his Mama we also have another person featured prominently, George W. Bush, known as "Dubyah" in both recordings. "
Hello Mama
" purposely carries the same melody as "
Osama Yo' Mama
" and so if you hear the two songs back to back it'll be like one big comedy song.
"
Osama Yo' Mama
" debuted late in 2001 as a single-only with the much more serious "
United We Stand
" as it's B-side. This was in the months following 9/11 when there was a patriotic mood in the air. Some people, though, were puzzled why Ray would put out a comical recording during a time of national mourning and reflection...but Ray justified his decision by paraphrasing what the President said in the hours following the 9/11 terrorist attacks: go about your lives as normally as possible in an effort to show that terrorism doesn't win. This mantra was highlighted by Ray in his commentary about the single...this commentary appears on the fold-out cover of the
Osama Yo' Mama
album.
The single hit the country airplay chart...and then it hit the Single Sales chart and it remained there throughout the early half of 2002. It was typically one of the Top-3 selling singles every week, often in the runner-up position, for much of early 2002. A music video was made of "
Osama Yo' Mama
" as well as the later release, "
Hello Mama
". This Fun Pack EP is a rather obscure release...it features the title track, "
Hello Mama
", in addition to a couple of other comedy songs found on the
Osama Yo' Mama
album: "
Hang Up and Drive
", "
Deerslayer
", and "
Freudian Slip
".
For those curious and want to watch the music video of "
Hello Mama
" should seek out the mammoth 2-DVD collection entitled
The Complete Comedy Video Collection
that Ray issued in 2004. The collection contains practically all of his live-action music videos and "
Hello Mama
" is a featured bonus video on DVD #2. You can find the collection
here
.
Consumer alert is in order because there are two slightly different versions of this DVD collection. Each version features the same layout, design, title, and cover art but there are a few omissions in the version being sold at Ray's web-site. The version released by Curb Records in 2004 contains the "
Power Tools
" animated music video plus "
Osama Yo' Mama
". In the version offered at Ray's store those two songs aren't featured in the collection. "
Osama Yo' Mama
" is removed from DVD #2 while "
Santa Claus Is Watching You
" replaces "
Power Tools
" on DVD #1. Never fear, though...the "
Power Tools
" music video later appeared on the
Cartoon Carnival, Volume One
compilation DVD located
here
while 2001's "
Osama Yo' Mama
" can be seen on
You Tube
. The music video's gotten 727,558 hits so far...Ray uploaded it onto You Tube on July 15, 2009.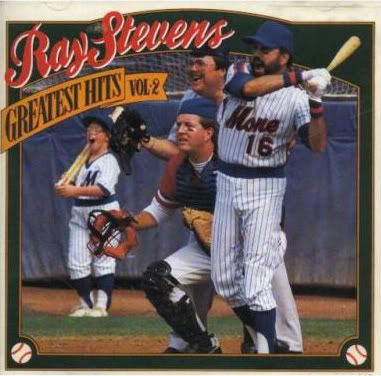 I've written about this particular collection in a couple of my older blog entries. It's considered a secondary compilation album due to it being a volume two release and the fact that what the industry would call a '
monster hit
' are all included in volume one. However, this volume two release isn't chopped liver by any stretch of the imagination. While it doesn't feature an abundance of signature hits it nonetheless features material that eventually became just as synonymous with Ray. The album spotlights two songs from 1985, one from 1986, and two from 1987...one of those songs from 1987 being the then brand new "
Mama's in the Sky With Elvis
". The other 5 recordings were considered vintage Ray Stevens in 1987...they're considered classics in his career now. Ray's current hit at the time was "
Would Jesus Wear a Rolex?
" and what better way to issue a hits album than to have the lead-off track be among the most-talked about country songs of the year. The song crossed over into the mainstream as newspaper columnists from across the country wrote about it...it even ended up being nominated for a Grammy. The televangelist scandal was so huge and prolonged that Ray's single was still being referenced nearly a year after it hit...research shows that a few columnists in 1988 were name dropping the song anytime the topic of televangelists arose. It was one of those national hit songs that pop audiences knew about but it never even made an appearance on the Hot 100 pop chart believe it or not. It did, however, make the country music charts. The song was written by Chet Atkins and Margaret Archer.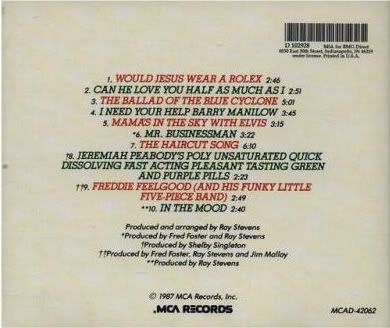 Of course, this is the flip-side of the CD version. It lists the 10 tracks that appear on the hits album including their running time. As you all can see it keeps with the color theme of red and green...the cassette version also retains this color pattern as well. The cassette version of this release was one of the first Ray Stevens tapes that I got for Christmas. There was a local shopping store in the town where I lived and they had a modest cassette tape section on the other side of the vinyl album racks. The cassette tapes back then were kept behind locked glass cases due to the fact that they were sold without any security plastic as became the custom at some point in the early '90s. The downside to those security cases was a lot of times it hid the titles of several songs...and it wasn't until the cassette was bought and the plastic case removed that I saw the complete title of "
Freddie Feelgood
" and "
In the Mood
". Remember, at that time, I was still relatively new to Ray's career and didn't yet have hardly any of his albums or know the names of a lot of his songs and so it was a big deal having that plastic security case finally removed so I could finally see the names of those songs. When I saw "
In the Mood
" listed as a song I assumed it was going to be an instrumental of some kind...and then I heard it...and heard all of those chickens for the first time!! I've preferred Ray's version ever since.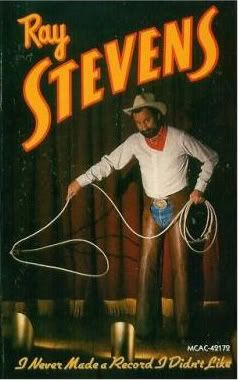 One of my favorite Ray Stevens comedy albums is 1988's
I Never Made a Record I Didn't Like
, a phrase which spoofed a quote from Will Rogers...which is why Ray appears on the album cover in cowboy attire performing a rope trick. For the trivia people out there: This marked Ray's first comedy album to not feature any recordings with an audience background. At the time of it's release it featured 9 brand-new songs and 1 song from his 1987
Greatest Hits, Volume Two
album. That song, "
Mama's in the Sky With Elvis
", is track three on the 1988 release. On the volume two hits album of 1987, as you can see from the image above, it was track number five. The topics that are spoofed, satirized, or given a gentle slap across the face include cable television, hippies, monsters, and Michael Jackson...what a combination!! The track list for this particular comedy album is located below...
1. Surfin' U.S.S.R.
2. The Booger Man
3. Mama's in the Sky With Elvis
4. Language, Nudity, Violence and Sex
5. Bad
6. The Day I Tried To Teach Charlene MacKenzie How To Drive
7. Blood and Suede
8. Ethelene the Truck Stop Queen
9. I Don't Need None of That
10. Old Hippie Class Reunion
The opening track, "
Surfin' U.S.S.R.
", is a very clever and satiric song that blends two distinctly different sounds in rock music history: The Beatles and The Beach Boys. The vocalization from Ray is reminiscent of Mike Love and Brian Wilson of The Beach Boys...while the subject matter deals with a Soviet sub crashing in Malibu. The song's title combines The Beach Boys' "
Surfin' U.S.A
" with The Beatles' "
Back in the U.S.S.R.
". A music video of "
Surfin' U.S.S.R.
" was released in 1988 and it became one of the videos showcased on Ray's
Comedy Video Classics
release in 1992. The music video features additional footage not heard on the audio version as Ray does vocal impressions of a newscaster in addition to Ronald Reagan and Mikhail Gorbachev.