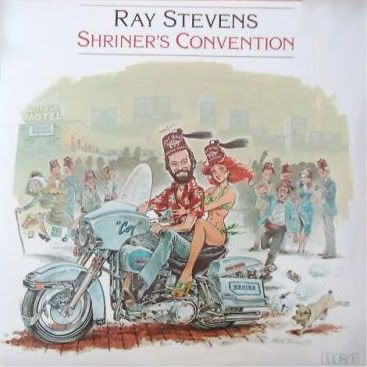 While searching through eBay earlier I came across a seller offering an LP version of
Shriner's Convention
for an opening bid of ninety-nine cents. This price, of course, wouldn't include the shipping and handling for anyone who wins the album. Given that Ray's RCA material has yet to really be properly showcased in CD or Mp3 format it would be wise for those seeking out his 1980 album to seriously think about either purchasing the LP or keep track of it in your watch list. Those who are familiar with eBay will know what I'm referring to. I already have the LP version of
Shriner's Convention
and it was on eBay where I bought the equally scarce cassette version when it came up for sale a couple of years ago. The cassette version has a catalog number of
AYK1-4253
while the LP's catalog number is
AHK1-3574
. 15 years later Ray made a music video of the song and included it in his direct-to-video movie,
Get Serious!
. Ray later uploaded the 1995 music video onto You Tube back in July of 2009. I've written about Ray's 1995 movie several times. It's available in home video format and can often be found on eBay. If you do an internet search for "Ray Stevens + Get Serious" you're bound to come across web-sites that give information about the movie.
The movie's length is 1 hour, 50 minutes and the home video went on to become another sales success for Ray...charting in the Top-10 on
Billboard
's Video chart throughout much of 1997. It was released to retail stores late in 1996 following it's nearly year-long exclusive direct-mail offer as to why it didn't reach the
Billboard
charts until January 1997. One of the rules of
Billboard
magazine for the longest time was an item had to be available in retail stores in order for the product to appear on the weekly charts...those rules aren't currently in place given the on-line digital age we live in...but back in 1997 those rules were still enforced and so Ray's movie wasn't eligible to enter the charts until it became available at retail stores. This same chart policy about retail availability is what caused his 1992 and 1993 direct-mail home video releases to become chart eligible in 1993 and 1994 respectively. But anyway...enjoy the 1995 music video of "
Shriner's Convention
"...
As I mentioned in a previous blog entry this cassette version has two songs that appear in different sequence than how they appear on the LP version. In the cassette version "
Coin Machine
" appears as track number two while "
The Last Laugh
" appears as track number nine. On the LP version "
The Last Laugh
" is track number two and "
Coin Machine
" closes out the album as track number nine. Yes, you read that correctly, the comedy album only features 9 songs but a couple of the songs are rather lengthy and so it plays out like an 11 or 12 track collection as far as overall length of time is concerned. The title track, "
Shriner's Convention
", clocks in at around 5 minutes, 33 seconds while "
The Dooright Family
" clocks in at just over 5 minutes in length. "
Rita's Letter
", a comical love story, is easily 3 and a half minutes long but I don't know the official length of that particular recording. "
You're Never Goin' To Tampa With Me
" is 3 minutes, 50 seconds.