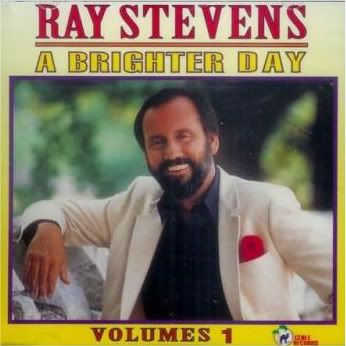 One of the items that was an exclusive to the Ray Stevens fan club was the 1992 compilation gospel album,
A Brighter Day
. The fan club shut down in 2002. The collection, as you can see, was issued in two volumes. Each volume features 10 recordings ranging from 1968 through 1977. Much of the material, in fact all of the material on Volume One, was lifted from his 1972 gospel album,
Turn Your Radio On
, while the songs on Volume Two originated elsewhere. Looking at the collection of songs I can see that Volume One features pretty much standard gospel recordings while Volume Two is more inspirational in tone...with a few songs delving into societal commentary. Ray penned four of the twenty songs on this collection and he produced and arranged every recording. The four songs that were written by Ray appear on Volume Two.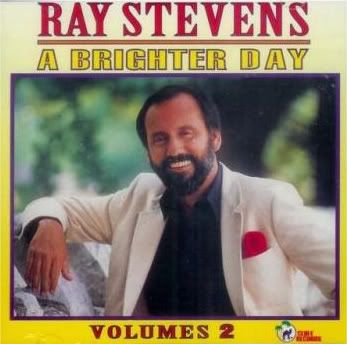 The album's title references an inspirational song that Ray recorded in 1970. "
A Brighter Day
" was written by Ray and it originally appeared as the B-side of another Ray Stevens composition, "
Everything Is Beautiful
". These two songs were the only original recordings featured on his 1970 album,
Everything Is Beautiful
, and they both make an appearance on the Volume Two collection. The rest of the material on Volume Two feature more inspirational recordings like "
One and Only You
", "
Set The Children Free
", and "
Everybody Needs a Rainbow
". Social commentary blended in with inspirational overtones is the goal of "
Mr. Businessman
", "
Walk a Mile In My Shoes
", "
Come Around
", and "
Get Together
". I was really surprised to see the inclusion of "
One and Only You
" and "
Set The Children Free
" given that the two songs originated on Warner Brothers, 1976 and 1977 respectively. Typically the songs associated with Warner Brothers that Ray recorded hardly ever show up in any collection.
The track list for this collection is below. I've included the year that Ray originally recorded the songs. Given that the
Turn Your Radio On
album was issued in 1972 it's safe to say that most of the songs were recorded at some point in 1972 while other songs from the album, which were released as singles, show a copyright year of 1971. The songs with the three stars indicate those written by Ray Stevens:
Turn Your Radio On; 1971
I'll Fly Away; 1972
Will There Be Any Stars?; 1972
Glory Special; 1972
A Mama And A Papa; 1971
Love Lifted Me; 1972
Yes, Jesus Loves Me; 1972
Why Don't You Lead Me To That Rock; 1972
Let Our Love Be A Light Unto the People; 1972
All My Trials; 1971
Everybody Needs A Rainbow; 1974
Walk A Mile In My Shoes; 1970
One And Only You; 1976
Set The Children Free; 1977
Mr. Businessman; 1968***
A Brighter Day; 1970***
Have A Little Talk With Myself; 1969***
Get Together; 1970
Come Around; 1970
Everything Is Beautiful; 1970***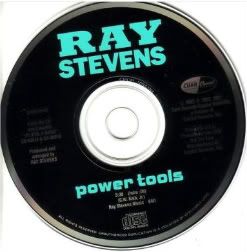 CD singles never really caught on, in my opinion, as compared to the vinyl 45 single. A CD single would include two or three songs on one disc...with the first song being the "A-side" and the next song or two being the "B-side". This CD single is of "
Power Tools
", a comedy song that Ray recorded in 1991 for his album
#1 With a Bullet
. There wasn't any "B-side" as this was considered a promo single available at radio stations. As is the case with many vinyl singles, the CD singles are also in abundant supply in various on-line marketplaces. This CD single from Ray was issued early in 1992...and "
Power Tools
" reached the country charts as well! Although it charted well below the Top-40 it became the last single to reach the country charts for Ray until a decade later, in 2002, when "
Osama Yo' Mama
" reached the Top-50. Those who follow Ray's career, as I do, know that he shifted focus from audio to music video during the 1990's and as a result had his biggest successes with music video projects during the '90s decade.
"
Power Tools
", for those who've never heard the song, was written perhaps due to the increase of the macho do-it-yourself kind of men that were becoming something of a growing trend during this time period. A lot of it more than likely had to do with the Tim Allen comedy program,
Home Improvement
, which focused on a do-it-yourself type who happened to be the host of a local TV show which celebrated the glory of power tools and all the fun you can have with them. The humor of Ray's comedy song was aimed at the very audience who watched fix-it shows and home restoration programs...most notably the PBS programs
This Old House
and
The New Yankee Workshop
as well as the comical
Home Improvement
. It isn't surprising that during the '90s we saw the launches of
Home and Garden Television (HGTV)
as well as the
Do It Yourself Network (DIY)
.