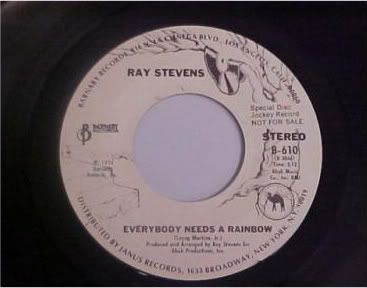 From the pen of Layng Martine, Jr. comes this 1974 hit from Ray Stevens entitled "
Everybody Needs a Rainbow
". As you can see from the color of the label this is what was considered a promo single...only sent to radio stations. The commercial release featured a much more colorful image of the tree branch with the melted vinyl record on display. The melted vinyl is on this label, too, but the all-white backdrop doesn't necessarily highlight it too much. As I discussed previously the "melted vinyl" look is in my opinion the record company's way of saying their music is hot. Anyway...the promo singles had a white backdrop and over the last several decades they've become commonplace at flea markets both on-line and off-line as a lot of radio station material found it's way to the public domain. "
Everybody Needs a Rainbow
" reached the country music Top-40 in addition to charting in the Adult-Contemporary format. On AC radio (known as Easy-Listening and, or, Middle-of-the-Road at the time) the single peaked inside the format's Top-20...clearly indicating that it was a much bigger hit with slightly older pop audiences than mainstream country fans. That kind of thing is something I've always pointed out through the years of having this blog in publication and it's always a fascinating study in how a song that can be a smash in one format can fall on deaf ears in another. The song's title sums up what it's about...it's an uplifting song about always having goals or dreams because it would be too boring if everything came easy. The b-side of "
Everybody Needs a Rainbow
" is a song called "
Inside
" from the 1973
Losin' Streak
album. "
Everybody Needs a Rainbow
" wouldn't appear on an album until a compilation album came along in 1992 called
A Brighter Day
which featured more than 15 gospel and inspirational recordings by Ray. Incidentally, "
A Brighter Day
" was originally found on his 1970 album,
Everything Is Beautiful
. Later on "
Everybody Needs a Rainbow
" was featured on the Varese Sarabande CD entitled
All-Time Greatest Hits
in 2002. "
Everybody Needs a Rainbow
" and "
Inside
" both get AAA+ ratings from me!