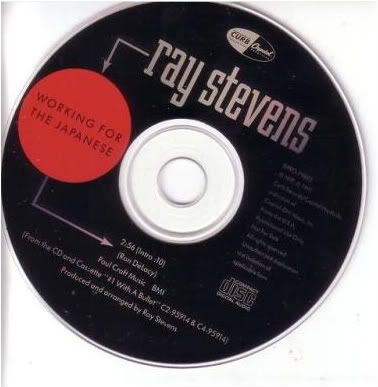 In the previous blog entry I posted a vinyl promo single of a Ray Stevens song. Today's blog entry spotlights a CD promo single. These are what were typically sent to radio stations beginning at some point in the late '80s and all throughout the '90s. CD promo singles are still being manufactured today but with more and more consumers purchasing music on-line it's becoming increasingly rare to find a CD single. This particular CD promo single comes from 1991 and it's for the Ray Stevens hit "
Working for the Japanese
". Note the clever way that the arrow on the single begins in front of Ray's name and it points to the song title and then the arrow continues onward and ends at the songwriter's name. Ron DeLacy wrote the song and another clever use of the arrow ties in with the subject matter of the song: economics! Unfortunately for this single it fell victim to the very subject it was satirizing. A lot of advertisers, sensitive to the song's satire, threatened to pull their ads off various radio stations if the song continued to get airplay. As a result the song was removed from quite a few stations spelling an end to it's meteoric rise in popularity. In one written account of what had happened it was made clear by a DJ in Texas that his listeners didn't have any objections about the song and that it was one of their biggest requests. It was quite clear that as early as 1991 DJ's, nor the listeners, had any say on what was being heard on the radio anymore. It was now becoming crystal clear that radio consultants and advertisers were clearly calling the shots and that the days of listener feedback and DJ input was long gone when it came to what songs were heard on the radio. Is it any coincidence that around this same point in time, 1991/1992, a lot of established, popular country singers were having increasing difficulty getting their current songs on the radio? No, it wasn't a coincidence...it was a deliberate plan...but that's a topic for another time. Around the time of Ray's 1991 single he was just starting his incredible run in Branson, Missouri at his famed theater. He'd experiment with and conquer the home video market from 1992 through 1996 before returning to audio recordings. Ironically 20 years after "
Working For the Japanese
" Ray has a current video single about economics...this time it's all about the out of control debt and deficit titled the "
Obama Budget Plan
" which has more than 523,000 on-line views as of this writing.