In this installment of the Golden LP Series we look at studio album twenty-six in the career of Ray Stevens. We also say farewell to the 1980's in this blog series. Studio album 26 hit in 1989 with the title of
Beside Myself
. The album featured, for the first time since 1983, non-comical recordings from Ray Stevens. The project was split in half between the serious and the comic personalities of his songs and it featured a memorable album photo, too. Since the early '80s Ray's albums featured memorable photo shots and as the decade went on the photo shots became increasingly memorable and deliberately eye catching.
Beside Myself
contains 10 songs and as mentioned the project devotes equal time to the two main recording styles in Ray's career. Serious Ray Stevens is heard during the first 5 songs while comical Ray Stevens is heard during the remaining 5 performances. The album's photo illustrates, as well, which style of Ray Stevens you'll hear as the more serious looking Ray is positioned first while comical Ray is seated second. This particular LP reached the Country Album chart as did all of his studio albums for MCA. This one peaked in the middle of the chart in 1989 but the single releases weren't able to reach the Country Singles chart. As mentioned in Part 25, Ray's single releases were having a difficult time gaining favorability among country radio programmers. Ray has often said that it's a lot more difficult to have a comedy song or a comedy album that's successful than it is to have a love ballad become successful. In my opinion the challenge is finding people in radio that will embrace a comical recording and then everything else should fall into place. It all starts with airplay. If a single isn't getting any significant airplay chances are the public at large will have no idea that a song is available for purchase. What I think happened is more publicity was given for the actual LP instead of the single releases.
The cassette release came into my possession at some point in the very early '90s. It had been an elusive release and a project that I was not aware of until I saw it sitting in a tape rack at a local shopping store. I was unable to convince my parent's to purchase the tape. Apparently it was still selling for it's original asking price which would've been anywhere between $9.95 to $12.95. I was never able to come across another
Beside Myself
for the longest of time. As luck would have it, though, another retail store had the tape in what's known as the discount rack and my parent's got it for me for Christmas. I was excited beyond belief...I unwrapped the plastic from the case and opened the cassette. I glanced at all the song titles, the writers, musicians, etc. etc. but I held off playing it. When I spent the night with my grandparent's I had my grandfather play it on a portable tape player he had. This was a memorable occasion for the wrong reasons, though. After the first song was over we assumed the cassette was defective because Ray's vocals were in slow motion...after listening to the next song I didn't know what to think. I stopped the tape because I couldn't take the sound quality. Thinking the elusive gem was defective I was not going to play it anymore but something caused me to play it on my own tape player. The one I had was the standard radio/tape player combination. I put the tape into the tape deck, hit play, and was astounded at how crisp and crystal clear the music was and how Ray's voice was as it should be. What had happened is my grandfather hadn't used his portable tape player in quite awhile and the batteries were nearly run down! This had caused the tape to playback in a low, barely listenable quality...much like when you switch speeds on a turntable and play an LP at 45-rpm speed or play a 45-rpm at LP speed.
So, then, what were the songs that appeared on
Beside Myself
? The LP kicks off with "
Your Bozo's Back Again
" which ties in perfectly with the album's cover shot. In this song Ray sings about a relationship where the woman continually hurts and humiliates a man but in spite of this the man can't gather up enough courage to walk away for good and so he finds himself returning to her each and every time he's walked out for a few hours. The second song, "
Another Fine Mess
", features prominent saxophone accompaniment and with this the song comes across much more easy-listening than a lot of the other non-comical songs found on this LP. It's also a mood setter...once you hear a saxophone played in this fashion you'll immediately recognize that the song will be heavy on romance and other love song conversation. This song has Ray singing about a relationship where the woman makes a series of little mistakes...but the crux of the entire song has to do with a man who finds himself falling in love with this accident-prone woman and how, to him, the whole situation has become "
Another Fine Mess
"...but it's a mess that he particularly enjoys as you'll realize when you hear it. "
Marion Michael Morrison
" is hands down the greatest tribute, in song, to the movies and impact of John Wayne. When I first heard the song I had know idea that John Wayne was his stage name...but once Ray started referencing the movies, the catch-phrases, and the characters associated with John Wayne it didn't take me that long to realize who the song was about but I was still baffled why it was called "
Marion Michael Morrison
" rather than something else. I later found out Marion Michael Morrison was the birth name of John Wayne. I was still unaware that celebrities used stage names. It was a few years later that I learned that Ray's birth name is Harold Ray Ragsdale...so yes, there was still a lot for me to learn about Ray Stevens as time went on.
The fourth track, "
Butterfly Inside a Coupe de Ville
", tells the story about the pressures of fame, the trappings of success, and how even if someone appears to have everything, the lack of a relationship makes it all meaningless. This deep thinking was prompted by the sight of a harmless butterfly that was trying to get out of a cadillac. The song's title would have you believe it's a comical song but it's not. The fifth song, "
There's a Star Spangled Banner
", uses topical news and the military conflicts of the era to salute the American flag and all it stands for. It's another great performance.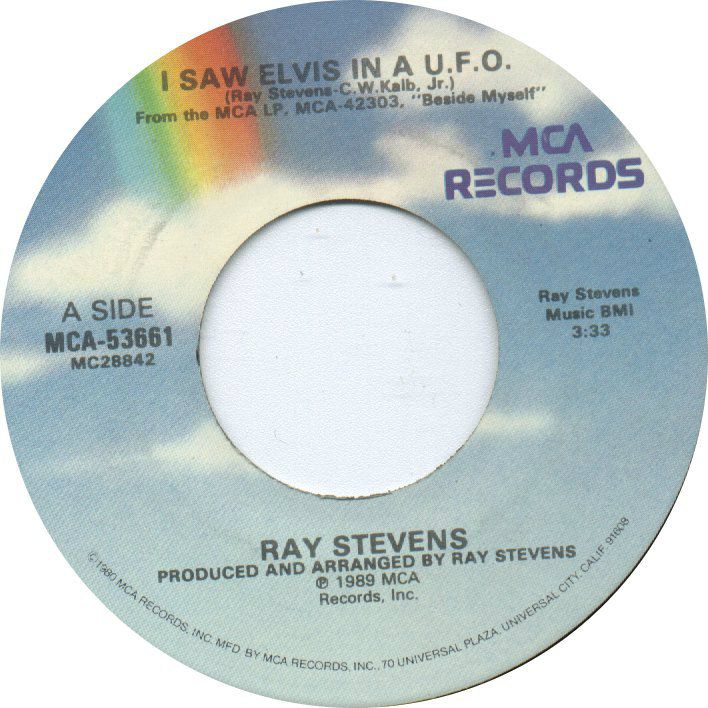 The comical portion of the LP starts with track six, "
I Saw Elvis in a U.F.O.
". This recording spoofs the multitude of tabloids that consistently report Elvis sightings and how U.F.O.'s of all descriptions abducted him in 1977 and took him to outer space. I've never researched or understood the whole Elvis sighting craze so I wouldn't know how it all came about but nevertheless people seem to get a kick out of claiming to see Elvis from all corners of the planet and after all this time tabloids still run with Elvis sighting stories to this day. In Ray's song we hear a spoof of a newscast where Ray plays the part of the newscaster, the reporter, and the eyewitness who tells of his encounter with the U.F.O., the aliens, and Elvis himself. The song is done in a rock and roll arrangement with Ray using a rocker type of vocalization. Sound effects are featured throughout as we hear the U.F.O. hovering around and for added hilarity is the sped-up vocal effects of the aliens. Ray comically states that these high-pitched aliens sound like The Jordanaires. When Ray would perform this song in concert he'd usually have a big inflatable U.F.O. hovering above the stage, lots of smoke and fog effects, dancers running around on stage in pink alien attire, but the best part of all was Ray dressed up in a typical Elvis jumpsuit. It's definitely a show-stopper in concert. "
The Woogie Boogie
", track seven, is a funny little song about a fictional Indian tribe in Chattanooga, Tennessee called the Woogies. It's one of the shortest songs on the LP but a lot of it's charm is the "oogie" factor applied throughout the lyrics. The song ends with a continued refrain of the Woogie chant over and over until the song fades. "
Stuck on You
" comes off like a musical infomercial as Ray sings about the purchase of a super glue kind of product that he saw advertised on television. Ray tells about the various incidents and the chaos that ensues after he opens the tube of glue. The song's title, "
Stuck on You
", is taken literally as you can tell! Strangely enough it was never made into a music video. "
Bad Dancin'
" is a song that champions the art of dancing with an undertone of satire as it singles out the culture of the 1980's and blends these elements together. The story takes place at a country club and Ray acts as spectator/reporter filling us in on what all he's seeing as he watches the wild dancing taking place. Several dances and entertainers are mentioned at various places in the song, too. The closing track, "
I Used To Be Crazy
", is the b-side of "
I Saw Elvis in a U.F.O.
". In "
I Used To Be Crazy
", Ray sings about how he
used
to be crazy...but demonstrates to us that he's perfectly sane now. Once you hear the way he demonstrates his sanity you'll find yourself laughing and giggling. The song is a marvelous showcase for his skilled impressions and mimicry. By the end of the performance and still trying to convince us that he's sane and serious and no longer "crazy", Ray has assumed the role of a british King. The song ends as Ray offers a frenetic, comical exchange of dialogue between himself and his impressions of John Wayne, Walter Brennan, and the King of England. Amidst this activity you'll also hear a chicken and a barking dog lend themselves to the chaos.
Beside Myself
wrapped up the 1980's for Ray Stevens and it also wrapped up his association with MCA for the time being. He joined the label in 1984 and by the end of 1989 he was in the process of joining up with another record label. It was the start of a new decade...which always brings about feelings of a new direction, a new outlook, a new start, a change in direction, etc. etc. What would 1990 and beyond hold in store for Ray Stevens? Which label would he find himself on? How would the changing tastes on country radio and country television impact his career? How would political correctness impact his career? Would his next LP be a comical one or a blend of comedy and ballads? Were there any music videos on the horizon? Such questions will more than likely be addressed in the next installment of the Golden LP Series. Although the manufacturing of the LP had dwindled down considerably and it's commercial appeal had dwindled down as more people were buying compact devices like cassettes and CD's, I'll still use "LP" in the blog entry title even as we get more and more into contemporary technology.