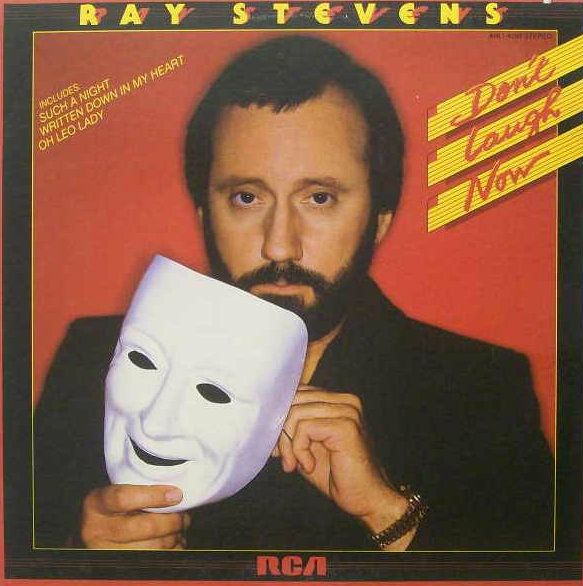 Here we are taking a look at studio album nineteen in the career of Ray Stevens...the wonderful 1982 LP titled
Don't Laugh Now
, his third studio album for RCA. The songs on this album had an overall collective feeling of lust and desire which was a dramatic difference in the overall mood of his 1981 album,
One More Last Chance
. The 1982 album had it's share of ballads, though, but ironically enough it doesn't come across as a ballad heavy LP and that perhaps has to do with the length of the uptempo recordings that this particular album contains. I've been somewhat an amateur Ray Stevens historian down through the years and I've not been able to come across much archive publicity surrounding the release of this LP but I did come across a brief write-up about one of the single releases, more on that a little later in this blog entry. The album features 10 songs and for the first time since the late '60s this particular Ray Stevens LP has a co-producer, Bob Montgomery. Ray produces his own albums and arranges all the songs in his
own
studio and in the earlier part of his career he wrote all of the songs he recorded and later on started publishing almost every song he recorded. As many longtime fans are aware, Ray pretty much has creative and artistic control on all of his albums and so it's a rare occurrence seeing another name sharing production credit but for this 1982 LP it was produced by Ray and Bob Montgomery.
Earlier I mentioned that the LP's overall theme was lust and desire...and this mood is expressed right away in the album's lead-off song, "
Such a Night
". The song sequence follows the uptempo-ballad-uptempo-ballad style where there isn't any significant amount of time spent on just one tempo back to back to back as was the case with his 1981 album. The album's first single, "
Written Down In My Heart
", was indeed a love ballad...one in the desire category. It was issued in February 1982, one full year after the release of his previous single, "
One More Last Chance
". "
Written Down In My Heart
" deals with happiness and satisfaction and how everything that the woman happens to do is kept close to the man's heart...almost as if the heart is a diary, or journal, and each satisfying moment is written down in his heart. It's a positive love song...some may find it mushy or syrupy or whatever but nevertheless it became a Top-40 Country hit and he performed it on several television programs of the era. The very first time I heard the song was in the early 1990's when TNN reran a 1982 episode of Barbara Mandrell's television show...Ray was the special guest that week. "
Take That Girl Away
" returns to the uptempo mood with electric guitars and other instrumentation giving it an early rock/R&B feel that was heard on "
Such a Night
". In "
Take That Girl Away
" you'd think, going by the song's title, that it would be about a man being fed up and frustrated with the woman in his life and he's pleading for someone take her off his hands but the song is actually about a man who witnesses a bad relationship...and he tells the rotten boyfriend that if he doesn't start treating the woman better then he's going to steal her away from him.
Elsewhere on the LP is the song's title track, the introspective "
Don't Laugh Now
". This ballad deals with a man telling a woman he loves her but she's only thought of him as a friend and a supplier of jokes and laughs. By telling her how he feels he knows that it'll more than likely cause her to at first laugh wildly and then cause their friendship to strain and eventually end but it's something he can no longer keep hidden. This is one of the two songs on the LP that Ray wrote. The other song from Ray's pen, "
Oh, Leo Lady
", is a clever love song that uses the horoscope and astrological zodiac terminology to examine how two completely different people can fall in love when it wasn't part of their horoscope predictions. There's another tie-in with the yodeling phrase "little lady who"...you'll recognize this right away when you hear the chorus. In "
Country Boy, Country Club Girl
" we hear the love story of a man and a woman who come from different social and economical backgrounds even though they were raised in the same small town. Shifting gears we see that loyalty is appreciated in "
Always There
" where Ray tells about how a man appreciates that the woman in his life is "
Always There
" no matter what. It's the sing-a-long track of the LP more or less. One of the more heart wrenching stories comes in the form of "
This Old Piano
". In it, Ray sings about how the music industry and life on the road can cause a relationship to end. In the story, Ray sings about a piano player who once had a happy life but it all ended as the pianist/singer spent most of his time on the road, in recording studios, and at music industry functions rather than at home with his family. "
Why Don't We Go Somewhere and Make Love
" is a sizzler, really...it's the most lust-filled song of the whole album. However, the song's title on the album and other compilation releases by RCA leave out the word, 'make', where it reads "
Why Don't We Go Somewhere and Love
". I don't know if it was a censorship issue or if the writer deliberately left out the word in it's official title...but whatever the case I always refer to the song with the title phrase heard in the actual recording.
The LP's second single, "
Where the Sun Don't Shine
", emerged in the summer of 1982. This is the song I referred to earlier...it was spotlighted in a weekly music critic column...and it's the only publicity of any kind that I could find about the entire 1982 LP. I'd rate the review on a generic scale as it was brief and the author's name escapes me. It come off as a rushed review. The critic labeled it a novelty song...but I don't necessarily consider it a novelty song. It's more or less an in-your-face confrontational song about the break-up of a man and woman. He's giving her all of his possessions but informs her where she can stick her love from now on. Yes, it's a comical retort but it's not a novelty song in the traditional sense. This turned out to be the final chart single on RCA for Ray Stevens...it reached the upper 60's on the Country charts in the summer of 1982. This would also be the final single to reach the charts for Ray for almost two years...and we'll take a look at why in part twenty of the Golden LP Series where we look at 1983.