Good Wednesday afternoon! I decided to write a blog entry at a more unusual time for me. I'm usually asleep during this time of the day but I found myself awake and I now find myself here. For those who frequent on-line music stores you've no doubt come across various CD's released on Ray Stevens with the title,
Everything Is Beautiful
. Recently there has been quite a bit of confusion from consumers due to the track listings of those various CD's being erroneously placed on the wrong project at on-line stores. The consumer reviews add to the confusion because the web-masters probably assume any Ray Stevens CD titled
Everything Is Beautiful
has the same songs on it and so you'll see a review for a CD with that title being placed in the customer review section of another CD with the same title...even though each CD has different song selections. Ray has no control over these releases. Once upon a time people thought that every singer gave their permission to have a CD of their music released, and, when they'd see 5 or 6 CD's of the artist with the same CD title, consumers automatically assumed that the artist was responsible for it. Some people still might think this way but the reality is a lot of artists have no control over the CD's that are released on them, especially artists with considerable longevity whose recordings have become owned by various music companies over the decades. Newer artists, and those who've been in the business the last 15 or so years, have much more say so in their careers and perhaps have special language in their recording contracts that prevent the label from flooding the market with compilation CD's.
In 1990 there came a compilation titled
Everything Is Beautiful and Other Hits
. I was attracted to the collection when I first saw it sitting in a cassette tape rack at a local truck stop. What was the attraction? Well, it has a green color design which was new to me at the time. I also liked the lightning bolt design shooting from the RCA logo. I loved the songs and I also liked the picture sleeve. The collection only features 8 tracks...the cassette copy features 5 songs on Side 1 and 3 songs on Side 2. A close-up picture of Ray on this release was later used on a 1999 collection titled
The Last Laugh
. This collection was later re-released in 2004 with different album art and a different picture of Ray.
Recently, an
Everything Is Beautiful
CD's become available from a company known as Margate Entertainment and released under the Applause Records label. This release utilizes recordings Ray did from the late '60s through the early '70s chosen at random. If you find yourself at Amazon, the CD's picture sleeve shows a lot of pink flowers.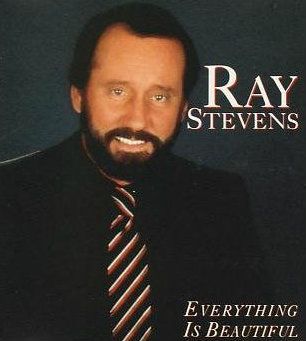 Released in 1992, this
Everything Is Beautiful
CD features 10 songs. A cassette version features 8 songs. This will seldom show up on eBay and in various on-line stores in the "out of stock" section. The limited release collection features a good dose of his MCA material from the mid to late '80s. There is a secondary CD titled
The Legendary Ray Stevens
which further explores the MCA years and it features a similar image of Ray, too. The selections on the CD compilation are as follows: "
Vacation Bible School
", "
Kiss a Pig
", "
Everything Is Beautiful
", "
Santa Claus Is Watching You
",
Smokey Mountain Rattlesnake Retreat
", "
People's Court
", "
Surfin' U.S.S.R.
", "
The Streak
", "
Fat
", and "
Armchair Quarterback
". The cassette release doesn't include the final two selections. As mentioned, this compilation uses the title of Ray's 1970 album but the selections are lifted mostly from the MCA period of his career. Ray was on the MCA label from 1984 through 1989 and although it was one of his most commercially successful periods the label rarely issued compilation projects showcasing the recordings he did for the label and they never kept his studio albums in print for very long (with the exception of a couple releases). This out of print and limited availability factor is why sellers often have expensive prices for CD versions of Ray's MCA albums. A CD version of his 1986 album,
Surely You Joust
, often appears on eBay with an asking/selling price of more than $30.00!! I've seen the CD version of his 1988 album,
I Never Made a Record I Didn't Like
, go for more than a $40.00 price. Some of the MCA material has become available in Mp3 format, thankfully, but CD versions are extremely rare.