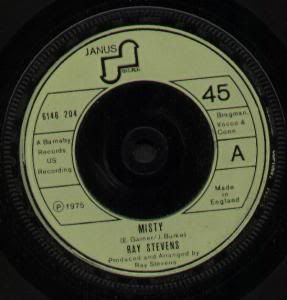 1975 in the career of Ray Stevens was highlighted by the success of "
Misty
", a song that dated back to the 1950's. The song had became popular by way of Erroll Garner, a piano player. Garner wrote the music and had an instrumental hit with it and then Johnny Burke wrote lyrics to the song a short time later. The lyrical version of the song became the most widely known when recorded by Johnny Mathis in 1959. The song itself was inducted into the Grammy Hall of Fame twice. The first time came along in 1991 when the instrumental was inducted and then in 2002 the vocal version of the song was put into the Grammy Hall of Fame. "
Misty
" had been recorded several times after Johnny Mathis but the most popular version of the song to depart from the traditional slow ballad approach was the 1975 cover version by Ray Stevens.
Ray's 1975 album was chock full of pop-standards. Well, I should say, his version of pop-standards. The
Misty
album featured the title track along with a healthy dose of pop-standard covers. The album did boast two original songs: "
Sunshine
", an up-tempo banjo heavy sing-a-long that Ray wrote and then the slow ballad from the pen of Layng Martine, Jr. titled "
Take Care of Business
". The rest of the album featured his take on several pop music classics. "
Misty
" was the stand-out and it went on to become a Top-20 pop hit plus it became a Top-5 country hit. The arrangement of the song, heavy on banjo and steel guitar and performed mid-tempo, won Ray his second Grammy award for Best Arrangement. His first Grammy winner was his 1970 #1 hit "
Everything Is Beautiful
". There were a couple more singles released from the 1975 album but they didn't match the runaway success of "
Misty
". The other singles from the album were "
Indian Love Call
", "
Young Love
", and "
Mockingbird Hill
"; of those three, "
Indian Love Call
" became the most successful...reaching the Top-40 on the country music chart. If you notice anything different about the 45 it's because of the international distribution. Janus distributed the music on Barnaby Records overseas. The image in this blog is of the United Kingdom release of "
Misty
".
1. Misty
2. Indian Love Call
3. Over the Rainbow
4. Oh, Lonesome Me
5. Sunshine
6. Cow-Cow Boogie
7. Young Love
8. Deep Purple
9. Mockingbird Hill
10. Take Care of Business
11. Lady of Spain