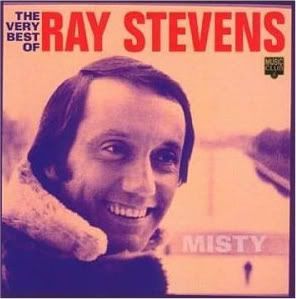 The title of this blog entry may be eye-catching but I can't seem to find my copy of this CD anywhere. I know I have it...or did have it. There was a time when I gave away CD's of Ray Stevens that featured material I already had on other CD's and this CD could have been among the one's that received that kind of fate. I typically gave the CD's to those I knew were fans of Ray Stevens. I don't do that sort of thing anymore, though. I even wrote a review of the CD which appears at Amazon and I gave some detail about the liner notes that were written but as I said I am not able to locate this CD amongst my others and so it must have been a CD that I gave away a few years ago because I already had the material elsewhere. Admittedly, I had bought the CD just for it's rareness and the picture that was used on the cover...I had never seen that picture of Ray before. The CD was released in late 1999, it contains 22 songs, and it's on the Empire Music Collection label. As you can see on the picture sleeve, the label spotlighted his 1975 single, "
Misty
", even though the official title of the CD is the more generic
The Very Best of Ray Stevens
.
1. Bridget the Midget the Queen of the Blues; 1970
2. The Streak; 1974
3. Everything Is Beautiful; 1970
4. Turn Your Radio On; 1971
5. Yakety Yak; 1969
6. Gitarzan; 1969
7. Along Came Jones; 1969
8. Ahab the Arab; 1969
9. The Moonlight Special; 1974
10. Unwind; 1968
11. Mr. Businessman; 1968
12. Indian Love Call; 1975
13. Bye Bye Love; 1975
14. Raindrops Keep Fallin' on My Head; 1970
15. A Mama and a Papa; 1972
16. She Belongs to Me; 1970
17. Young Love; 1975
18. Something; 1970
19. A Time for Us; 1970
20. Sunday Morning Coming Down; 1969
21. Leaving on a Jet Plane; 1970
22. Misty; 1975