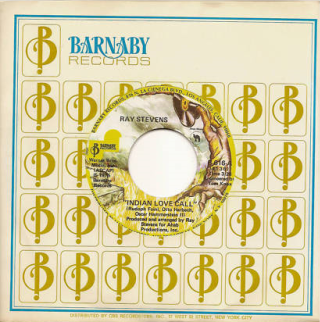 Well, here's some discussion about a couple of 45's from 35 years ago...back in 1975 Ray Stevens was amidst a streak of hit singles that had started in 1968. In 1975 he was on the pop and country charts with "
Misty
" and later that year, "
Indian Love Call
". A lot of ink is given to "Misty" and rightfully so...it was a Grammy winner for Ray. However, not much attention is given to the other songs that populated the
Misty
album that year. "
Indian Love Call
" is a wonderful vocal performance...the melody is changed from what one may be accustomed to and there's some high tenor love calls heard throughout. The calls are not as high or shrilly as Slim Whitman's worldwide hit version but the vocal dynamics from Ray more than make up for it. The arrangement is jazzy, almost doo-wop like. The recording became a country hit and it crossed over to the pop chart as well. It didn't get much pop radio airplay but the strength of it's sales enabled it to rank among the Top-70.
This single's catalog number is Barnaby-619 and it's b-side is "
Mockingbird Hill
". The single didn't enter the country or pop music charts but nevertheless it's from the 1975
Misty
album. This was a follow-up to Ray's version of "
Young Love
", which hit the country Top-50 in late 1975. Ray's version of "
Lady of Spain
" is quite a departure, vocally. In the song Ray comes across sounding a lot like Fats Waller in some places. The original version of the song was a crooning love ballad performed by a host of pop music artists but in the hands of Ray Stevens it was turned into an uptempo party song. The Spanish music introduction in Ray's version soon fades away to an urgent early rock and roll arrangement. Ray seems to be completely wrapped up in the free for all performance that he excitedly hollers out "blow it, Norman!!" to the album's saxophonist, Norman Ray, prior to the instrumental solo. I would've loved to see him perform the song, in this arrangement, in concert. Heck, I would've loved to have been in the studio while he was recording this song! It's one of my favorites from the
Misty
album. The Mp3 digital album of
Misty
is available at Amazon but their sound clip doesn't necessarily convey the mood of "
Lady of Spain
" because it's, after all, a sound clip...it doesn't represent the song as a whole. It cuts off right before the rocker instrumentation kicks in.