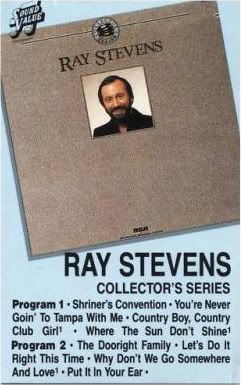 Revisiting a familiar topic of mine is the many different styles and sounds throughout the career of Ray Stevens. Some fans have this feeling that Ray has to act, look, sing, and or dress only a certain way. I'm in the category of it doesn't really matter...I just like to hear Ray sing and talk. It doesn't phase me what he wears or how he walks, stands, looks, etc etc. Does this mean I don't notice what he wears or whatever? Of course not! I just don't let it take over my fandom to a point where the music takes a back seat. Mostly all singers have various styles of fans and I'm just describing the kind of fan I am. This particular 1987 release originally was released in 1985.
Collector's Series
was a wide ranging series of albums that RCA released on it's roster of artists...both current and former. I suspect the current roster had their albums issued first while previous artists on the label were issued separately. As I mentioned, the original issue was 1985. As you all can see, the actual picture of the vinyl album appears on this cassette re-issue from 1987. The only difference between the 1985 and 1987 releases are two songs. In the 1985 issue "
One More Last Chance
" appears where as in this 1987 re-release, "
Put It In Your Ear
" takes it's place. The songs with the number 1 next to their title represent the songs from 1982 that were produced by Ray Stevens and Bob Montgomery. They come off of the 1982
Don't Laugh Now
album. One of my favorite songs is "
The Dooright Family
". I've written about the two versions of
Collector's Series
in a couple previous blog entries. You'll find them amongst my archives here. The reason I start this blog entry with that project is because it represents the many sounds of Ray Stevens. I feel that open mindedness and toleration of all aspects of Ray's career is essential at truly appreciating his talents and understanding his music perspective. I feel this way because there are those who just want to hear the comical songs of Ray Stevens and then there are those who prefer to hear the early pop-oriented Ray Stevens prior to his country comedy image make-over in the mid 1980's. I like to hear all sides of Ray Stevens without limiting myself to just one facet of his recording career. In some small way I hope this fan-created blog creates an awareness of Ray's various talents.
While I was on a hiatus, Ray's You Tube video of "
We The People
" had crossed the three million mark!!
Ray's various talents are on full display in this 1995 movie,
Get Serious!
, which runs 1 hour, 50 minutes...nearly 2 hours. The home video had strong sales throughout the latter half of 1995...selling Platinum in the process through mail order which requires 100,000 or more in sales. Nearly a year later, in December 1996, MCA Records began to distribute the home video into retail stores across the country. The project became a strong sales hit throughout the first half of 1997...remaining on the Top Music Video chart in Billboard for over 20 weeks. This is the same chart that tracked Ray's enormous successes with
Comedy Video Classics
and
Ray Stevens Live
throughout 1993 and 1994 after each home video had been released to retail stores following each of their successful direct market/mail order campaigns. There are 10 music videos featured in this movie. For those interested, as I mentioned in a previous blog entry, you can purchase a VHS video copy of the movie at Ray's web-site store for the low, low price of $5.00!! The obvious reason it's that low of a price is because hardly anyone has a VCR anymore...I still have one, though. For those who still have a VCR in addition to a DVD player check the movie out! It features cameo appearances by quite a few of Ray's music business friends including Jerry Clower, Chet Atkins, Johnny Russell, Crook and Chase, George Lindsay, James Gregory, and several others. In my opinion you shouldn't want to be without this movie because at some point, as a fan, you'll perhaps grow envious of those who have their copy of the home video. In a lot of ways this is everyone's last chance to purchase the movie unless a DVD version becomes available which I suspect is highly unlikely...given that in the 15 years since the movie was released, a DVD version, if issued, must have quickly went out of print because I'm not aware of a DVD version existing. I've got the home video...I bought it when it was new and it still plays flawlessly. I believe the VHS home video of the movie is in limited quantity...so for those wanting what has become a much sought after item now is your chance.
Some people today don't believe that this was an actual song until they look it up on the internet...and even still some would call you insane if you mention that it was a Top-5 smash hit in England in the first several months of 1971. It's true! "
Bridget the Midget the Queen of the Blues
" was issued as a single in America in late 1970...I believe December 1970. It reached it's peak, of course, in the next year. It was a huge hit in England and I'm sure over there, as is the case here in America, anytime a novelty or comedy recording achieves a certain level of mainstream attention it will go through a phase in which it will receive all sorts of critical punches and draw contempt from the elitists who populate much of the mainstream media. This is why novelty songs and those who specialize in comedy records operate outside of the mainstream. Anytime a novelty song becomes a mainstream hit, without fail, "all hell breaks loose" amongst reporters and music pundits who simply have no sense of humor or lack amusement in everyday life. This novelty song features the gimmick of sped-up vocals popularized by Ross Bagdasarian, the man who brought the world
The Chipmunks
.
In more serious news...Nashville, Tennessee experienced it's biggest flood in decades. Some reports say it topped the flood of 1975 by several feet. The Cumberland River, due to a huge amount of constant rain fall, overflowed it's banks and flooded much of Nashville. The businesses along the riverside were almost completely destroyed or water soaked to the point where the buildings have become unsafe even after the water recedes. The Grand Ole Opry and the Hall of Fame and other places of interest were flooded. The Opry complex it is reported won't be open for business for at least 6 months or longer. In the meantime the Opry radio show and WSM radio have relocated to other studios until it's safe to return. Ray's office and studio as far as I know wasn't damaged much at all. In a small write-up Ray remarked that he had water in his basement at his house but mentioned that earlier in the day he was in his recording studio and so from what I could gather from the article his office in Nashville was spared any damage. You can look up videos on the flood devastation to get a heavy dose of the incredible damage that took place.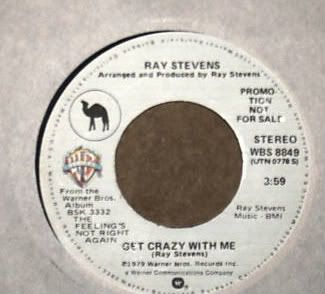 This is what the music industry called a promo single. It often featured the same song on both sides of the single and it's label was white in color. During the mid '70s, Warner Brothers labels were multi-colored but by the late '70s the label color became an off-white. Most singles featured a color label...a white label color was almost always used to differentiate between a commercial release and a promo copy. In the case of Warner Brothers singles if it happened to be a promo copy it would say so on the label. The catalog number, 8849, indicates that "
Get Crazy With Me
" was the B-side to "
The Feeling's Not Right Again
" on the commercial release. This single was issued in 1979...interestingly, though, each song had previously been released. "
Get Crazy With Me
" was first introduced in 1977 on Ray's
Feel the Music
album...and this song was a single that same year. "
The Feeling's Not Right Again
" comes from Ray's 1978
Be Your Own Best Friend
album. What had happened was in 1979 Ray had an unexpected mainstream hit single with "
I Need Your Help, Barry Manilow
". Warner Brothers rush released an album to capitalize on the song even more. The album released in 1979 featured a design that was a visual spoof of a 1975 Barry Manilow album, right down to the fancy lettering and Ray's position at the piano. Ray's 1978 song,
"The Feeling's Not Right Again"
, was similar in title to Manilow's 1975 hit, "
Tryin' To Get the Feeling Again
"...and that's why Ray's 1979 album is a spoof of that particular Manilow album. Due to people out there who get a kick out of seeing the spoof from Ray Stevens side by side with it's target here are a couple of pictures to illustrate how detailed the parody was played out in 1979...