Why, yes, you all are correct! In case you're wondering this
is
my third or fourth blog entry dedicated to the new Ray Stevens music video hit, "
Come to the USA
". The video is spreading like fire...much in the same rapid rate of "
We The People
" in late 2009/early 2010. Time will tell if "
Come to the USA
" rakes in the million plus hits of "
We The People
" but in the short term the latest music video has obtained 14,683 hits in 2 days time. Not only that...the latest music video has been added to hundreds of You Tuber's "Favorites" and has, to date, obtained 234 viewer ratings...227 "like" the video and a humorless 7 "dislike" the video. I predict as time goes by the likes will continue to out-number the dislikes simply because illegal immigration is a major problem and rational thinking Americans agree that it's a problem that's been ignored for far too long. I feel illegal immigrants give legal immigrants a bad reputation. I'm sure others feel that same way, too. I will also go out on a limb and say legal immigrants have no problems with the police arresting those who are in the country illegally.
Wouldn't it be hilarious if the President, for example, is giving a speech and he makes the claim that Arizona's law will mean doom and gloom for "all immigrants" and some immigrants stand up and say something like: "That's such a lie, Mr President! We're here legally...we've got nothing to worry about."
If I do say so myself this is a great picture of Ray Stevens. An on-line friend of mine sent me this picture...it's taken from a 1980 performance. As you can partially see, Ray was amidst his Urban Cowboy phase where almost every country singer at one time or another wore cowboy clothes and cowboy hats. There were some hold-out's of course by several artists you just couldn't picture wearing a cowboy hat...artists like Conway Twitty, George Jones, Charley Pride, and Glen Campbell are just a few that never wore hats while on stage. Ray never wore a cowboy hat, either, until this trend swept country music. I often compare Ray's stage appearance during this era with Johnny Lee. It was easy to visually confuse the two from a distance if one happened to be a casual fan of country music. However, that's where the similarities ended. Johnny has a distinct voice as does Ray.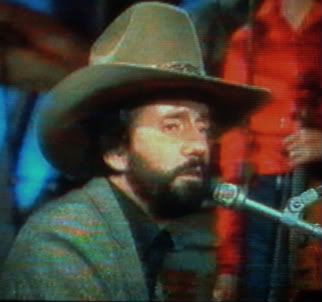 I purposely like to mix and blend the contemporary Ray Stevens with the vintage Ray Stevens. I feel that by doing this it allows those who know of Ray for comedy music videos and country comedy in general to become exposed to a more serious side of Ray Stevens. In Ray's current series of topical songs, each featuring a hefty dose of political humor, some of the people who discover those music videos on You Tube may not even know about Ray's incredible catalog of music...stretching back to the late 1950's. So...that is why in this "Nostalgia Valley" series of blogs I deliberately focus on the vintage and the contemporary Ray Stevens.