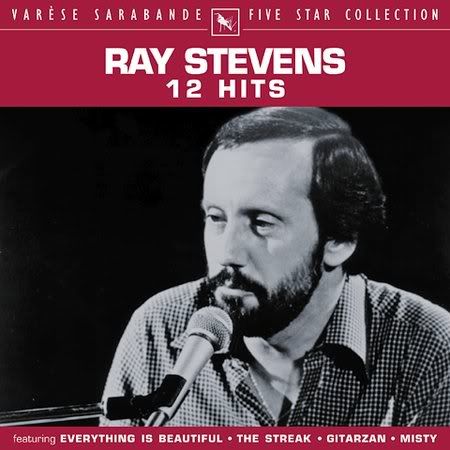 I've written about this before but in case some don't know of it's existence you may want to seek this CD out. It's simply called
12 Hits
and it was released on Varese Sarabande. This label has issued quite a few Ray Stevens CD's in the past...mostly obscure and out of print material from Ray's pop music days. This CD features nothing but chart hits...ranging from 1968's "
Unwind
" and "
Mr. Businessman
" through 1975's "
Misty
". Consumers must realize it by now but the material Ray recorded for Monument Records and Barnaby Records during 1968-1975 has become widely distributed...much more so than any other material Ray's recorded for other record labels. These hit songs can be found on other compilation CD's...specifically a mammoth collection called
Only The Best of Ray Stevens
which is spotlighted below. I'd say the picture of Ray on the
12 Hits
CD comes from 1975 but it could be from 1979. Here are the songs that are on the CD:
The Streak
Everything Is Beautiful
Misty
Gitarzan
Turn Your Radio On
Along Came Jones
Mr. Businessman
Ahab The Arab
Harry The Hairy Ape
Sunday Mornin' Comin' Down
Unwind
Isn't It Lonely Together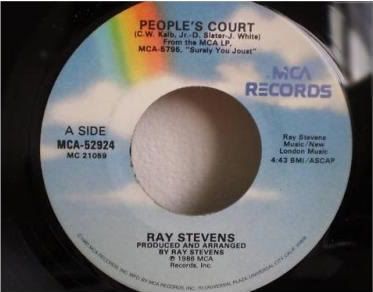 In my previous blog entry I had remarked that in 1986 the two singles that were released on Ray Stevens happened to be "
Southern Air
" and "
The People's Court
". It always helps to have visuals whenever I compose a blog entry. Sometimes I leave the images out of the blog entries and sometimes I incorporate them. People must be living under a rock if they don't realize that "
The People's Court
" single is a spoof of court shows on television. Although it uses the name and the Judge in the most popular show it nevertheless pokes fun at
Divorce Court
as well. That show, along with
The People's Court
, were hugely successful. Court programs were so successful that NBC aired the comedy show,
Night Court
, as a spoof of court programs. In drama NBC aired
L.A. Law
. Today several of those 1980's court programs have been revamped with different judges and air in syndication as before. Some cite the continuous coverage of the O.J. Simpson murder trial in 1994 as the impetus for the on-slaught of court programs as well as a cable channel devoted to court cases. "
The People's Court
" throughout the 1980's and early 1990's were as popular as
Judge Judy
became when she first hit the air. In Ray's recording he plays the part of Arlo Druckert, the owner of a small convenient store. He and his wife, Myrna Louise, seek to get on television and air their problems for the world to see. It's suspected that Arlo assumes everyone must appear on "
The People's Court
" in order to get a divorce given how enthusiastic he seems when 'talking' on the phone to Judge Wapner. We only hear Arlo's side of the conversation. Ray plays Arlo, Judge Wapner, Myrna, and the unnamed court reporter. The reporter's voice is based on the whispered tones of Jim Peck from
Divorce Court
instead of the flamboyant vocalization from Doug Llewellyn. Does anyone who hasn't heard the song want to guess who made it out of the divorce sitting pretty?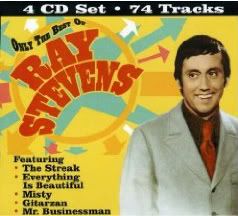 This collection of material,
Only the Best of Ray Stevens
, was put together by Collectible's Records and it consisted of six vinyl albums on three CD's. It also contained a fourth CD with randomly selected songs...some of which already appeared on the other three CD's. The
two album on one CD
series had been released separately on Ray Stevens by Collectible's Records but then the label decided to package all three of the CD's in one collection, with the addition of a fourth CD, and offer it for sale once again...this time as a big collection of songs. Admittedly this collection was released in limited quantities...and so a lot of consumers may not be aware of it's release. The six vinyl albums that are featured on three of the CD's are as follows:
Everything Is Beautiful
,
Unreal
,
Nashville
,
Boogity-Boogity
,
Turn Your Radio On
, and
Misty
. Those who pretty much have Ray's album discography memorized will notice the one Barnaby studio album missing from the party: 1973's
Losin' Streak
. That album has yet to be re-issued in CD or Mp3 format and I don't understand why it never has.
Fast-forwarding from 1973 to 2010, this is a commercial that's running on You Tube for Ray's latest album,
We The People
. Click and enjoy...