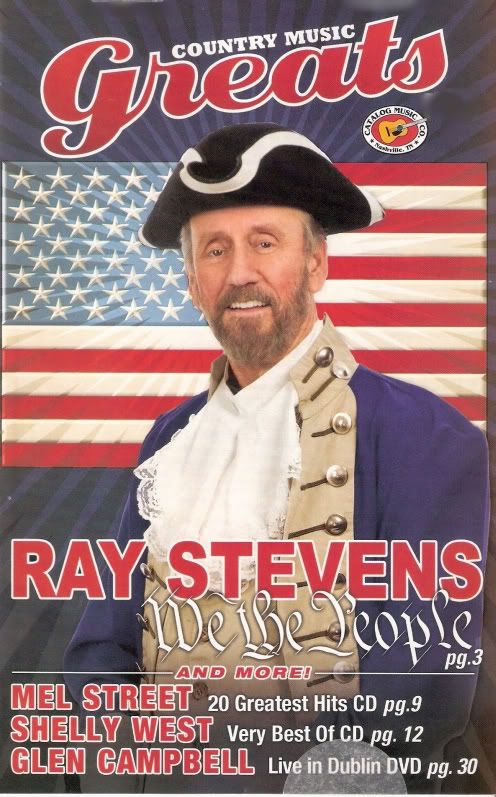 Ray Stevens as you can see is the cover subject of the May 2010 issue of a classic country catalog titled
Country Music Greats
from Pure Country Music. The appearance of Ray in his now famous Founding Fathers uniform is a good publicity tool, obviously. I have ordered from this company several times and I get a monthly catalog in the mail...and I was surprised to see Ray on the cover! Why? Well, several blogs ago I lamented the lack of publicity/attention his political songs had gotten up to that point among country music circles. I had theorized that due to the political nature of the songs...and the fact that it's the music videos that had grabbed people's attentions...I figured that the country music media would over-look Ray's success because the attention was being gained through alternate resources...specifically, You Tube and the internet in general. So, with a catalog that sells classic country items, at least a segment of the country music audience is being exposed to Ray's current project.
Right now the Amazon sales list has indicated that the Mp3 version of the
We The People
album has reached #6 among comedy releases and #76 among country music releases. Those sales lists are updated hourly and the chart placings can vary from hour to hour. As an example...a release ranked at #6 one hour can easily rank #306 the next hour. The CD counterpart doesn't rank as high as the Mp3 and this is more than likely further evidence that digital music/Mp3's are the preferred music choice and has been for the last 6 or 7 years. The music, after purchase, is easily downloaded onto your computer...no trip to a music store and no physical CD to carry around. The music can also be easily adapted to a person's cell-phone or other device. It hurts the sales of physical CD's no doubt but like the DVD and the VHS tape...innovations typically always render a previous item obsolete.
I'm excited over the runaway success of Ray's latest music video about illegal immigration, "
Come to the USA
", as if you couldn't tell from my last blog entry!! When I started this particular blog entry the hit count at You Tube was sitting at 2,520. The video was uploaded the evening of May 13th and so it technically has only been available for a day and a half. This is the typical fiery response to Ray's politically charged music videos. His last release, "
Throw the Bums Out!
", is sitting comfortably at 106,506 hits. It leads "
Caribou Barbie
" by nearly 30,000 hits. The "
Caribou Barbie
" video has raked in 78,886 hits.
Backing up 41 years for a minute or two we find 1969 to be the year Ray released the album,
Have a Little Talk With Myself
. The album featured just a few original recordings amongst a collection of songs that had been recorded by other artists. On that album Ray did his versions of songs made famous by The Beatles, Bob Dylan, as well as Blood, Sweat, and Tears among others. Monument Records, in 1970, issued Ray's version of "
But You Know I Love You
" as a single in the United Kingdom. This song is from the aforementioned 1969 album. The b-side of that single is "
The Minority
", a song from Ray's 1968 album,
Even Stevens
. Ray's does a wonderful job with "
But You Know I Love You
" in my biased opinion. The song was made popular in 1969 by The First Edition, a psychedelic rock group headed up by future country singer, Kenny Rogers. The song's writer, Mike Settle, was a member of the First Edition. In country music circles that same year the song became a huge hit for Bill Anderson. Ray, as mentioned, did his version in 1969 as well. 11 years later in 1980 it was recorded by Dolly Parton and her recording of the song hit #1 in the summer of 1981. For those curious...neither a CD nor Mp3 digital album has ever been issued on Ray's
Have a Little Talk With Myself
. It's one of the few studio albums from Ray during this era that has not received the re-issue treatment...the other being 1973's
Losin' Streak
.