I'm pretty sure that this item, sheet music for one of Ray's hit songs, was issued in early 1971. This single spoofed Go-Go dance clubs which were prominent all over at the time. I wrote about this recording several blogs ago and pointed out that it reached the Top-5 in England in the spring of 1971. It's a very funny recording if you've never had the opportunity to hear it. Ray's comical side shines bright on this song...he plays the part of the singer (obviously!), the emcee, Bridget, and the crazed fan from the 'audience' who tries several times to get up on stage. Also appearing are the back-up singers for Bridget...they go under the name of Strawberry and the Short Cakes. Barnaby Records issued a
Greatest Hits
album on Ray that I wrote about in my last blog entry and "
Bridget the Midget
" made it's debut on an LP on that collection.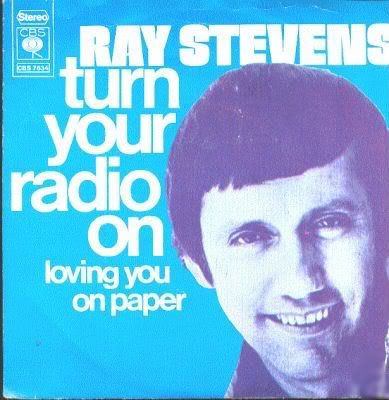 Ray has only recorded one gospel album believe it or not. The album would feature songs that would go on to appear on various gospel-related albums issued on Ray. "
Turn Your Radio On
" became a Top-20 country hit in 1972...it had followed the gospel success of a couple of earlier songs from Ray entitled "
All My Trials
" and "
A Mama and a Papa
". Each of those songs reached the Adult-Contemporary Top-10 and not long after Barnaby would issue a gospel album,
Turn Your Radio On
. The album would reach the Top-20 on the Country albums list in 1972. The song listed as the B-side on this picture sleeve is "
Loving You On Paper
" which is a very romantic but sad song about a soldier in the war...and we're to assume Vietnam is the war being sung about even though Ray doesn't directly state the locale of the soldier. The song was lifted from his 1970 album,
Unreal
...
I wasn't able to get the entire picture of the album in camera shot but I'm glad with the results. I snapped this picture with my cell-phone camera. I was going through my Ray Stevens vinyl collection and I decided to take a picture of myself with this 1970 album,
Unreal
. This album consists of a majority of songs written by Ray...and it's two singles became smash Adult-Contemporary hits in the latter half of 1970. "
America, Communicate With Me
" reached the Top-20 on the Adult-Contemporary list in the summer of 1970 while the follow-up, the smooth sounding "
Sunset Strip
", reached the Top-20 on the Adult-Contemporary list in November 1970. At the time, the Adult-Contemporary radio format was called Easy-Listening. The chart wasn't named 'Adult-Contemporary' until 1979.
In recent news...Ray has hit the million play plateau on You Tube. I wrote about this in a previous blog but it's worth repeating: The latest music video from Ray on illegal immigration, "
Come to the USA
", has obtained more than a million hits on You Tube. The actual play count as of now is 1,161,028. This marks the second music video from Ray to achieve a million or more plays...and "
Come to the USA
" appears to be a potential 1.5 or even 2 million viral success when it's all said and done.