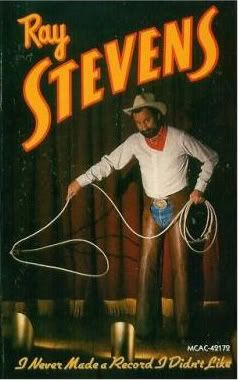 Isn't this a great album cover? Ray Stevens as Will Rogers...performing a rope trick while informing us that he's never made a record that he didn't like. This comedy album was released by MCA in 1988 and I've written about it at various times throughout the blog archives. The name of the album is loosely based on a phrase made famous by Will Rogers, "
I have never yet met a man that I didn't like
". The comedy album features a few songs that have become well-known among Ray Stevens fans: "
Surfin' U.S.S.R
" as one example. "
The Day I Tried To Teach Charlene MacKenzie How To Drive
" is another example. This was the album that followed the successful
Crackin' Up
album that Ray issued in 1987. In my theory the main reason why this particular 1988 album didn't achieve the same kind of success was basically due to the on-going popularity of several 1987 albums.
Greatest Hits
,
Crackin' Up
,
Greatest Hits Volume Two
, and a direct-mail offer called
Get The Best of Ray Stevens
were still being pushed and promoted by the marketing department well into 1988.
Greatest Hits
became a Top-50 country album...almost reaching Top-40 status while
Crackin' Up
became a Top-30 album on the country charts in 1987...the following year
I Never Made a Record I Didn't Like
became a Top-60 country album in 1988.
I don't particularly care for this picture of myself from 2008 but the focus is on Ray's 1988 album that I'm gleefully showing off. A lot of the vinyl albums that I have of Ray Stevens were purchased on eBay around 5 to 6 years ago. I also bought some at local flea markets...and amazingly they still play quite well on my record player. I didn't have a Ray Stevens hat at the time...or else I would've been wearing it. I rarely wear hats in the hot months, though. I've played the actual vinyl album a couple of times. I find that I don't have to play my vinyl albums hardly at all because the material is readily available on CD and Mp3 now. This allows the vinyl albums to continue to have such great sound. The label design that MCA used for years was the light blue rainbow logo. That design originated at some point in the late '70s and MCA continued with that design throughout the remainder of the 45 RPM period. I believe 1993 or 1994 may have been the final year that MCA manufactured actual copies of vinyl singles on a semi-regular basis.
As you can see in the image on the right side of the blog...one of the singles from Ray Stevens on MCA...clearly showing that light blue rainbow label design. This particular single wasn't one of the releases that became popular...even though it's a cute break-up song. The song originated on Ray's debut MCA album in 1984,
He Thinks He's Ray Stevens
. The b-side is a comedy song titled "
Joggin
" which pokes fun at the health and fitness crowd. The song focuses on a jogging nut who equips himself with every brand-name product on the market...all in the name of losing weight. It features a rocked-up arrangement with prominent electric guitar...and the humor comes from the day to day encounters that the jogger has while jogging. Although jogging itself wasn't anything new it was becoming something of a fad during this time period and another artist, Bobby Bare, recorded a jogging song as well. Bobby's recording, "
The Jogger
", became one of the last major novelty hits on country radio. Jerry Clower even got into the act when he performed a comedy routine called "
Joggers
" on his 1984 album,
Starke Raving!