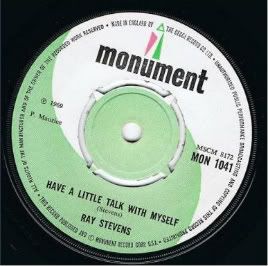 Later this year a certain 45 single from Ray Stevens hits 41. The image of the single is off to the left...this particular image is the United Kingdom release of "
Have a Little Talk With Myself
". The single was released late in 1969 and it serves as a title track to one of Ray's most under-rated albums. The single in fact hit the country chart during the final week of 1969 and it reached it's peak during the first week of 1970. Yes, you read that correctly...this majestic, exquisite single about self-reflection, ego, and introspection was on the country music charts for just two weeks. The fact that it was on the country music chart in 1969 was a foreshadowing of Ray's eventual switch to the country music market. Prior to this single's release he had made his debut earlier in 1969 on the country chart with "
Sunday Mornin' Comin' Down
". It's just my opinion but I feel as if those two appearances on the country charts were a fluke...none of my research indicates that Monument Records sought out country radio support. The telling thing about Ray's future singles, though, were the cross genre flip-flopping that would occur. In a period of about 5 and a half to 6 years Ray Stevens singles would consistently chart pop, country, and Adult-Contemporary. Some of his singles would even cross the oceans and chart internationally during this 1969-1975 time period. Adult-Contemporary at the time was referred to as Easy-Listening or Middle of the Road. It was music aimed at adults who considered themselves fans of "pop music" but weren't necessarily fans of the younger, teenage-driven "Top-40" pop music.
As a Ray Stevens fan and nostalgia nut, looking back, I noticed that Ray's success relied almost entirely on the older, adult-driven market...but some of his songs would appeal to the mostly younger Top-40 set. A single released by Ray 40 years ago, namely "
America, Communicate With Me
", is a perfect example of the discrepancy between the various age groups and what one age group thought was great and what one age group didn't embrace as much. Among the Top-40 listeners the single did moderately well...almost reaching Top-40 status...but over in the radio formats aimed at the adults 35 and older the single reached the Top-15. Going by that statistic it goes a long way at explaining Ray's long-standing appeal and why it wasn't so difficult to market him as a country singer as time went on.
The
Have a Little Talk With Myself
album featured a couple of new songs but the bulk of the material was Ray's versions of contemporary pop hits by other artists. I wrote about this album in a previous blog entry called
Have a Little Talk...about Ray!
. You all can find it by exploring the archives on the right hand side of the screen.
A couple years ago Ray issued a CD where he covered the songs of Frank Sinatra. The CD was originally released in 2008 on his own label and sold exclusively through his own web-site and during concert stops. The actual title is
Ray Stevens Sings Sinatra...Say What??
. I purchased by copy at a merchandise table at one of his concerts. When I saw the CD I was stunned because at the time it wasn't being sold on his web-site and I'd wondered why...I then assumed that it must be an exclusive to concert goers but then it became available at his web-site store. Anyway, in 2009 the CD was released nationally but without any fanfare or promotion...I think it's a great CD salute. In an attempt, perhaps, to create a mood or an ambiance, Ray has the music come off like it's from a small, intimate session at some all-night lounge...complete with audience cheers and applause. Ray doesn't keep the same arrangements on every song, though, and the musical accompaniment is more along the jazz/R&B side than big band and swing. A couple of the songs are shortened, as well. The CD contains the following songs made famous by Sinatra...
I've Got You Under My Skin
Night and Day
I Get A Kick Out Of You
All The Way
High Hopes
Witchcraft
The Tender Trap
Young At Heart
Strangers In The Night
That's Life