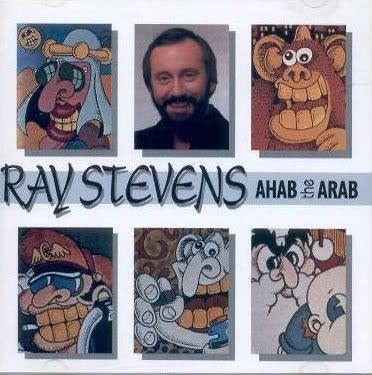 In the 12th installment of the nostalgia valley we begin by taking a look at the early '60s material from Ray Stevens on this 1995 CD. The picture of Ray that the CD manufacturer used is obviously deceptive. This picture of Ray is from the early '80s but the material on the CD is from the early '60s. The illustrations that you see were lifted from Mercury's 1970 release,
The Best of Ray Stevens
. I don't have this particular CD so I can't say if the version of "
Ahab the Arab
" featured on here is the studio recording from 1962, the radio edited version cutting out the final verse, or the live recording from the mid '60s with an introduction from Ralph Emery. The live recording with the Ralph Emery introduction is on
The Best of Ray Stevens
from 1970. There isn't any new ground being covered on this CD that wasn't already covered on
The Best of Ray Stevens
or 1989's eight song compilation,
Funny Man
. The idea I guess was to keep Ray's earliest works for Mercury in print. There are at least eight recordings that Ray did for Mercury in the '60s that have never saw the light of day on commercial CD yet: 1961's "
When You Wish Upon a Star
", 1963's "
It's Party Time
", 1963's "
Don't Say Anything
", 1964's "
Laughing Over My Grave
", 1965's "
Rockin' Teenage Mummies
", "
It Only Hurts When I Love
", "
Mr. Baker the Undertaker
", and "
The Old English Surfer
". There's also no telling how many songs Ray recorded for Mercury that have never even been issued at all. It's common practice for all singers to perform a lot of songs during recording sessions...and then some are cut from album consideration and are put away "in the vaults" as the saying goes.
I came across a couple message boards/blogs late last week proclaiming that Ray Stevens "used to be a liberal". One of the people making this accusation cited this song, "
America, Communicate With Me
", as proof. "
Everything is Beautiful
" and "
Mr. Businessman
" are also brought up by those attempting to make comparisons between vintage Ray Stevens and contemporary Ray Stevens. In my opinion Ray was never a liberal...and certainly wasn't a progressive...but I feel that those political oriented songs he recorded in the past are rooted in middle of the road and Independent rationale...which is pretty much the same stance of contemporary Ray Stevens. A lot of the lyrics in "
America, Communicate With Me
" clearly show Ray's frustration with both political parties and the useless violence and rioting that was going on. Rioting, mind you, that for the most part was carried out by the liberal youth of the '60s and early '70s. I think some people need to re-listen to this song a few more times before proclaiming that Ray "used to be a liberal". This song attempts to make sense of a chaotic world circa 1970...in no way, shape, or form is it a rallying cry for any political group.
Now, in a lot of the newspaper and magazine articles and interviews did on Ray Stevens during that early '70s time period it reveals Ray highly in tune with the social scene and the hot topics of the day. This doesn't necessarily translate into Ray being a liberal, though. I've never seen an interview where Ray explicitly stated that he's 100% in favor of any political party. In some of his interviews he speaks about the relationships between music and people and the communication aspects that artists attempt to convey through whatever it is that they do: sing, talk, act, etc etc. The interviews he gave in the early '70s, for example, indicate a restless musician constantly on the search for something to share with the public. This is something that continues to be a character trait with the contemporary Ray Stevens...the enthusiasm and excitement of performing new material for the audience which was evident in the '70s is still evident today.
You can see performances of Ray Stevens from the '70s in a couple of DVD's spotlighting the series,
Pop! Goes the Country
. I mentioned these DVD's back in March and I hope some of you have gone ahead and purchased them for yourselves. Ray appears on the following DVD's:
Volume Four
,
Volume Nine
,
Volume Fifteen
, and
Volume Seventeen
. You can see the entire 20 Volume collection here:
Classic Country DVD
. I don't have
Volume Nine
yet...it features the 1977 episode where Ray performs "
Honky Tonk Waltz
", "
Get Crazy With Me
", and a bit of "
Feel the Music
". Ralph Emery is the host of all the episodes from Volume One through Volume Fifteen and Volume Twenty. Tom T Hall hosts the episodes featured in Volume Sixteen through Volume Nineteen. Speaking of Ralph Emery...he'll be inducted into the National Radio Hall of Fame this coming fall.